Announcing the PinoyMountaineer Mt. Aconcagua Expedition in December 2014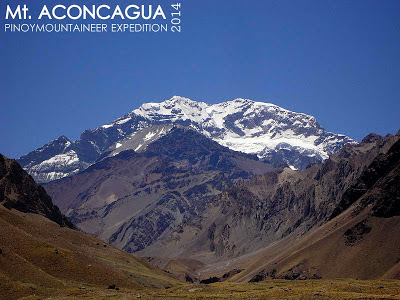 Photo of Mt. Aconcagua courtesy of Daniel Gauer
Following our successful ascents of Kilimanjaro and Elbrus, I am pleased to announce that I will seek to climb Mt. Aconcagua in Argentina, at 6962 MASL the highest mountain in South America, late next year. The PinoyMountaineer Mt. Aconcagua 2014 Expedition is scheduled for December 2014, and is expected to take 24 days including sidetrips in South America.
Mt. Elbrus team members Farah Pasamonte, and Jacob Sarreal are expected to join the expedition together with Everest climber Carina Dayondon. We are open to accepting participants who have experience in climbing mountains above 5000 meters above sea level, to compete a team of 5.
The estimated budget for the Mt. Aconcagua expedition including airfare from Manila is USD7000. Due to this high cost, we are seeking sponsorships and support from interested parties. If you know anyone who can help us, please contact me at gideon@pinoymountaineer.com. Interested mountaineers are also invited to send me an email.