San Pablo Seven Lakes Adventure Tour on Feb 21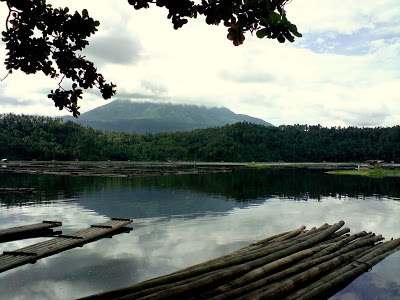 Welcome to the first ever organized tour of San Pablo's Seven Lakes! Geological wonders steeped in folklore, these lakes are an undiscovered attraction surrounded by the mountains of Laguna, such as Mt. Banahaw, Mt. Cristobal, Mt. Makiling, and Mt. Kalinsungan.
There are only 12-14 participants for each tour and the first schedule is on February 21. Interested parties can still reserve by emailing info@pinoymountaineer.com or contacting 09214827546.
I will act as tour coordinator for this tour, San Pablo being my hometown. These are the details for your information:

COST AND INCLUSIONS
The tour is P1,600, and includes:
(1) Private van service from Manila to San Pablo and within San Pablo
(2) Toll fees, entrance fees, and other fees such as rental of bamboo rafts
(3) Services of a tour coordinator/guide
(4) Lakeside lunch at Sampaloc Lake
(5) Native delicacies as pasalubong
ITINERARY
0430 Departure time from Manila — the van may fetch you from any point along EDSA
0530 Stopover at South Luzon Expressway
0700 ETA San Pablo; Commence tour – Visit Lakes Bunot,Mohicap,Palakpakin,Yambo,Pandin
1200 Sampaloc Lake for Lakeside lunch; optional bicycling
1300 Visit Lake Calibato and possible sidetrips
1600 Stopover at Colette's Buko Pie / El Mare
2000 Back in Manila
SPECIAL CONCERNS
1. Swimming is a possibility in Lake Pandin so bring a change of clothes
2. Trekking is very light so you can wear rubber shoes/light trekking shoes/sandals
3. Possible sidetrips (if there is still time) include the Underground River in Nagcarlan and Bunga Falls