The PinoyMountaineer Phone Directory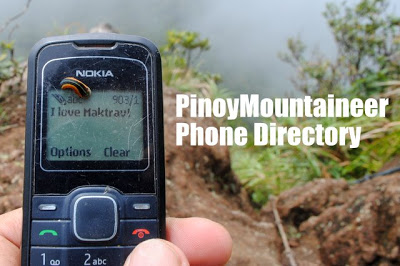 The latest project of PinoyMountaineer.com is this page which aims to have the most comprehensive and updated listing of all relevant telephone/mobile numbers that will be very useful for mountain climbers! This is also a very good page to bookmark on your mobile phones.
I have a disclaimer and an appeal: The disclaimer is that some of the numbers might not work, and PinoyMountaineer is not responsible for the use of these numbers and consequences thereof. On the other hand, my appeal is for hikers to contribute to this page by sharing your own numbers and contacts by commenting on this page! Finally, I would also like to thank everyone who shared their contacts in the individual mountain pages in PinoyMountaineer. This directory wouldn't be possible without your help!
Important Note: Please do not repost this article, as we do not want the proliferation of pages bearing the cellphone numbers of the people on this directory, which may lead to them receiving nuisance text messages.
GENERAL EMERGENCY NUMBERS 
PNP General Trunkline – (632) 723-0401 to 20
PNP Hotline – 117
PNP Text Hotline – 09178475757
Tourism Hotlines – 025241660 / 025241728
National Poison Control 025241078
PAGASA (Weather Agency): 024338526 / 02433-ULAN
MOUNTAIN-SPECIFIC NUMBERS 
Alto Peak (Jhoc – Guide) – 09172558923
Amuyao (Jason – Jeepney Rental) – 09202291445
Anawangin Cove (Romeo) – 09196498563
Anawangin Cove (Dindo – Boat Rental) – 09172022692
Anawangin Cove (Rosendo – Jeep Rental) – 09282929994
Apo (Kidapawan Tourism) – 09205113524
Apo (Kidapawan Tourism) – 09092612018
Asog (Alvin – Guide) – 09218221420
Bakun Trio -(Lambert – Brgy. Capt) 09202761121
Bakun Trio- (Gina – Jeep Rental) – 09198169234
Balingkilat (Datu Jimmy) – 09219543125
Balingkilat (Rosendo – Jeep Rental) – 09282929994
Balingkilat (Dindo – Boat Rental) – 09172022692
Banahaw de Lucban (Mario – Caretaker) – 09194515472
Batulao (Roel – New Trail Caretaker) – 09279008496
Batulao (Nasugbu Police) -(043) 931-7996.
Bulusan (Brgy. Capt) – 09262387807
Bulusan (Philip – Coordinator) – 09088968826
Calavite (DENR) – 09215869271
Cinco Picos see Balingkilat
Cristobal (Lito – Guide) – 09214647618 (updated 2013)
Daguldol (Rene – Jeep Rental) – 09127570867
Damas (GAME-NEST) – 09123517719
Dulang-Dulang (Mijan – Guide) – 09186352729
Dulang-Dulang (Johnmurs – Guide) – 09993257836
Dulang-Dulang (Binahon Farm) – 09059071771
Guiting-Guiting (DENR Official Hotline) – 09284901038
Guiting-Guiting (Remy – G2Trav Lead Guide) – 09217322462
Guiting-Guiting (Toto – Guide) – 09059071771
Gulugod-Baboy (Nancy – Philpan) – 09284649067
Gulugod-Baboy (Nancy – Philpan 2)- 09178541263
Halcon (Ephraim – Guides Association) – 09182958663
Halcon (Ephraim – Guides Association2) – 09158613598
Halcon (Jojo – Baco Tourism Office) – 09198821442
Hibok-Hibok (Ronald – Guide) 09106593349
Iglit (Danny Roca – DENR) 09183386135
Iraya (Romy – Guide) 09169026712
Isarog (Yolda -DENR) – 09104824615
Isarog (Jay – Guide) – 09199454962
Isarog (Jojo – Logistics/Guides) – 09198006299
Kalatungan (Ver – PASU) – 09282523558
Kalawitan (Engr. Bondad – Tourism Officer) – 09395062107
Kalisungan (Bino – Guide) – 09994100991 (updated 2014)
Kanlaon (Angelo Bibar – Tourism Officer) – 09173011410
Kibungan (Engr. Kolbel – Tourism Officer) – 09059206276
Kibungan (Sammy – Jeep Rental) – 09193471681
Kitanglad (Walter – Brgy Official) – 09196755019
Kitanglad see also Dulang-Dulang
Lobo, Batangas (Jay) -09357851477
Maculot (Barangay Outpost) – 09103172853
Maculot (Cuenca Police) – (043) 342-9952
Madjaas (Adonis – Guide) – 09286878128
Makiling (Johnny – Jeep Rental from UPLB) – 09179994660
Makiling (Sir Erwin – Sto. Tomas MENRO) –  09183460730
Makiling (Sto. Tomas MENRO) – 043-7848434
Makiling (UP Los Banos MCME) – 049-5362637
Malinao (JR – Guide) – 09282222572
Malipunyo, including traverse (Mario – Guide) – 09984094899
Manalmon (Carling) – 09195746470
Mantalingajan (Bodjie Lorenzo- Tourism Officer) – 09999938869
Marami (Jed – Volunteer Guide) – 09083246967
Marami (Motorcycle) – 09267122198
Marami (Unad – Guide) – 09388024613
Marami (Marlon – Guide) -09194894858 / 09478004667
Masaraga (Tupe Ulayao – Guide) – 09393862565
Matutum (Jun Sanico – Tourism) – 09103894941
Mayon Volcano – numbers removed in the meantime
Napulauan (Winston – Guide) – 09185040502
Napulauan (Richard – Guide) – 09197083937
Natib (Andy – Guide) – 09991809255
Natib, including traverse (Wilnor – Guide) – 09983963816
Palali (Roldan – Guide) – 09352921029
Pantingan Peak (Rey Jimenez – Guide) – 09282609645
Pico de Loro (Jeep Rental) – 09175956140
Pinatubo (Tour contact) – 09175827517
Pulag (PASU – Mereng Albas) – 09196315402
Pulag (Gina – Jeep Rental) – 09198169234 / 09999916008
Purgatory (Elinger Dayotao – Tourism Office) – 09104059738
Romelo (Rodel – Volunteer) -09193246601
Sicapoo (ODMG – Volunteer) – onedegreemg@ymail.com
Tabayoc – see Pulag
Tagapo (Archie – Guide) – 09216530089
Tagapo (Tatay Eddie – Guide) – 09097341881
Talamitam (Bro. Ted) – 09477118513
Talamitam (Sir Nick) – 09278248475
Talinis (Jay – Guide) – 09067169377
Talinis (Adrian – Guide) – 09168336351
Tapulao (Ate Beth – Caretaker) -09107757212
Tirad Pass (Tourism Officer) – 09165352328
Tirad Pass (Macario – Guide) – 09058399002
Ugo (Liza – Tourism Officer) 09167445628
Ugo (Alex – Guide) 09219840254
White Peak (Lutie – Tourism Officer) – 09203604789
White Peak (Leni) – 09197366934


MISCELLANEOUS CONTACTS 
PinoyMountaineer Shirts (Philippe) – +639178545696