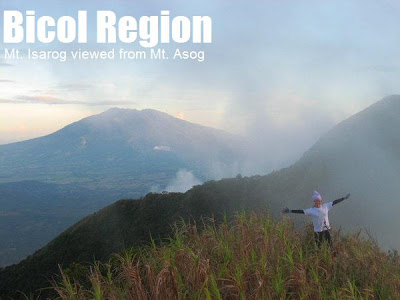 MOUNTAIN INDEX
Bulusan Volcano: Sorsogon / 1548m
Mayon Volcano: Albay / 2462m
Mt. Asog (Iriga): Camarines Sur / 1140m
Mt. Binanderahan: Rapu-Rapu, Albay / 500m
Mt. Cagmasuso
: Catanduanes / 600m
Mt. Isarog/Panicuason Trail
: Camarines Sur / 1966m
Mt. Isarog/Patag-Patag Trail
: Camarines Sur / 1870m
Mt. Labo: Camarines Norte / 1544m
Mt. Lantad
: Catanduanes
Mt. Malinao
: Albay / 1548m
Mt. Masaraga
: Albay
Mt. Pulog
: Sorsogon / 1020m
SPECIAL ITINERARIES
Bicol Express: Seven Mountains in Eight Days
BACKGROUND
Lying in the peninsula that comprises Luzon island's southeast arm, Bicol Region's famous landmark is Mayon Volcano, the Philippine version of Japan's Mt. Fuji — a perfect cone rising in all splendor. The main city of Legazpi, where Mayon's beauty can be seen, is a 12-hour trip from Manila. Aside from the famed Mayon, Mt. Isarog in Camarines Sur is a famous mountain, replete with various flora and fauna, as well as numerous waterfalls. Other mountains include Mt. Asog, Mt. Labo, and Mt. Bulusan, which has active volcanic activity. Bicolanos are known to have a taste for 'hot' foods like chili and peppers; their mountains are also 'hot', with Mayon being the most active volcano in the country. At present, climbing in Bulusan is not allowed, with its most recent eruption in 2007.
MOUNTAIN MAP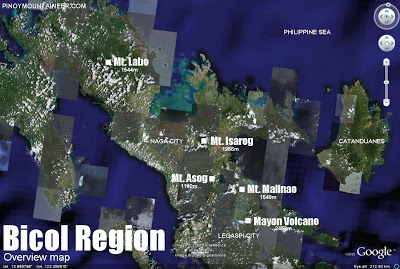 COVERAGE UPDATES
PinoyMountaineer.com started with Mt. Isarog and Mt. Asog on board. On September 2008, a Mayon Volcano article was added in PinoyMountaineer, and following the landmark Bicol Express series of climbs in 2011, as well as two climbs in Catanduanes, our database has grown substantially, culminating with the documentation of Mt. Bulusan on June 2012. We're working to have itineraries and information for the other mountains and outdoor destinations in the region.
BICOL EXPRESS 2011: SEVEN CLIMBS IN EIGHT DAYS
BICOL ADVENTURE 2012: BULUSAN AND ISAROG
Hiking matters #275: Mt. Bulusan, Cradle of Beauty Day 1
Hiking matters #276: Mt. Bulusan, Cradle of Beauty Day 2
Hiking matters #277: The wonderful fauna of Mt. Bulusan
Hiking matters #278: A dayhike of Mt. Isarog via Patag-Patag
MOUNTAINEERING CLUBS IN BICOL REGION
Aningal Mountaineering Club (Naga, Camarines Sur)
KADLAGAN Outdoors (Naga, Camarines Sur)
MAISOG Mountaineers (Camarines Sur)
Mayon Mountaineers (Legaspi, Albay)
ORYOL Outdoor Group (Daet, Camarines Norte)
Photo courtesty of Sir Erick Bautista.