Southern Tagalog mountains (Region IV-A)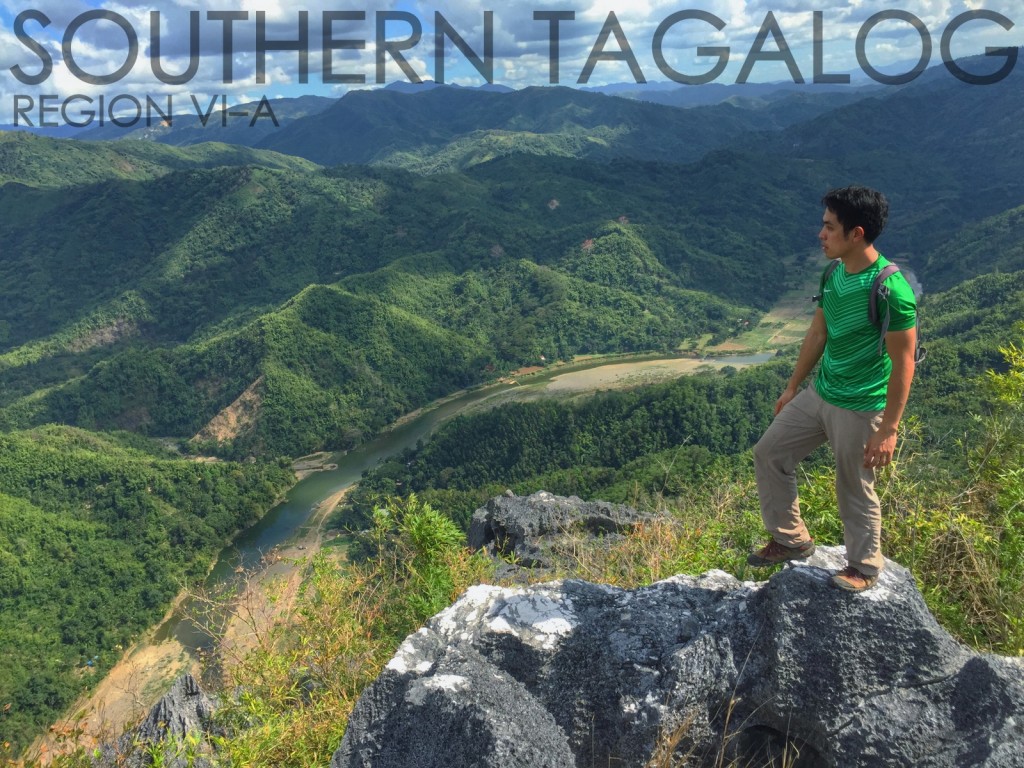 SOUTHERN TAGALOG MOUNTAINS INDEX
Gulugod Baboy
: Batangas /525m
Manabu Peak
: Batangas / 760m
Mt. Ayaas
: Rizal / 627m
Mt. Balagbag
: Rizal / 777m
Mt. Banahaw
: Quezon / 2158m
Mt. Banahaw de Lucban
: Quezon / 1875m
Mt. Mabilog
: Laguna / 441m
Mt. Maculot
: Batangas / 830m
Mt. Makiling
/UPLB Trail
: Laguna / 1090m
Mt. Makiling/Traverse from Sto. Tomas
: Batangas / 1090m
Mt. Malipunyo
: Batangas / 1005m
Mt. Marami
: Cavite / 405m
Mt. Naguiling
: Batangas / 1007m
Mt. Pamitinan
: Rizal / 426m
Mt. Pinagbanderahan
: Quezon / 366m
Mt. Romelo
: Laguna / 240m
Mt. Sembrano
: Rizal / 745m
Mt. Sipit Ulang
: Rizal / 255m 
NEW
Mt. Tagapo
: Rizal / 438m
Mt. Talamitam
: Batangas / 630m
Mt. Tibig
: Batangas / 563m
NEW
Pico de Loro
: Cavite / 664m
Taal Volcano
: Batangas / 311m
Tatlong Krus (Mt. Humarap)
: Laguna / 150+m
Tayak Hill
: Laguna / 560m
WATERFALLS
Ambon-Ambon Falls
/ Batangas
Bantakay Falls
/ Quezon
Batlag Falls
/ Rizal
Bunga Falls
/ Laguna
Buntot Palos (Hidden Falls)
/ Laguna
Daranak Falls
/ Rizal
Hinulugang Taktak
/ Rizal
Magdapio (Pagsanjan) Falls
/ Laguna
Taytay (Imelda) Falls
/ Laguna
LAKES
The Seven Lakes of San Pablo
/ Laguna
NATIONAL PARKS
Quezon National Forest Park / Quezon
BACKGROUND
South of Manila, this region is packed with mountains and outdoor destinations that are highly accessible from the metropolis. Thus, most weekend climbs are held in this region, and it virtually accounts for nearly half of climbs done in the country. Mt. Maculot, Mt. Makiling, and Mt. Batulao are the more popular ones; spotgs such as Pagsanjan Falls and Taal Volcano are swarmed with tourists besides. And yet, the region deserves its popularity because of the variety and beauty of its places. After just an easy trek one may enjoy the beauty of Taal Lake within, in Taal Volcano, or outside, from Mt. Maculot. The waterfalls, most of which are detailed in PinoyMountaineer, are very easy trips and are very refreshing. Meanwhile, the most formidable climb in the area is a trek up Mt. Banahaw, a sacred mountain rising over 2000 MASL. It is of cultural and ethnoreligious interest as well. For challenge-seekers, there is also a traverse of Mt. Makiling- the most difficult daytrip in the website.
Tagalog is of course the language; local accents may be observed in different provinces. Major centers where supplies are readily available include Lucena City in Quezon; San Pablo and Calamba City in Laguna; and Lipa and Batangas City in Batangas – the latter being the staging-off point to climbing destinations in MIMAROPA Region as well. Most destinations are 100-200 minutes away from Manila, and can be conveniently reached either by public or private transportation.
A hiker-friendly souvenir in the area is the balisong blade forged in Batangas and sold in the highway. Local take-homes also include the buko pie of Los Banos, Laguna. For a different flavor of socials or post-climb, try the lambanog of the Quezon towns. It is a strong liquor made from coconut.
COVERAGE UPDATES
PinoyMountaineer's coverage of the Southern Tagalog mountains is quite comprehensive – not only mountains are included, but also waterfalls as well as the Seven Lakes of San Pablo. However, there are still some missing trails, such as the other trails of Mt. Banahaw –but we intend to feature these only when the mountain has been reopened for climbing. Quezon Province — being part of the southern edge of the Sierra Madre may also have mountains in store for us in the future.