Hiking in the MIMAROPA Region (Region IV-B)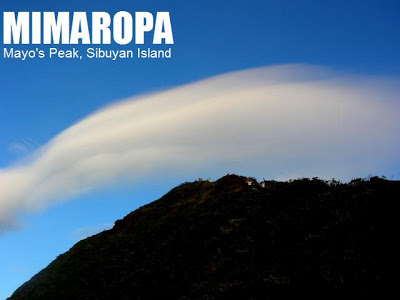 MOUNTAIN INDEX
Cleopatra's Needle:
Palawan / 1595m
Mt. Baco: Mindoro / 2488m (#21)
Mt. Bahile
: Palawan / 747m
Mt. Beaufort: Palawan / 1124m
Mt. Bloomfield
: Palawan / 787m
Mt. Calavite
: Occidental Mindoro / 1521m
Mt. Darala
: Palawan / 600m
Mt. Guiting-Guiting
: Romblon / 2058m
Mt. Halcon
: Oriental Mindoro / 2582m (#18)
Mt. Iglit
: Occidental Mindoro / 1432m
Mt. Malasimbo
: Oriental Mindoro / 1168m
Mt. Malindig
: Marinduque / 1157m
Mt. Mantalingajan
: Palawan / 2086m
Mt. Salakot: Palawan / 1162m
Mt. Thumbpeak
: Palawan / 1296m
TRAVEL DESTINATIONS
Coron, Palawan
El Nido, Palawan
Puerto Galera, Oriental Mindoro
Puerto Princesa, Palawan
BACKGROUND
MIMAROPA stands for the five constituent island provinces of what was formerly Region IV-B: Occidental and Oriental MIndoro , MArinduque, ROmblon, and PAlawan. All four are accessible by sea; there are flights servicing various points in Palawan. Also, small planes ply the route between Manila – San Jose, Occidental Mindoro as well as Romblon. Being islands, these provinces are famous for their beaches and marine biodiversity. However, MIMAROPA is also amazingly the home to the most difficult climbs in the Philippines. In fact, at least three mountains are classified Difficulty 9/9: Mt. Halcon in Mindoro, Mt. Guiting-Guiting in Romblon, and Mt. Mantalingajan in Palawan. The outdoorsman who plans to climb in this region may want to integrate his hike with various sidetrips involving the region's attractions. Interestingly, two UNESCO World Heritage sites are found in the region – Tubbataha Reef and St. Paul's Underground River in Palawan.
COVERAGE UPDATES
The mountains in the site give an ample overview of the region, but we would also love to have itineraries also for. Mt. Baco in Mindoro – virtually unexplored according to DENR men in Occidental Mindoro – would also be a great discovery.
MOUNTAINEERING CLUBS IN MIMAROPA
G2 Mountaineers (Romblon, Romblon)
Halcon Mountaineering Society (Calapan, Oriental Mindoro)
Sialdang Mountaineering Society (Calapan, Oriental Mindoro)