"Get High…Climb a mountain" with PM Shirt no. 7!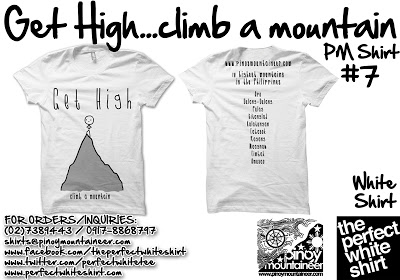 I am pleased to announce the release of Shirt no. 7, "Get High…Climb a Mountain!"! The shirt will be available starting today (May 31, 2012) in all The Perfect White Shirt Stores! Aside from featuring the 'natural high' that hikers get on a mountain, the shirt is also a tribute to the 10 Highest Mountains in the Philippines! In addition, new stocks of Shirts no. 1 and 4 are also available!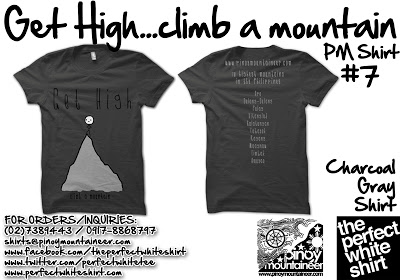 The Perfect White Shirt is available in Robinsons Manila, Alabang Town Center, Glorietta 3, Market! Market!, and Trinoma. Also, PM shirts are available in ROX Philippines (Baguio, The Fort, Cebu, and Pampanga) and Sandugo stores! For more information, email shirts@pinoymountaineer.com or contact Philippe at +639178545696.