Hiking matters #335: A short hike up Imok Hill (Imoc Hill) in San Pablo, Laguna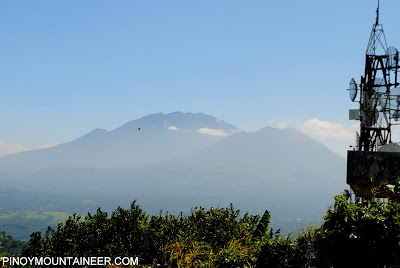 Imok Hill (also spelled Imoc Hill; also known to locals as Mt. Obabis or Telefast) is one of the geographic features that I have been always seeing since I was very young, because it sits right between the two places I consider my hometowns: Los Banos and San Pablo, Laguna. Just like Mt. Amuyao and Mt. Kitanglad, this hill has towers on top, making it distinct among the small mountains in the area. Since it was only 400 meters tall, it did not call my attention until recently, when I realized that it might be a strategic viewpoint for Southern Tagalog mountains.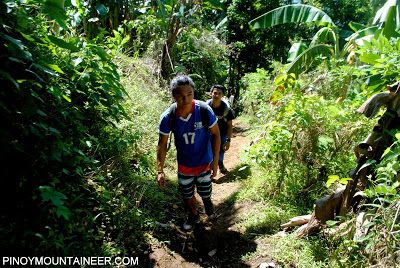 This morning, my friends Coby and Ryan and I went to San Pablo to check it out. From the national highway from Calauan to San Pablo, we made a left turn to a narrow road in Brgy. San Mateo, and started hiking where the road ended. From there, we followed an existing trail that went straight up, passing through light woodlands with coconuts and patches of pineapple; in just 30 minutes, we were at the top.
At the summit, there are at least two walled structures where the communication towers are housed; these are off-limits. However, on the northwest side of the peak, there is an open area where one can rest by the shade of the trees. Because the peak is flat (or flattened), almost like a small plateau, a 360-degree view is not possible, but you can piece together images from various vantage points to assemble many Southern Tagalog mountains.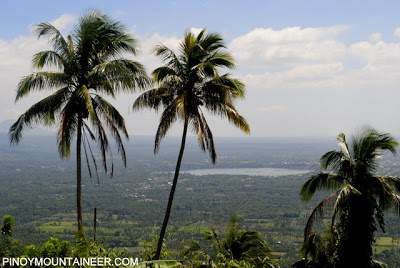 Indeed, since it was a very sunny, clear day, we saw Mt. Tagapo and Mt. Sembrano (N) upon Laguna de Bay; there was also the succession of Calauan-Nagcarlan mountains: Mt. Prinza, Mt. Kalisungan, and Mt. Atimla (NE); the Banahaw Trilogy (ENE), Sampaloc Lake (SE), Mt. Malipunyo and oblique to it, Mt. Maculot (SW), and finally, Mt. Makiling (NW). The views of these geographic features, I think, make this short hike a worthy sidetrip after a Kalisungan hike, or a hike-in-itself for those seeking a short but scenic hike. I will let the pictures speak for themselves: