Trip Report: An exploration climb of Mt. Mingan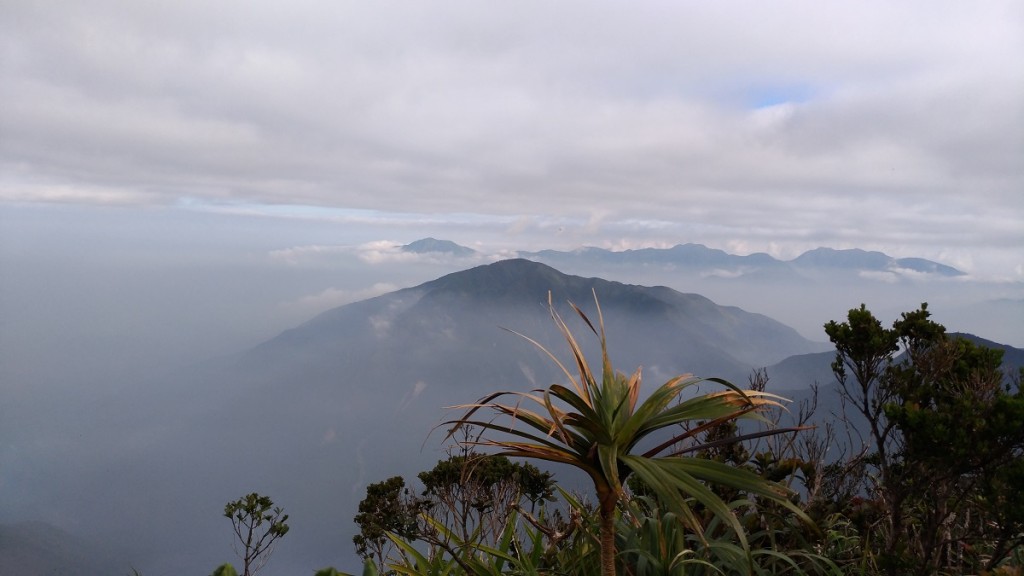 by Mel Solis, Team Leader

The idea for this Mt. Mingan exploration just come across my mind after the declaration of special non-working holiday in Metro Manila on dates April 27-28, 2017 due to ASEAN summit, making the 3-days long weekend (because of May 1 Labor Day) stretched to 5 days that made me think of a multi-day adventure.
Facebook posts from fellow mountaineers, long ago gave me the idea of this mystic mountain still unsummited. I am aware that there have been numerous exploratory attempts made to trailblaze on the way to summit but unsuccessful, mostly because of lack of time and bad weather. The planning has been real-quick with only a week away to plan the event with three from my team committed to join the exploration and posted an invite in CLIMBER page to complete the team of seven. There are a lot of interested joiners but I only limit it to three just enough to share with the expenses of this climb.
The list of the climb party as follows:
1 Mel Bryan 'Mel' Solis – Team Leader
2 Eds 'Eds' Ibias – Scribe
3 Rullet 'Rullet' Baquing – First Aider
4 John Carl 'JC' Nobles – Mid
5 Anne Maridol 'Ram' Rongavilla – Mid
6 Rodel 'Rodel' Roque – Mid
7 Mark Benedick 'Macky' Ignacio – Sweep
COORDINATION
I immediately coordinated it with the Municipality of Dingalan thru the Executive Assistant to the Mayor Sir Albert (09465974440), for the permits needed for this climb and he advised me to just accomplish a Letter of Intent to climb including the names and information of the participants and sent it thru e-mail (dingalan.lgu@gmail.com). On the climb date, we will sign a waiver and pay P50 each as the barangay registration fee.
My facebook friends who did exploratory in Mingan were kind enough to give me the contact details of Kuya Junior (09482018627) and Kuya Carding, the guide according to them who are familiar with the trail of Mt. Mingan. I coordinated with Kuya Junior thru phone call and have got valuable information of the necessary preparations and expectations during the climb whom I shared with to the rest of the climb party.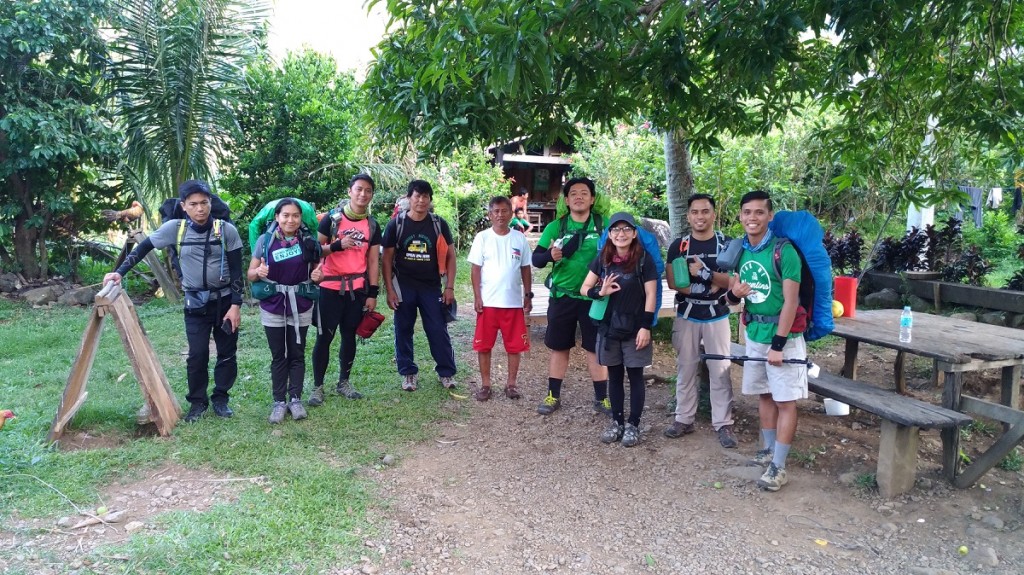 CLIMB PROPER
At 9 in the evening of Thursday, April 27 we are all gathered at Five Star Cubao enroute to Cabanatuan. We depart Cubao at 11pm and arrived at Cabanatuan past 2 o'clock in the morning. We then transfer to a van first trip enroute to Dingalan and depart at 3am, we arrived at Dingalan past 4am and the driver is kind enough to bring us to Brgy Davil-Davilan about 10 minutes from Dingalan proper. From here we are fetched by Kuya Junior tricycle to their home which serves as the jumpoff point.
DAY 1
At Kuya Junior house, we are warmly received and even served breakfast that we never expected. Since breakfast is served, we only bought packed lunch instead at Dingalan proper. We meet the Brgy captain and pay the P50 registration and sign a waiver. After final preparations, we started the trek at about 6:50 in the morning.
We passed through flat grassland on the first few minutes of the trail, crossed a river and reached Station 1 after 20 minutes.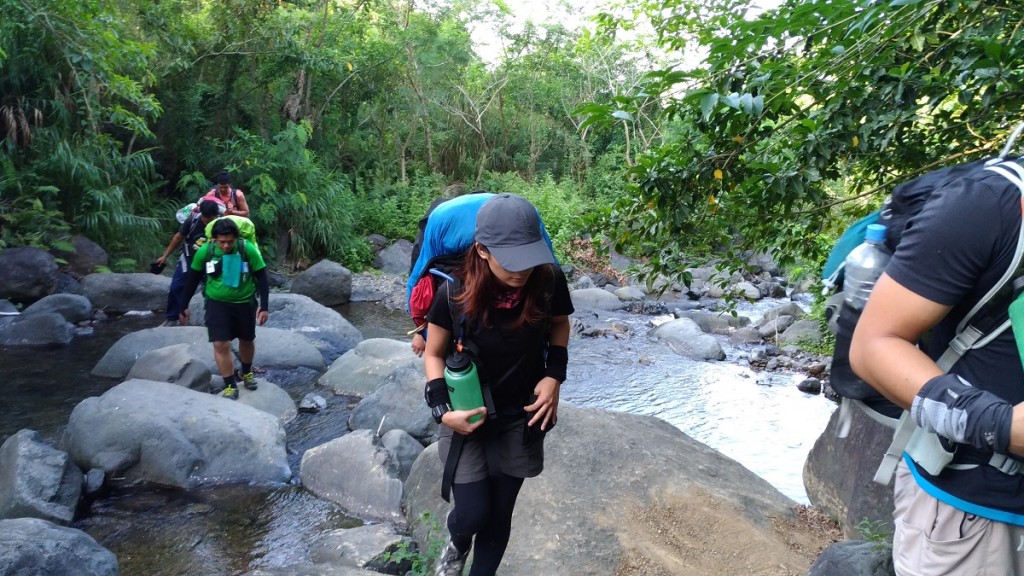 From Station 1, the trail changes from grassland to rainforest with grueling medium to steep assaults. We reached Station 2 after 40 minutes and regrouped. We resumed the trek and reached the Balete tree landmark after 30 minutes. We proceeded and walk past 20 minutes to Station 3 and another 40 minutes to Station 4 and reqrouped.
We resume the trek and reached Station 5 after an hour. Station 5 is a wide camping ground with a water source 10 minutes away. Its past 11 o'clock so we decided to take our lunch and took a rest.
At around 12noon, we resume the trek towards Station 6. We passed through a ridge, rainforest and mossy forest at gradual to medium assault. After 2 hours of trekking we reached Station 6 (1450+masl) and since this is the last known water source we decided to set-up the camp. The level ground is not wide enough compared to Station 5, it can accommodate about 4-6 tents only. The group opted for a hammock camping instead because of limited area and more adaptable to any terrain since the next camp will depend on where trailblazing stops.
DAY 2
At 4 o'clock in the morning, the team cooked breakfast and pack lunch. Past 5 o'clock we took our breakfast, then break camp. After final preparation, the lead started the trek at 6:30am.
The trail was gradual passing through a ridge full of Pandan (endemic flora) until nearing the foot of Peak 1, from the foot the assault is quite steep which needs scrambling on vines and bushes (one man trail). After 30 minutes from Station 6, we reached a small flat area (good for two persons) pitstop which serves as the viewdeck. Here a panoramic view of the coastline of Aurora can be seen and the vast plains of Gabaldon Nueva Ecija.
Twenty (20) minutes of continued ascent we reached Peak 1, which is obstructed by giant mossy Pandan trees and gigantic pine trees. From Peak 1, the trail is relatively flat to gradual ascent descent, after 30 minutes, you will pass by 'Durungawan' a good spot overlooking the town of Gabaldon (Nueva Ecija).
After an hour, we reached Station 7, it has a giant mossy pine tree landmark and flat area which could accommodate 3-5 tents we waited for regroup. Past Station 7, the trail is getting struggle because of Pandan trees, mostly we call floating trail because you will step on the lying bodies of overgrown pandan trees that looks like trap or "patibong" and you will need a lot of upper body strength and balance. Every step must be very careful, testing every step or else you will shoot in a trap.
An hour from Station 7, we reached the foot of Salakot Rock (referred as the False Peak, 1740+masl) often mistaken by previous explo attempt as the summit. Its past 11 o'clock so we decided to look for a flat ground to wait for regroup and have our lunch.
Kuya Junior said that there's no more camping ground in there so he advised us to backtrack on the last flat area we encountered about 15 minutes away from our current position. We took our lunch, and since it's still past 11 am we agreed to assault the Salakot Peak and conduct a survey on the trail of the last group who did the exploration. And if there's still time we can commence the trailblazing to forward the trail. We left our backpacks, we just bring assault packs with trail food and water. The trail leading to Salakot peak is quite technical assault with portions of almost 90 degrees with very limited grip. After 20 minutes, we reached the Salakot Rock.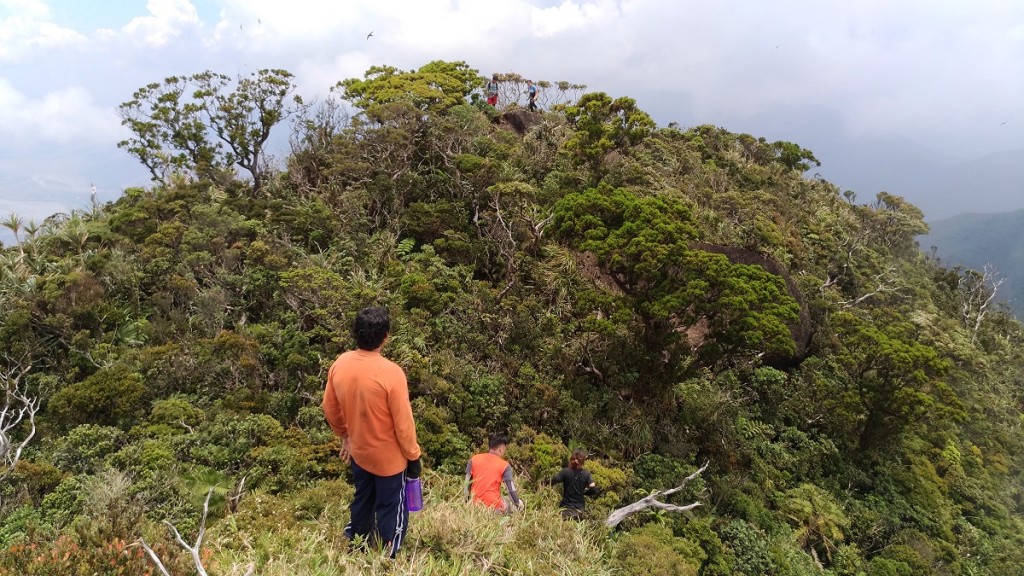 After some picture taking, we traced and survey the trail established by the last group to attempt. A 10-minute sharp descent and gradual ascent, we reached Peak 3 (1720+masl) covered with bonsai trees. We continued walking since the trail is still visible, until we reached a portion we can't see the trail anymore so we started trailblazing. The trail is still abundant with pandan that's why we find it hard to easily penetrate. We reached a flat portion by 2pm and decided to abort and go back to our e-camp. From here, the GPS recorded that we are only 3+KMs away from the summit.
Upon descent from Salakot peak, we meet two mountaineers Jonjon Garcia of NEBMCI and Jaycee Aratan of Talahib Mountaineers with their guide, Kuya Carding who just commenced their hike that day at 5am from the jump off. They say that they will just spend the night in the flat area at the foot of Salakot rock and they will go with us tomorrow with the summit assault. We see it as a positive indication that we can fast track the trailblazing because we have two guides already. We resume backtrail to e-camp.
Past 4pm, we reached our emergency camp where we left our things. We cook dinner and had meeting for our plan for tomorrow. Majority decided to pursue the summit assault but one of our colleague, Macky decided not to continue and descend earlier to jumpoff with Byluck, the son of Kuya Junior. We decided to just bring assault pack with trail foods, emergency foods and water. We also agreed to abort the climb by 3pm (make it or break it), so we can go back to camp and descend early on Day 4.
DAY 3
At 5 o'clock in the morning, the team cooked breakfast and pack lunch. The trek commenced at 6:30am. We reached our last stop (of Day 2) at 8:00am, our guides resumed trail blazing. Most of the time, we have limited view of the surroundings because it is mostly covered with Pandan making the trailblazing more difficult. Sometimes we crawl under the Pandan, sometimes we go over it balancing through its huge trunks (floating trail). But the trail is relatively rolling.
Lunchtime, yet we are still on the ridge and can't still sight of the last peak assault to summit because of the fog. We decided stop and eat our lunch. Based on GPS data, we are 1.5 kilometer away and about (1800+masl). After lunch, we resume trailblazing and by 1pm we already see the last peak assault to summit. We got excited to finally see the last peak to ascend, we have to negotiate a steep descent to the foot of last peak which is about (1700+masl) still covered with Pandan and a steep ascend to summit. But we are slow moving because of thick overgrown Pandan that has hindered our way. Past 3 o'clock, we got on a semi flat area where we huddled together. We are about halfway to the summit at an elevation of 1800+masl. We gathered together and faced with a difficult decision: to pursue or call it quits. We find it heartbreaking to quit because we are almost there and we can see it already maybe about an hour to the peak. It would also be more dangerous for a night trek back to camp because of the Pandan trail. We talked openly, we have emergency foods but we lack water. But everyone are positive about spending another night, we share the same sentiment to sacrifice a night. Upon agreement, we set-up our temporary camp.
We settled for a small level ground and looked for dead leaves to serve as our ground cover. We we're like sandines-pack in this ground to combat the cold. Our guide, Kuya Junior and Carding lit a bonfire to give us warm in the cold night. We're still lucky that it didn't rain that night. The sky is so beautiful, there are a lot of stars. Some got a good sleep (evident by loud snores) while I am not comfortable with my position and its very cold. Wide awake, I'm patiently waiting for the sunrise.
DAY 4
At 5 o'clock in the morning, the sky lit, we still have few trail foods and energy bars that serves as our breakfast. We continue our assault to summit with excitement, still overgrown Pandan dominates the trail. Our guide cut some small bamboo-like plant with water inside that serves as our water source. It tastes good, almost similar to coconut water. After an hour, we reached the summit of Mt. Mingan. There's not much view on the summit ground because it is obstructed by huge pine trees. You need to climb the trees to get a panoramic view.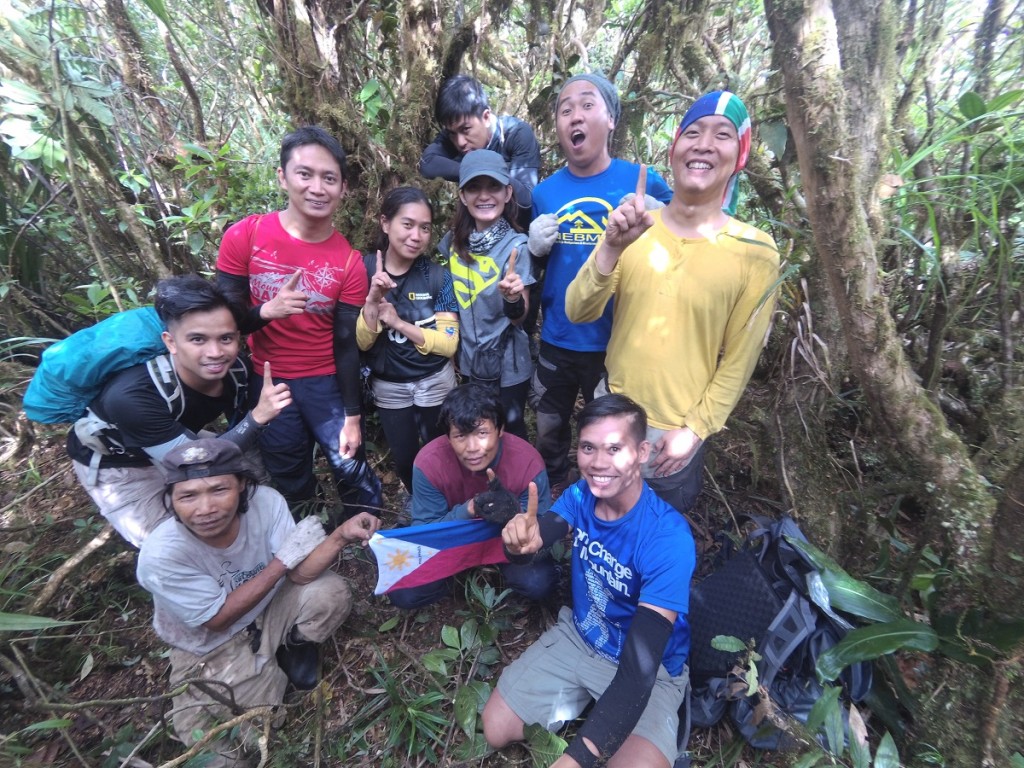 After an hour, we descended back to camp, fast pace. Took a long-deprived meal and resumed our trek back to jump off. We reached the house of Kuya Junior at 7:00pm. We are very thankful for the warm hospitality of Kuya Junior and his family, we were rewarded with a chicken tinola and buko juice as our celebratory meal for this successful expedition. Truly, it was indeed a very challenging and memorable exploration climb we had and foremost we are more than thankful to God for His guidance.
ITINERARY:
DAY 0
2100 Meet-up Five Star – Cubao Terminal
2200 ETD to Cabanatuan
DAY 1
0200 ETA Cabanatuan/ Transfer to Van bound to Dingalan
0300 ETA Dingalan Town Proper/ Transfer to Trike to Brgy. Davil-Davilan
0320 ETA Brgy Davil-Davilan Kuya Junior's house/Prepare
0500 Breakfast
0600 Start Trek
0900 ETA Balete Tree landmark
1200 Station 5/ Campsite Take Lunch
1300 Resume Trek
1500 ETA Station 6/ Last watersource/ Pitch tent
1700 Prepare Dinner
1800 Dinner and Socials
DAY 2
0400 Wake-up Call/Prepare Breakfast
0500 Breakfast and Break camp
0600 Start Trek/ Load Water 4L minimum
0630 ETA Peak 1 viewdeck
0800 ETA Station 7
0900 ETA Station 8
1100 ETA Salakot Peak/ Take Lunch
1400 ETA Station 9/ Leave Packs/ Summit Assault
1500 ETA Station 10/ Mt. Mingan Summit/ Photo-ops
1600 Start Descent Back to Station 9
1700 ETA Station 9/Prepare Dinner
1800 Dinner and Socials
DAY 3
0500 Wake-up Call/Prepare Breakfast
0600 Breakfast and Break camp
0800 Start Descent
0900 ETA Salakot Peak
0930 ETA Station 8
1030 ETA Station 7
1200 ETA Station 6/ Take Lunch/ Load water
1300 Resume Descent
1500 ETA Camp 5
1600 ETA Balete Tree
1800 ETA Jumpoff/Kuya Junior House
2000 Back to Manila