Hiking Matters #4: Amuyao and Anawangin
Traversing Mt. Amuyao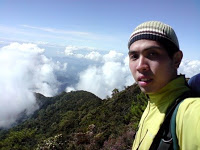 Whew! I just arrived from the north after completing (finally) the famed traverse of Mt. Amuyao – from Barlig, Mountain Province to Batad, Ifugao, passing by the villages of Pat-yay and Cambulo. Once again I am grateful to Sir Emman Palacio who assembled our team. My roommate, fellow UP Med Outdoor Society member Julian Cañero, joined up as well. Also there were the Sarreal sibings: Pango, Coby, Agnes, and Lilay (the youngest in the group, 17). Plus Kat Jordison, whom I met in G2 also, and Jeion (goodluck sa exam! hehe). Completing the team were my Napulauan comrades from Nestlé: Sir Albin, Mam Kris, and the ever-hardcore Sir Orly.
What can I say about the traverse? First, it is really difficult. The Barlig trail, although steep, is actually very manageable, comparable to the Tatlong Tangke trail of Mt. Banahaw. The traverse to Batad, however, is lengthy. The incline of the slopes can be managed, but what I found scary was having to cross the rice terraces on very narrow paths. Although very picturesque when seen in postcards and pictures, walking on these paths is quite demanding in terms of balance because the next terrace lane is 20-30 feet below! On the other side are the very muddy paddies. We took it easy on the traverse and had to night-trek our way through this challenge. But thankfully, the weather was great: not a drop of rain fell during the entirety of our trek.
The second 'thing to say' about the traverse: it is really a grand cultural and photographic experience. Whereas the pristine quality of Banaue and Sagada are inevitably being diluted by tourism and modernization; the villages of Pat-yay and Cambulo are still bereft of electricity; the nipa huts are still built on the traditional fashion, and the culture is very much alive. This is why the 3-day traverse itinerary can actually be expanded to 4 days to maximize this experience. In this way, you can take time to really capture the beauty of Amuyao, the villages, and Batad on camera. On the morning of our second day, we were blessed with a sea of clouds which covered more than half of the panorama. Pulag was there with its grassland summit (SSE); beside it was Tabayoc and closer to Amuyao was Napulauan. It was very nice to see these 'familiar faces' come into view. The ayosep flowers, pink and radiant, were in full bloom and lined the trail going to Pat-yay. There were many other beautiful flora in other parts of the trail. And of course, the villages and the terraces provided so many photo opportunities that it became very difficult to follow the itinerary!
The laws of supply and demand take its toll on climbers in Amuyao. Between Cambulo and Batad, we had no choice but to buy unrefrigerated Gatorade at P70/bottle out of sheer thirst! A small bottle of Coke sells for P25-30 and even C2 costs P40. The locals explain that these drinks have travelled a long way, that's why they cost as much. I guess that's fair enough. But the next time I do the traverse I'll just bring my own Gatorade and I'll bring more of powdered juice drinks!
On our first night We stayed on one of the relay station bunkhouses atop Mt. Amuyao. The men were kind and I think they are friendly and in general, they let climbers stay in the bunkhouses. Warning though, the space is quite limited so unless prior communication can be made, bringing tents is still advised. Another reason for this is that Day 2 may be terminated between Pat-yay and Cambulo especially with bad weather.
Kuya Abner of Barlig was our guide. Although it was just his third time to traverse, he did a good job. Apparently, only very few guides know of the traverse trail and they can command the guide fee for this hike (P1200-P1500/day). Speaking of rates, the municipality of Barlig now collects P25/person as an annual fee (you can come back on the same year without having to pay). Brgy. Macalana collects a P50/person annual fee as well.
The Florida bus on the way back was very convenient. There's even a CR inside the bus. The stopovers, however, were very long and it was already 0530H (1 hour ago) when I got back here in my dorm in Manila. I'm glad I finally got to experience the Amuyao traverse.
Daytripping Anawangin Cove
It can be done: a super daytrip that entails hiking from Pundaquit to Anawangin, swimming and enjoying the beach in the cove, crossing over to Capones Island to visit the lighthouse, returning to Pundaquit, and celebrating the daytrip in Subic! That's what I did with my friend Siena as we rushed to attend the First Induction Climb/Dive of the UP Med Outdoor Society. We were joined by my PinoyMountaineer.com partner Ivan, and blogger Anton of Our Awesome Planet. We took off from Manila at 0030H, arrived at around 0430H at Pundaquit, started the trek immediately, reached the summit of Mt. Anawangin at 0630H, and by 1000H (we – that is, our guide – got lost a little bit) we were already enjoying the beuaty of Anawangin. It has white sand but it is not the sand of the sea, but rather of Mt. Pinatubo. Still, it is radiant white and beautiful. By lunchtime we were already in Capones Island, and it was an easy boat ride back. I'll write an itinerary of Anawangin the coming days.
A big congratulations to the first batch of the UP Med Outdoor Society! Also to Lauro Gonzales, Kimmie Zantua, and Ilian Eusebio for organizing the event!
After Anawangin and Amuyao, what I need is rest. Till next week!