GPS and altimeter watches: an overview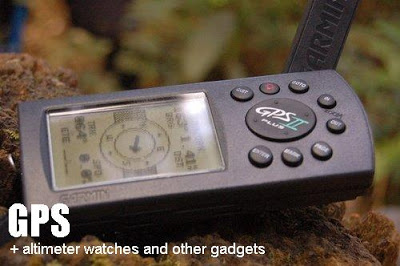 "Navigation": part 1 of 'gears + gadgets' series
by Gideon Lasco
PinoyMountaineer.com, in welcoming the summer vacation, embarks on a 11-part journey into the essentials of mountaineering. Of course this will take time, you will have to bear with me as I try to make these articles in between climbs!
BACKGROUND
Increasingly becoming widespread is the use of global position system (GPS) receivers, altimeter watches, and other gadgets. Although these tools, like the age-old compass, perform the most important function of orienting the hiker, they also serve as useful tools in tracking hike progress and documenting the climb. Through the GPS and the altimeter, using differing methods, altitude can be derived. The GPS of course can get latitude and longitude, enabling 3D navigation. Also, 'GPS time' gives accurate time, at the level of atomic clocks. Using location data, speed can also be derived, as well as direction (bearing). Hence a GPS unit is like a compass, pedometer, altimeter, and watch in one.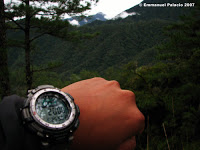 Meanwhile, the altimeter watches (also known as computer watches) also have built-in thermometer, barometer, and digital compass. Others have "weather forecast", which uses data from the barometer and thermometer to prognosticate weather. In the mountains, however, this is of little value, given the variability of weather conditions.
Combining both the GPS and altimeter are the new, top-of-the-line GPS watches such as the Suunto X9 series, which includes the functions of both. Truly technology is spiraling upwards at a dizzying pace!
Astronomers would love the GPS directions; botanists would love the altimeter because they can record the elevation where a particular species grow. PinoyMountaineer.com uses these tools to make more accurate itineraries, to give more visual descriptions of summit views, and to verify altitude data. In the future we will also try to publish waypoints in major mountains stops so that GPS users can refer to them. The emerging worldwide game of 'geocaching', or GPS-based 'treasure hunting', is something that the blogger personally wants to try. Whatever field of interest you may have, these gadgets have lots of uses. At the very least, these gadgets are 'cool items' that are sure to be discussed over campsite 'socials'.
GPS RECEIVERS: FREQUENTLY-ASKED QUESTIONS
1. How does a GPS work?
Navigation provided by GPS is based on the concept of "Trilateration". Simply put, there can only be one point in which distances from three different locations (satelites) meet. For example, If you are 56 kms away from Manila, 240 kilometers from Baguio, and 100 kilometers from Aurora, you can only be in Pampanga! These distances are provided by satelites which comprise the GPS. At any given location, at least four of these satelites are available. Of course, the more satelites, the better the precision and accuracy.
As soon as you open your GPS receiver, it gets searches for satelites. It takes around 3-5 minutes to get your location. After that, you can set your receiver to tracking mode and it will automatically plot your movement. More advanced units can also make tables and charts, record your time, speed, altitude changes, etc. On the other hand, you can set a target destination and your receiver will display its direction relative to your current position, as well as your distance from it.
2. Is GPS accurate?
Yes it is fairly accurate. For the purposes of general directions and to give, it does a pretty good job. Unlike altimeters which are unit-dependent, the GPS receivers would only vary on how well it receives signals, and its extra features such as storage capacity for waypoints; maps which you can superimpose on the screen; distance and other calculations, among others.
3. What are the advantages of a GPS unit?
You can not only orient yourself, you know your exact location in terms which are understandable by anyone. In the event of a rescue, for instance, it is much easier to just state your coordinates rather than rely on landmarks, especially at night! It is also a good trekking tool that tells you how far you are from your destination- and the maps it construct can suggest whether you are on the trail, or deviating.
4. What are the disadvantages of a GPS unit?
Like cellphones, GPS relies on signals. Since they are coming from satelites, these signals are easily obstructed by trees, so sometimes "poor GPS coverage" may be reported. Since most Philippine mountains are forested, this means frequent interruption in GPS data retrieval.
5. How much?
Prices range from PHP 5,000-20,000
ALIMETER WATCHES: FREQUENTLY-ASKED QUESTIONS
1. Which brands make altimeter watches and what are the usual features?
The usual brands are Casio (Pro-Trek series), Suunto, Timex, among others. The typical altimeter watch would also include some/all of the following: thermometer, barometer with weather forecast, digital compass.
2. How does altimeter watches work?
Altimeter watches indirectly measure elevation by measuring air pressure through a sensor. The higher you go, the less air pressure you have so working on this constant rule, an estimate of the altitude is derived. Take note that this method is prone to many errors, not the least those which can be caused by weather fluctuations.
3. Are altimeter watches accurate?
It depends on the quality of the watch and the current weather conditions. Personally, I find the Casio Pro-Trek and Triple Series lines accurate, with a 2955 reading at Mt. Apo's summit and similarly accurate readings on other mountains. Still, the best altimeter watches can only have an accuracy of +/- 5 to 10 meters, so don't start to question the encyclopedia readings just because you got a different one! Also, no matter how top of the line your watch is, it still relies on pressure readings. Although the internal computer makes adjustments, errors are still largely possible.
4. How do I calibrate my altimeter?
First you must find a reference altitude – that is, a place with a fixed elevation such as the sea. It is best to calibrate also in perfect weather as weather conditions can alter the pressure (which alters altitude).
It is best to research beforehand the reference elevations of each mountain. This way you can gauge the accuracy of your altimeter, and enable you to calibrate on the spot.
5. What are the applications of an altimeter watch?
Like the GPS, an altimeter can help you track your progress during your climb. It serves as a handy tool to have an idea where you are, and how far you are from your destination. Some units have alarms which can go off when you have reached a particular altitude. The barometer reading is used for weather prediction. A sharp drop of air pressure means an impending adverse weather condition; high pressures usually mean sunny hours ahead. Meanwhile, the thermometer helps you document how cold it really is.
5. What about batteries?
Batteries of altimeter watches are usually the same as the normal watches, but most units use two batteries at a time. You can buy replacements at the stores of your watch's manufacturer — but you can also have them replaced in those watch repair stalls in the street! Prepare up to P500 for battery replacement. Newer altimeter watches sometimes use solar energy so you don't have to worry about this.
6. How much is an altimeter watch?
Prices range from PHP 7,000-20,000
OTHER QUESTIONS
1. Which is more accurate in altitude, GPS or altimeter?
Between GPS and altimeter, I will go for GPS because it relies on established data whereas an altimeter watch actually gathers its own readings. However, I will still trust more on encyclopedia data when it comes to the exact altitude of the mountain because they used more specialized surveying equipment in coming up with the elevation.
2. I have a lot of money to spare. What other navigational gadgets can I buy?
If you are bored of your headlamp, I suggest night vision goggles, which cost PHP 200,000-400,000. There are also thermal-vision goggles which can enable you to spot the hidden warm-blooded animals lurking beside your campsite (PHP100,000-300,000) Finally there are also GPS-assisted binoculars with a screen that indicates which star or constellation you are looking at (PHP50,000). Sky's the limit!
3. I am a newbie mountaineer. Do I need a GPS or an altimeter?
f you're just starting, you may want to invest first on the more practical equipment such as a tent, stove, cookset, and clothing. But if you are very interested in geography, navigation, or climb documentation, a GPS or an altimeter would also be a good deal.
4. GPS or altimeter?
I go for GPS. A GPS unit gives you LLA (latitude, longitude, altitude) and is more useful in emergencies.
gears + gadgets series
Part 1: Navigation
Part 2: Communication
Part 3: Shelter
Part 4: Bags and storage
Part 5: Stoves and cooksets
Part 6: Trail food
Part 7: Clothing
Part 8: Waterproofing
Part 9: Night tools
Part 10: Photography
Part 11: First aid kit