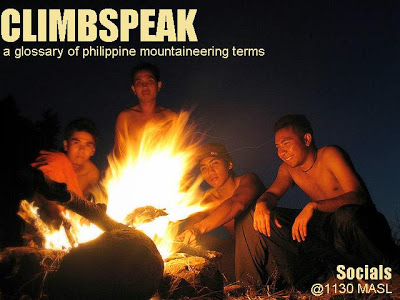 CLIMBSPEAK v.3
a glossary of philippine mountaineering terms.
NOTE: the 'Climbspeak' picture showing a campfire does not depict standard mountaineering practice.
4-wheel drive – climbing with your hands and feet, as in G2's Peak of Deception
6-wheel drive – crawling on your knees, as in the Napulauan mossy forest where you have to go under the trees
7-11 – stores at the Mt. Maculot campsite.
adidulas – shoes with no traction, shoes not fit for climbing.
akiki – synonymous with steep trail
altitude gain – the difference in elevation between jump-off point and destination
ambangeg – synonymous with easy trail
assault – the steep final leg of the trek leading to the summit – usually connotes difficulty
break camp -to disassemble tents, clean campsite, and prepare to leave camp
backtrack – going back and looking for trail signs when a party is lost or in doubt with path
basagan ng tuhod – steep and lengthy climbs (particularly descents) that take their toll on the knees
basecamp – place where mountaineers set up camp and leave things for assaults/explorations
beachineering – simply means hitting the beach but often used in the context of a group of mountaineers going on a beachtrip instead of climbing
bladder – water reservoir or hydration packs
bloated – an IT that gives a generous time allowance to reach a target, usually to accommodate slower climbers
BMC – basic mountaineering course
bundok – mountain
campingers – undisciplined people who climb mountains without following rules
cardiac trail – a steep trail, usually at the onset of climbing
cathole – what you dig with a trowel when you have to go in a major way (see major)
caving – spelunking
chorva – major product, must be buried in a cathole
Chowking – meeting place for Cordillera/Tanay area climbs; 24/7 restos off Session Road/EDSA Crossing to buy packed lunch and have early breakfast
coño (read as konyo) – 1. someone English-speaking 2. someone whose juxtaposition of English and Tagalog terms becomes a source of laughter and joy among the group.
summit – refers to the highest point of a mountain. more specific than 'peak' which can mean any high point though two terms are used interchangeably
sweeper – group or individual at the rear end of a climbing party
system – refers to climb (as in rock climb) equipment such as ropes, harnesses, etc.
tagay – socials, with alcohol
take 5 – a five-minute climbing break; also take 'x' where x is the number of minutes
Take nothing but pictures – opening lines of the mountaineer's creed that often finds its way in mountaineers' Multiply sites and personal webpages
teka-teka – any thorny plant that snags your expensive trek clothes or digs into your skin
thermapoor – any of the inexpensive alternatives to thermarest
thermarest – an overpriced portable self-inflating foam pad for sleeping in
thermal wear – high-tech clothing for warmth
TL – team leader
TNF – The North Face
topload – riding on a jeep's roof
trailhead – jumpoff
trail water/food- easily accessible bottle of water or snacks for refreshment along the trail.
trail sign – rocks, strings, foliage, branches, or hack signs on tree trunks that mark the designated route
training climb – climbs that are taken seriously; sometimes pertains to climbs required for applicants prior
traverse – ideally refers to a climb following a horizontal trail across a mountain passing by its peak; but is used loosely to mean any climb using different trails up and down a mountain
unload – to offer food/drinks to fellow climbers on the trail in the hope of hauling a lighter load. May also be used as a synonym of major.
Vibram – durable material used in Merrell and other shoes
virgin – someone new to a particular mountain
washup area – house/hotel/river/ditch for changing clothes in at the end of the trail
wasted/wasak – dead tired
Ziplock – very handy sealable plastic bags for waterproofing valuables
On front photo: UP Med Outdoor Society members; picture courtesy of Julian Cañero. Many thanks to Sir Cecil Morella of AMCI and all those who contributed. We're now up to 120 words!
Help build 'Climbspeak'! Please add terms used by Filipino hikers through commenting on this post. Feel free to repost this article but kindly acknowledge PinoyMountaineer.com.
PBA09o45506n