The quotable PinoyMountaineer: Hiking, mountain climbing, camping and outdoor quotes by Gideon Lasco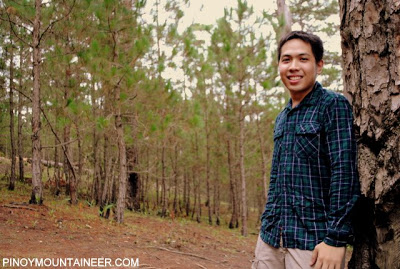 Below you will find a compilation of
Facebook status messages
and
Twitter tweets
that I have posted through the years: take note that
all of these quotes are
original
; if ever there is any similarity to another quote, it is entirely coincidental and non-intentional. Feel free to repost any of these but please ascribe the quote to Gideon Lasco and/or PinoyMountaineer.
THE WILL TO CLIMB
The most difficult trail is that one that leads nowhere. The easiest trail is one that takes you to your dreams. Follow it with all your heart! Hiking is not a test of strength, but a test of will, and we all know that when there's a will, there's a way.
Every summit in the world is walking distance to a person who sets his heart to it.
Looking up, going up, and never giving up. That's the spirit!
Hiking will take you up, but it will never let you down.
No pain, no (altitude) gain.
Mind over mountain, attitude over altitude.
Elevation doesn't matter as long as I have my two feet above sea level.
When you climb a mountain, you will meet many people along the trail. You may even meet your true self. Bring out the best within you, make the most of time, and leave the least you can.
On running: There is a different joy in being part of bodies in motion, of movement, of rhythm, of the ability and the opportunity to bring my body from one part of this earth to another.
My favorite mountain is the one in front of me.
Climbing mountains: It is not just the physical act of taking your body to the summit. It is the spiritual act of coming closer to nature, to God, to other people, and to your own, inner self.
The mountains are my friends, and if they are your friends too, then we are all friends once removed, sharing a passion of a lifetime.
If you love hiking, then love it all the way to the top! Keep on reaching for the summits of your dreams!
It is not the pack that we carry, but ourselves.
Rereading the "Lord of the Rings" trilogy, I am fascinated at how much hiking or "tramping" the Fellowship actually did. Sauron aside, Middle Earth would have been a mountaineer's paradise.
Four footsteps are better than two. In any climb, a great companion is better than sunshine.
Today, in an unexpectedly blessed moment, I saw a young wild deer running gracefully across the slopes of Mt. Sicapoo. Run, deer, run, to me you are Freedom.
Amid the plethora of terms used to describe something that doesn't even have to be named, but that which we profoundly enjoy, for whatever reason, we should stick to what we have come to know as our brand of adventure. We are hikers, trekkers, backpackers, mountain climbers and yes, mountaineers in our own beautiful country.
Really, it is not the pack that you carry, but yourself. There is so much weight to overcome; so many obstacles before you can climb: oftentimes you have to file a leave, save up your allowance, make way for that long weekend. But when we are able to do the things that we want; when we are able to pursue our passions and live our dreams, then we are truly on the right track.
There exists within men the desire to go higher. To ascend, to uplift one's body and spirit, to elevate one's state in life: all these perhaps point to man's destiny to soar and to reach beyond the material. Up high in the mountains, one can temporarily suspend the mundane, momentarily realize this glory, and experience a new world that is cold and beautiful.
Mountains are tall and life is short. Seize the moment!
Hiking is not a battle between man and mountain; it is a struggle between man and his own self. And the ultimate victory is not reaching the top, but reaching beyond one's limit.
SAFETY FIRST
The ignorance of heights is the height of ignorance. Safety first!
Safety over summit: A good climber knows not only when it's time to go up, but more importantly, when it's time to go down.
For every climb, there are four S's of success: Safety, Summit, Sights, and Smiles. Safety first, summit is optional but great to have, sights are unique each time so keep your eyes open, and smile not just in front of the camera, but within your heart. For each opportunity to climb is a great blessing, and I am ever grateful.
LEAVE NO TRACE
In the city: the more, the merrier. But in the mountain: the more, the messier.
Mountaineers are mankind's ambassadors to the mountains, we must thus show the best of humanity in every step we take along the trail.
As mountaineers, the first freedom we must uphold is the freedom of the mountain.
When we say "take care" to fellow hikers, we should say it with a double meaning. First, of course: "take care of yourself." Second and equally important: "Take care of the mountain."
It takes just one irresponsible hiker to ruin a climb. It takes just one irresponsible climber to ruin a mountain. By being responsible in our actions on and off the trail, we uphold the honor of mountaineers, the beauty of nature, and the sanctity of life.
Breaking world records is good if it is done in a responsible way, but the record we must strive to achieve in the Philippines is that of having the cleanest mountains and the most responsible mountaineers. There is no need to register for this effort. Just do it!
I believe that climbers should not hesitate to call out other climbers who are clearly in the act of violating outdoor ethics, such as leaving trash behind, or making loud noises in the campsites. Please do so politely and respectfully, but firmly. If we do not police the mountains, no one else will.
Let us love the mountains. Let no one desecrate their beauty by leaving anything behind. Instead, let every climb be a clean-up climb.
HUMOROUS QUOTES
People use different terms for the same experience. Cold temperature in the Cordilleras becomes "zero degrees" and a steep trail becomes "90 degrees". These are, most of the time, hyperboles.
When hiking, don't forget to look back for orientation, look forward for motivation, and look up for inspiration. And of course, look down to check your shoelaces 🙂