DLSU-DMS – Anniversary Run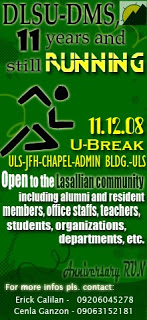 PinoyMountaineer congratulates the De La Salle University – Dasmarinas Mountaineering Society for its upcoming 11th anniversary. Eleven years is quite a long time already for a mountaineering club especially during this time when clubs and groups are sprouting all over like mushrooms. Environmental advocacy is a hallmark of maturity for mountaineering clubs, and in the case of DMS they have been championing the welfare of one of their home mountains, Pico de Loro.
Our friends from DLSU-DMS are organizing an Anniversary Run this Wednesday (Nov 12) and they are inviting everyone to join. If you are interested, contact 09206045278. Registration starts 1000H and the run proper takes off at 1200H.