Khoo Swee Chiow in ROX talk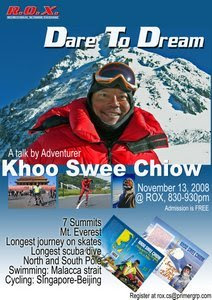 Singaporean adventurer, author and inspirational speaker Khoo Swee Chiow will give a talk at ROX on November 13, 2008 830-930pm.
Khoo Swee Chiow is an accomplished mountaineer and adventurer who has summited Mt. Everest twice, completed the 7 summits, north pole and south pole and has achieved a couple of world record by doing the world's longest scuba dive and longest journey on skate. Swee Chiow has also swam the entire length of the Strait of Malacca and crossed Singapore to Beijing by bike.
Khoo Swee Chiow is part of the elite Everest speakers circle and has done hundreds of inspirational talk around the world. Swee Chiow is also the author of two books Cycling from "Singapore to Beijing" and "Journey to the Ends of the Earth" narrating his adventures.
This event is supported by the Department of Tourism.
Hear him live at ROX, admission is free, register at rox.cs@primergrp.com with your name and mobile number.