MountainTalk #5: Adventurer Khoo Swee Chiow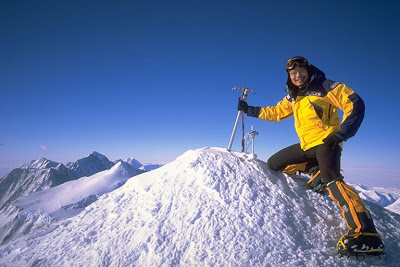 Today I attended the talk of world-class adventurer Khoo Swee Chiow at ROX and I also had the opportunity to have a brief conversation with him. It was a true honor to meet a guy who has climbed all the Seven Summits – including Everest twice – and has reached both the North Pole and South Pole! Sir Chiow is also a world record holder for longest journey on ice skates, and longest scuba dive. Speaking at the ground floor of ROX, he was an imposing figure – much like our own Everest summitteer Leo Oracion who also attended the talk. Another Everest alumnus, Romi Garduce was there – he was actually the one who told me about the talk in the first place. Here are excerpts from Khoo Swee Chiow's talk and my conversation with him:
How do you like the Philippines?
Very nice, this is my first time here, it has a big tourist potential. You get 5 million visitors each year, but it is very little considering the size of your country.
What problems do you see?
Infrastructure is a big problem. If I tell my friends in Singapore all about Sagada, they'd go at once but when I tell them that to get there takes over 12 hours, they'll think twice.
Any mountains you visited?
I climbed Mt. Pulag – unfortunately we didn't see the spectacular sunrise and sunset because the weather was bad. We went to Sagada – It was a very nice place. And last weekend we had a quick trip to Pico de Loro.
I was told that you wanted to climb some mountains as well?
I initially wanted to climb Mayon and Apo. But due to weather and security constraints we weren't able to arrange it, but when I come back, I'd like to try climbing them.
You know Romi Garduce and Leo Oracion beforehand?
Yes, I met them in Nepal on my second Everest climb in 2006.
When did you start climbing mountains?
I began at age 24 – not too young, actually (he is now age 44). I grew up in Malaysia and started climbing there.
We both grew up in the tropics. Is it hard for us tropical dwellers in general to adjust to alpine climate and conditions?
Actually, no, it is not hard. All you need is to train and gain experience.
And, to use his motto, all you need is "to dare to dream", with giants and pioneers like him as an example to follow.
For more about Mr. Khoo Swee Chiow, visit his website: http://www.daretodream.com.sg/