Hiking matters # 46: Visayan voyage / I want to climb the mountains of Panay!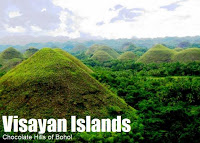 I have already booked my flight to the Visayas to do a run-through of Visayan mountains this April! The mission? To add more mountains to our very small list of Visayan peaks, and to unwind before I enter my final year of medical school.
My party will start off with Cebu to climb Osmena Peak, then continue to Negros for Mt. Kanlaon and maybe Mt. Mandalagan. Finally, we'd like to devote some time to climb/explore the mountains of Panay Island, with Mt. Madjaas in mind – or maybe this elusive Mt. Manaphag. Do you have any itinerary suggestions? If there's anyone who can help me with contacts especially with Madjaas, I'd appreciate it 😀
How do you say "I want to climb mountains in Panay" in Ilongo? I hope to find out.