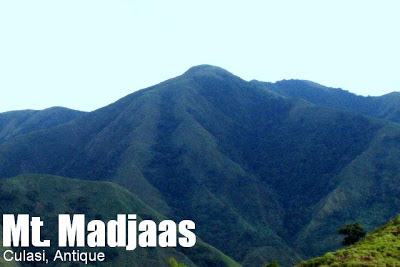 MT. MADJAAS
Culasi, Antique
Major jumpoff: Brgy. Flores, Culasi
Elevation: 2113m (HP – Panay Island)
Days required / Hours to summit: 3-4 days / 14 hours
Specs: Major climb, Difficulty 8/9, Trail class 1-4
Features: Open slopes, Mossy forest, Waterfalls, Highest Point
BACKGROUND
Chief among Panay mountains and revered in local culture and tradition, Mt. Madjaas in Culasi, Antique is one of the most challenging climbs in the Visayan islands. Some questions have been raised whether Mt. Madjaas (or Madja-as; Madia-as) is the highest or second highest in Panay, but for now it is recognized as the highest. And regardless of this dispute, Madja-as is certainly the mountain that makes Antique a truly rewarding destination for climbing.
Madjaas means 'mataas' in some local dialect, but in English it can suitably described as 'lofty' instead of just tall. This loftiness will definitely be felt in the summit which opens up to the view of Western Panay island and the surrounding seas, but it extends to the mossy forests of the mountain, in which several unique flora and found have been identified.
Access is still limited and Madjaas is currently a relative-unexplored peak, but as we get more information we expect that Madjaas' rightful place will be restored.
ITINERARY
Day 0
Travel time from Kalibo, San Jose or Iloilo to Culasi
and off to Brgy. Flores.
Day 1
0500 Wake up call / Breakfast / Prepare lunch
0700 Start trek
1200 Lunch on trail
1700 Arrival at Bantang River campsite / Set camp
1800 Dinner / socials
Day 2
0500 Wake up call / Breakfast / Prepare lunch
0630 Break camp
0700 Resume trek
1200 Lunch on trail
1700 Arrival at Camp 3. Set camp.
1800 Dinner / socials
Day 3
0500 Assault to summit for sunrise
0530 ETA Mt. Madjaas summit
0630 Head back to Camp
0700 Back at Camp 3 / Breakfast / Prepare packed lunch
0800 Start descent
1200 Lunch on trail
1700 Back at Brgy. Flores jumpoff. Spend the night
or take arranged transportation back to Culasi
Day 4
Sidetrips / Head back to Iloilo or Kalibo
SPECIAL CONCERNS
Transportation. To access Culasi, take a bus from your arrival point in Panay Island, more frequently Iloilo (4-5 hours ride) or Kalibo (2-3 hours). Then take a tricycle or jeep to the jumpoff at Brgy. Flores.
Contacts. We are still in the process of gathering contacts and more information about Mt. Madjaas.
TRIVIA
The mountain's Malay-sounding name has in fact some Malayan origin, tracing its roots from the story of the Ten Bornean Datus and the ancient "Confederation of Madjaas".