Update: Pico de Loro Climb for the Environment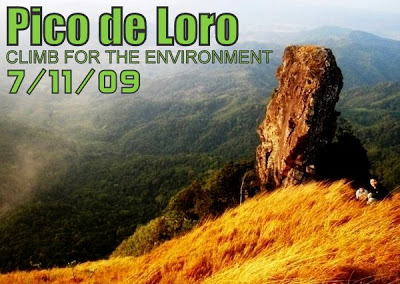 We are pleased to report that just over two months after the publicity spread about the environmental condition of Pico de Loro, the trails are now clean and for the most part, free of garbage. Kudos to the mountaineering clubs and individuals who silently did their own clean-ups of the mountain. Of course the vandalism is still there. We are hoping though that with the rainy season, water and mossy growth will erode and obscure some of these markings. Likewise, the onset of rains would hopefully permit regrowth of forest areas that have suffered the fires of March-April.
With these developments, we are pushing through with the Pico de Loro Climb for the Environment on July 11, 2009. However, instead of clean-up activities which may at that time be no longer applicable, the climb would be a fund-raiser activity for MountainWatch as well as a workshop-climb in which the opinions of the participants would be elicited on how best to respond to the Pico de Loro situation.
This will be a dayhike. Registration fee is P1000 inclusive of private transportation to and from Manila, entrance fees, BMC-Environment modules, climb certificate, climb ID, and climb shirt. The rest of the registration, as mentioned, will go to MountainWatch.
To ensure that the funds will be handled properly, I will invite Lendl Layug, outgoing SBMS President and Fredd Ochavo, outgoing Environmental Head of the UP Mountaineers to be advisers of MountainWatch. The participants themselves will be involved in the ensuing projects as they will be part of the MountainWatch mailing list an their opinions will weigh on which projects to pursue afterwards. Lendl and the SBMS will also help organize the climb.
Interested participants, please accomplish the registration form and submit to info@pinoymountaineer.com. Please send also a digital copy of your picture for the ID (in jpg format). Please register only if you are sure of participation. Confirmation details will be emailed to the participants after the registratation has been mae. Unfortunately, we can only accommodate a certain number participants in this first event but we are planning more events in the future. If there are too many participants we can modify the plan to include other activities/venues.
Again, click here for the registration form.