Events for August-September: Maculot clean-up, Bulusan volcano and Tacadang open climbs, Pinatubo trek, and Cebu coastal adventure
Please take note of the following upcoming events for August and September. Even though it's not climbing season, our mountaineering clubs are very active nowadays!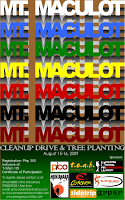 1. Mt. Maculot Cleanup and Tree Planting 2 (August 15-16, 2009)
Organizer: Philippine National Mountaineering Society (PNMS)
Details: PNMS, the same group which coordinated the Freedom Climb, is organizing a climb to Mt. Maculot to perfrom a cleanup and tree planting activity. I think there will also be a dialogue with the local officials.
Registration fee: 300/person inclusive of shirt, ID
Contact: Nino Mansaneros (09165185885; pnms.adventures@yahoo.com)
2. Mt. Bulusan Regional Eco-Trek (August 21-23, 2009)
Organizer: Federation of Bicol Mountaineers, Inc. (FBMI)
Details: (From the organizer) Mt. Bulusan Conservationist and Mountaineering Club Inc. (Mt. BCMC) and Federation of Bicol Mountaineers Inc. (FBMI) in cooperation with Man and Nature Mountaineers & Tribu Bulusanon-BUKLOD Inc. will be organizing an event entitled "Saragka Sa Bukid Bulusan", Mt. Bulusan Regional Eco-Trek Part IV on August 21-23, 2009, trek from San Jose Upper Trail to Lake Agingay and summit of Mt. Bulusan. It doesn't matter which group you belong; during this time, what matters most is we climb as one. In this regard, we invite you and your group to participate in this much awaited event. Your presence will surely be a great help in making this event a memorable one.
Registration fee: 300/person inclusive of shirt, ID
Contact: Dan Arispe (09276480676; sos_fbmi@yahoo.com)
3. Mt. Tacadang, Benguet Open Climb (August 21-23, 2009)
Organizer: Tropeak
Details: The Tacadang highlands in Kibungan, Benguet are known for its bucolic scenes and rice terraces. Pre-Climb Meeting on August 14, 2009 7pm @ Tropeak Outdoor Shop 2nd Flr. Victory Mall, LRT Monumento Station
Contact: Paeng Limarag (09053134906)

4. Mt. Pinatubo Midyear Trek (September 5, 2009)
Organizer: PinoyMountaineer.com
Details: Once again we're organizing a trek to the famous crater of Mt. Pinatubo with its milky green waters. Bring your swimming gear because swimming is now allowed in the crater lake with its mildly sulfuric waters.
Registration fee: P1,900/person inclusive of transportation to and from Manila, coordinator, guides, roundtrip 4×4 ride, entrance fees, use of SKYWAY trail whenever available
Contact: Gideon Lasco (09223487619, info@pinoymountaineer.com)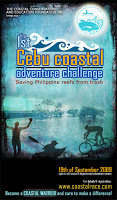 5. Cebu Coastal Adventure Challenge (September 19, 2009)
Organizer: Coastal Conservation and Education Foundation Inc., (CCEF)
Details: The 60-kilometer race will take racers around Mactan, Cebu, Cordova and Lapu-lapu, Cebu Philippines. Along the way, teams will be faced with a series of mystery tests supported by clues. You'll definitely need some strategy and teamwork to get yourself ahead of everyone else. Finish time could range anywhere between 6 to 8 hours, depending on the pace of the team and route selection.
Registration fee: P1500 for the whole team
Contact: Gina Castro (0920-4627890; www.coastalrace.com)
Email your open climbs and events to info@pinoymountaineer.com if you want them to be posted in the website (emailing however does not guarantee posting). Unless otherwise specified, the above climbs are not associated with PinoyMountaineer.com so for inquiries, please email the respective contact persons.