Mt. Pinagbanderahan, Bantakay Falls, and Quezon National Forest Park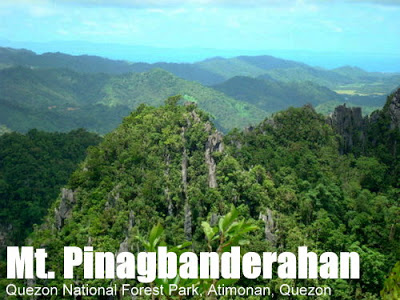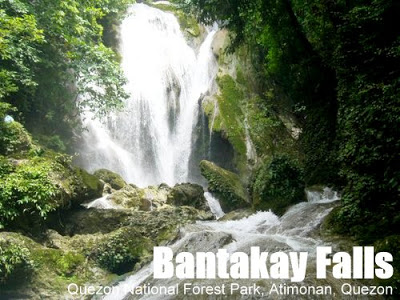 MT. PINAGBANDEREHAN AND BANTAKAY FALLS
Quezon National Forest Park, Atimonan, Quezon
Major jumpoff: Barangay Malinao Ilaya, Atimonan, Quezon
LLA: 366 MASL
Trail class: Minor, Difficulty 1/9, Trail class 1-2
Features: Historical site, national park, waterfalls
Mountaineer Richard Almodovar shares with us his experiences in Quezon National Forest Park with the Philippine National Mountaineering Society, and it is on his pictures and writeups that this mountain entry is based. Many thanks!
BACKGROUND
A very nice nature trip still within dayhike range from Manila is the Quezon National Forest Park in Atimonan, Quezon. This park which is nestled in the famed Sierra Madre Mountain Range, accessible by a scenic zigzag road that cuts through the forests. Built during the American period, the Forest Park is one of the oldest protected areas in the Philippines.
One of the highlights of this park is Mt. Pinagbanderahan, a historic site which literally means "where the flag was hoisted" – alluding to its significant role as a beacon where the Philippine flag was raised in the Philippine Revolution – and thereafter it witnessed the American and Japanese flags being raised in its heights before finally the Philippine flag reclaimed its proper place in 1946. The historical relevance, is therefore undeniable. At 366 MASL, it takes 1-2 hours to climb up the flight of stairs that leads to its peak.
The peak is s a perfect vantage point to view Mt. Banahaw (W), the islands of Marinduque and Mindoro (S), as well as the major towns and cities of Quezon, like Lucena, Pagbilao, and Tayabas. Moreover, environmentalists have acclaimed the excellent biological virtues of this peak, saying that it is a unique example of a lowland rainforest and that the karst vegetation found in the hills.
The wonders of the Quezon National Forest Park, however, do not end in Pinagbanderahan. There are more, and in the itinerary below, the Bantakay Falls and Caves located in Brgy Sta. Catalina is also covered. The falls is the most majestic in the at least five waterfalls found in the Natural Park, measuring up to 80 ft. Together with Pinagbanderahan, it forms the nucleus of a relaxing overnight camping trip.
ITINERARY
Day 1
0500 Take Lucena-bound bus from Manila (Buendia, Cubao)
0900 At Lucena Grand Terminal, charterVan/FX Zigzag road
1000 ETA Jump off Mt. Pinagbanderahan
1030 Cueva Santa Explore
1040 Resume Trek
1120 ETA Summit
1130 ETD Summit
1230 Back at Picnic Area or Jump Off / Lunch
1330 Take Bantakay Falls (Side Trip)
1400 ETA Brgy. Sta.Catalina Arrange For Guides
1430 Start Trek
1630 ETA Niyugan Campsite, Set Camp
1900 Dinner / Socials
Day 2
0600 Wake up call
0700 Breakfast
0830 Explore The Area / Free Time
1130 Prepare Lunch
1200 Lunch
1230 Break Camp
1330 Start Descent
1530 Back at Sta. Catalina Clean-up at nearby sari-sari store
1600 ETD for Manila by Bus
SPECIAL CONCERNS
Transportation. Proceed to Lucena from Cubao or Buendia, then from Lucena take a jeep or FX to the town of Atimonan. From Atimonan you can then take a trike to the QNFP. Alternatively, if you're a large enough group you can charter a jeep or FX from Lucena directly to the Forest Park.
Logistics. Guides can be arranged at the jumpoff for the Bantakay Falls trip at a minimal fee. There are several camping area possibilities but the recommended is the Niyugan Campsite near Bantakay Falls.
If you are aiming for Pinagbanderahan Falls alone, then this trip can be a dayhike. Leave Manila early (0400H) to arrive at Lucena by 7 and Atimonan by 8; you can be back in Lucena early afternoon, do some foodtripping there then head back to Manila.
TRIVIA
The Bantakay Caves which are near the waterfalls is also a must-visit in the National Park. Ask your local guides to take you to the caves, which have an excellent display of stalactites and stalagmites.
The name of the town, Atimonan, is said to have derived from the town's lady founder, Simeona Mangaba, otherwise known as Ate Monang.