Mountain News: Banahaw and Cristobal declared protected areas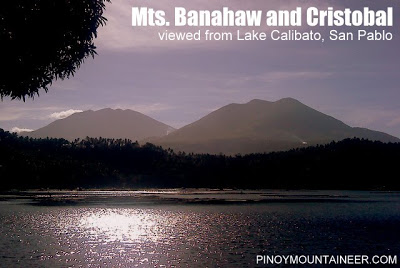 Starting December 2009, PinoyMountaineer.com will report, repost, and review mountain-related news and render some opinions regarding these developments. Blog readers are encouraged to discuss these news and views by commenting.
THE NEWS
Last week, President Gloria Macapagal-Arroyo signed Republic Act No. 9847, which establishes Mounts Banahaw and San Cristobal in Laguna and Quezon as major watersheds and protected areas. The law ensures the protection and conservation of these areas, particularly the forests and the diverse plants and animals they host. The Mts. Banahaw-San Cristobal Protected Landscape covers a total land area of 10,900 hectares in the municipalities of Sariaya, Candelaria, Dolores, Lucban, and Tayabas in Quezon; and the towns of Rizal, Nagcarlan, Liliw, Majayjay and San Pablo City in Laguna.
As provided for in the Constitution, the management and authority of the area will be handled by a Protected Area Management Board (PAMB) which will be chaired by the Regional Executive Director of the Department of Environment and Natural Resources.
MY THOUGHTS
1. I do hope this will go beyond mere document. Look at Pico de Loro and other so-called "protected areas". I am quite skeptical about these declarations. Even Mt. Pulag is facing illegal logging at the moment even with a very feisty PASU, Emerita Tamiray.
2. Senator Pia Cayetano should climb Mt. Cristobal (I'll gladly accompany her) before she lumps it in the category of Mt. Banahaw. Senator Cayteno was quoted last March saying, "While it is widely regarded as a sacred place, Mounts Banahaw and San Cristobal have not been accorded due respect and have not been spared from human exploitation," Cayetano said. The lady senator wants a continued hiking ban on both Cristobal and Banahaw until 2012. While we are very grateful for the senator who continues her crusade to protect the environment, we would like to point out to her that Cristobal's trails are very clean, was always that way and is so unlike Banahaw's. The mob doesn't go there during Lenten Season. Bulk of trash from Banahaw in the past came from the thousands of locals who flock to the mountain, camping there for several days — this is not the case with Cristobal.
3. We applaud Sec. Lito Atienza when he said that the Department of Environment and Natural Resources (DENR) would be stricter in prohibiting kaingin (slash and burn farming) and mining activities. As quoted from Inquirer.net he says: "The law will take effect [all the way] to the barangay level," he added. "It will prevent further degradation and protect the landscape. It will also ensure that the PAMB will function." Fotunately, Lito Atienza said both mountains would remain open to hikers and pilgrims "so long as they will take their thrash with them [when they leave]. " Of course! Regulation, not indiscriminate prohibition, is the key.
4. The status of Cristobal as of now is still open – there is a caretaker in the Montelibano house and there's a logbook also. I was just there last Saturday. For Mt. Banahaw, officially you have to get a permit from the DENR in Pagbilao, Quezon. However, a lot of groups are still able to climb Banahaw without a permit.