Tirad Pass: Venue of Second Annual Charity Climb on February 2010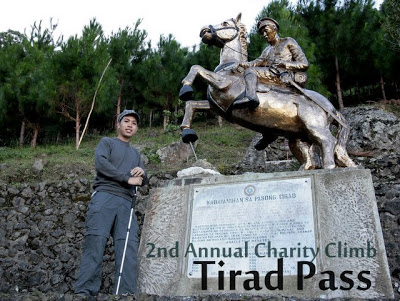 I am pleased to announce Tirad Pass as the venue of the Second Annual Charity Climb in February 6-7, 2010. Tirad Pass in Gregorio del Pilar, Ilocos Sur is the site of one of the most historic battles in our history – the Battle of Tirad Pass in 1898, dubbed as the "Battle Above the Clouds". The climb is easy to moderate and will involve wide trails used since Spanish times with beautiful views of Ilocos and South China Sea, as well as breathtaking scenery of pine trees.
An exploration climb up Mt. Tirad – which has never been summitted – might be done to coincide with the Charity Climb.
The budget for the trip is P3,500 including chartered, roundtrip transportation from Manila to Ilocos Sur, jeepney rentals from Candon to Gregorio del Pilar, registration fee, guides, shirt and ID. Just like last year's Charity Climb, participants will also be eligible to join the raffle. Exciting prizes are up for grabs! 1st Charity Climb participants will be given 10% discount.
The event is still in its planning stages but early reservations are welcome. To reserve, email the Climb Secretariat at charityclimb@gmail.com.