Announcing the PinoyMountaineer Team 2012!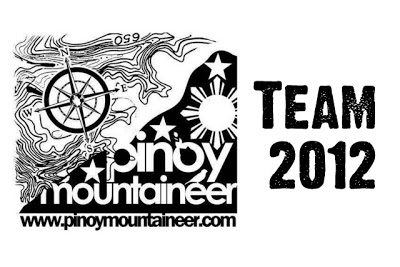 I am pleased to announce that I am will be forming a PinoyMountainer Team 2012, for which there will be 11 slots that interested applicants can apply for. Members of the team will be invited to participate in exciting climbs around the country, and will undergo training sessions both in Manila and outdoors.
Application is open to all interested parties regardless of age, sex, affiliation, nationality etc. However, so I can personally guide all the members of the team, only 11 members will be accepted for the Team 2012. Application is FREE, and successful applicants do not have to pay anything for the training or the registration.
My vision for the PinoyMountaineer Team 2012 is to become a group of individuals who have diverse backgrounds and talents, but united in their passion for the pursuit of the outdoors and love for the environment.
Eligibility criteria:
(1) Hiking experience or demonstrable aptitude in outdoor or related sports (exceptions are possible)
(2) Must be free to do hikes during the summer vacation and semestral break
(3) Must be willing to go on out-of-town trips to Mindanao and out-of-the country
Plus points for:
(1) Students
(2) Outdoor skills i.e. ropemanship, rock climbing, etc.
(3) Experience or interest for international climbing
(4) Special interests such as astronomy, geology, photography, web development
Send the following details to info@pinoymountaineer.com:
Name:
Birthdate (mm/dd/yy):
Mobile number:
Email address:
School:
Address:
Sports:
Other hobbies/skills:
Major mountains climbed:
Reason for wanting to join the Team 2012:
Successful applicants will be notified through mobile phone and email. Those who will not qualify can still join the three PinoyMountaineer open climbs in 2012: Kinabalu, Snow Mountain, and the 4th Annual Charity Climb.