Essay on Japan: Beauty at the threshold of memory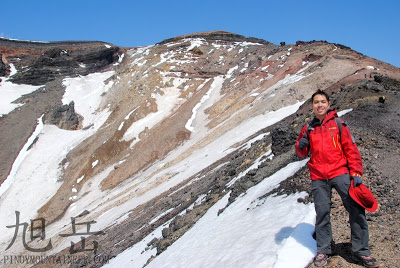 Blogger's note: This essay was written in Sapporo, Japan on May 25, 2012.
SAPPORO, JAPAN – My friends and I have journeyed by bullet train from the castle town of Himeji in Kansai to reach the city of Aomori, at the tip of Japan's main island, Honshu, and from Aomori, we took the night train that made the undersea crossing to Hokkaido, the northernmost edge of Japan. Here at its capital of Sapporo, it is cool – 12 degrees in daytime – and the cherry blossoms (sakurahana) have just fallen; it is yet spring, whereas summer has arrived elsewhere.
It is as if we had not only crossed a long distance; we had also travelled in time.
Japan. This country has become unforgettable: I had spent part of my medical training in St. Luke's hospital in Tokyo, the city where I lived for over a month, learning from my Japanese friends a more in depth view of Japanese culture. The trip was made special when I had the privilege to meet a couple of times with my mentor, F. Sionil Jose, and there, we discussed the divergence our two countries, Japan and the Philippines, has arrived at. I fulfilled my dream of Mt. Fuji on that same trip, seeing the glorious rising of the sun from its summit, the phenomenon after which this land calls itself: it was the very same sun on the flag of Japan.
Then, in another trip last year, I went with my brother and sister to see the Kansai region: the temples of Kyoto and Nara, the electric wonders of Osaka, and of course, the mountains. What will I do on a world without mountains? I climbed Mt. Hiei, that sacred mountain where the anime heroes of my childhood battled: it is there where Kenshin and Shishio held their epic fight. In that same mountain, a Buddhist monk asked me: what are you doing here? Which to him signified more than the question of why I wanted to climb the mountain, but why I am on this world. To this day, I have not fully answered his question.
What I told him was that I was a foreigner who simply loved Japan, its culture and its natural beauty. But it is a mistake to see my love for another country as a diminution of my love for my own. Walking along the grounds of Himeji castle, I saw a Zen garden with only five rocks and a sea of gravel surrounding it: the four stones were arranged as if they were Japan's four main islands, but there is a fifth rock, which I saw as representing the world. For me, the garden is saying that we may belong to our own respective countries, but we cannot ignore the reality that we are all citizens of the world. My love for Japan is in some ways no different from my love for Mindanao, which I remember fondly even here and now. The major difference, of course, is that while I can feel at home in Davao, or Palawan, or elsewhere in the country, here, I will always be a stranger.
Travelers to Hokkaido say it is a hiker's paradise, and a sushi lovers' paradise. Hence, it is like a double paradise to me, that's why I have come all the way here. Besides, distant lands have always fascinated me. Like mountain peaks, these hard to reach places represent my vision of wanderlust: far removed from the everyday orbits of our lives, they are sanctuaries to my self as I am, not the circumstantial self that is inexorably linked to the people around me, and to what I do to earn a living, but my individual self, unbound, untethered.
Perhaps one way of saying it is that when you travel to these places, your only baggage Is your soul, and when it is light, the feeling is one of liberation.
Whatever emotion you derive from these travels – ecstasy, solitude, freedom – it is but fleeting, and this ephemeral state is cause for either joy or sadness. The answer to this dilemma is another reason why I love Japan; its people has found beauty in these fleeting moments, and found metaphors to articulate it: the falling of the cherry blossoms; the falling of autumn leaves, the falling of snow: the very transience of these moments make their beauty more profound. Beauty may be primarily a physical attribute, but it is appreciated best if seen in four dimensions, including time.
This reconciliation of where sensate beauty ends and where memory begins provides a path where my circumstantial life and my wanderlust can coexist, like two rivers that run side by side. When I climb a mountain, I can focus on the present joy of doing it without worrying that such joy, if relegated to memory, will cause my heart to ache or worse, thus transforming that joy into sorrow. No. The cherry blossoms have fallen; they are beyond reproach. There is no decay when their existence is only at the moment of their truth and beauty.
With these words, I continue this journey. Let freedom reign, if only for a while. Springtime may end soon, but there are realms within and worlds beyond where cherry blossoms fall not in the ground. Instead, they remain suspended in air, beautiful beyond words, just as Japan will always be in my heart.
Sapporo, Japan
25 May 2012