Hiking matters #241: Mt. Ugo Traverse, Day 1: From Kayapa to Domolpos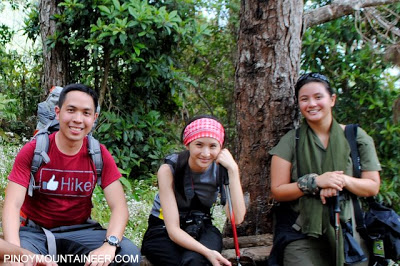 Paula Peralejo and I have long been planning a hiking trip, and when her sister Rica Peralejo expressed enthusiasm, the plan was on, and we embarked on a Mt. Ugo Traverse from Kayapa to Itogon. Joining us were Paula's boyfriend Charlie, Rica's husband, Pastor Joseph; my fraternity brod Daniel, Kilimanjaro teammates Farah and Doc Mutya, adventure guide Jhoc Nalda, and Javi Cang, the youth who joined me in Talomo-Apo last year.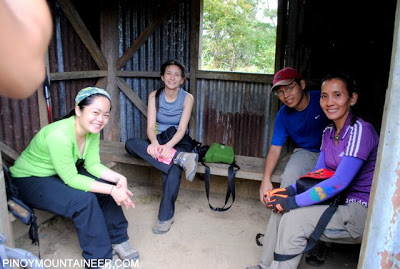 We endured the chilling cold temperatures of the Victory Liner bus to Aritao, Nueva Vizcaya, where a jeepney was waiting to take us to Kayapa. It was nice to be back, just five months after the Third Annual Charity Climb in Mt. Ugo. After breakfast, we started making our way up to Indupit, the village where hikers usually have their lunch stop. This is a moderately steep trail passing through pine forests.
I consider the rolling, relatively flat and wide paths from Indupit to Domolpos as one of the nicest and most scenic parts of the Ugo traverse. With perfect weather that day, it was made more beautiful with crystal clear skies and expansive views of the Cordillera mountains. The sun was up, but the winds were very refreshing.
Some parts of the trail were surrounded by tiny, beautiful white blooms, which even heightened the pleasantness of the whole walk, which is the connection between two provinces, Nueva Vizcaya and Benguet. I had quite a few nice glimpses of Mt. Pulag and Mt. Tabayoc, and a mountain to the east that I imagined to be Mt. Palali. Mt. Ugo, of course, came into view as we approached Domolpos.
The nice thing about hiking is there can be a lot of what Paula calls "incidental" hobbies or interests that go along it. She and Charlie are avid birdwatchers and they saw some nice mountain birds; on the other hand, I was fixated on the prospect of seeing various mountains from Mt. Ugo. I didn't expect the rewards that lay ahead on our second day!
It was just over 1600H when we arrived at the Domolpos Elementary School, where we would spend the night. This is my third time to do the traverse but my pattern has always been the same: sleep at Domolpos village, where the villagers are friendly and the school is open to hikers. Then Day 2 would feature the summit assault, and the descent to Tinongdan.
It was altogether a great day of hiking, and we ended the day with a visit to the health center in Domolpos village, where we donated two boxes of medicines and medical supplies courtesy of the Mu Sigma Phi medical fraternity. According to the health workers, the medicines we donated last October had already been consumed, and they were delighted. To wrap up the day, I prepared some sun-dried tomato pesto, which was, to my delight, much appreciated by the group!