How to join PinoyMountaineer climbs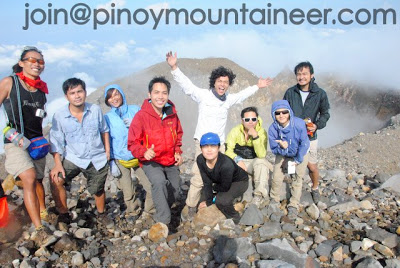 Hiking is not just about climbing new peaks, but also about meeting new people, and I welcome hikers who wish to join my climbs. I am not a hiking club, however, and I cannot accommodate people who are looking for a hiking club or an affiliation, nor do I provide a Basic Mountaineering Course, except in a limited capacity to a few individuals. Moreover, because I am an ardent follower of low-impact outdoor recreation, I usually hike in small groups of 2-12 people.
I have tried to form exploration teams in the past, but I have suspended such plans because I have realized that forming a team or a club will require vast amounts of time and energy, which I do not have at this time, given my commitments as a medical doctor. So I think a good way to start is to just take it one climb at a time.
Having said thus, here are some ways in which you can join PinoyMountaineer:
1. Participate in PinoyMountaineer open climbs and events. In the past, I have organized the following events:
CHARITY CLIMBS
2009 – First Annual Charity Climb (Pulag)
2010 – Second Annual Charity Climb (Tirad Pass)
2011 – Third Annual Charity Climbs (Ugo and Pulag)
INTERNATIONAL EXPEDITIONS
2011 – 1st Mt. Kinabalu Expedition
2011 – Snow Mountain, Taiwan Expedition
2012 – 2nd Mt. Kinabalu Expedition
2012 – Snow Mountain, Taiwan Expedition
The Charity Climb is to be an annual activity, and I am also thinking of launching more international expeditions in the future.
2. Join the PinoyMountaineer Dayhikes in Trail Adventours
– As a tie-up with Trail Adventours, I have designed (and have joined) Twin Dayhikes that are offered as open climbs that anyone can join by booking at the
Trail Adventours website
. Past events included:
May 2012 Twin Dayhikes I: Talamitam and Batulao
June 2012 Twin Dayhikes II: Maculot and Manabu
More twin dayhikes are planned in the future! Abanagan!
3. Email join@pinoymountaineer.com and get invites in the future. Email PinoyMountaineer with the following details, and if I am planning a climb that would be a perfect fit for you, then I will invite you. For example, if you mentioned that you're a geologist and I'm planning an expedition in Babuyan Islands where there are unexplored volcanoes, then I will drop you a line. Your "reason for wanting to join" is the most important factor here. I am also very eager to encourage and support starting hikers who are very passionate to climb, because we still need to make people more excited about hiking in the Philippines.
Name:
Age / Sex:
Contact number:
Hiking experience/affiliations (if any):
Location/Address:
School/Educational background:
Interests/Hobbies/Work:
Reason for wanting to join PM climbs:
Hiking goals/plans:
I will try to accommodate as many people as possible in my climbs, but I'm sorry if I cannot entertain all requests for participation. Many thanks! Looking forward to meeting new friends and hiking companions in the future!