Hiking matters #282: Mt. Damas Traverse dayhike!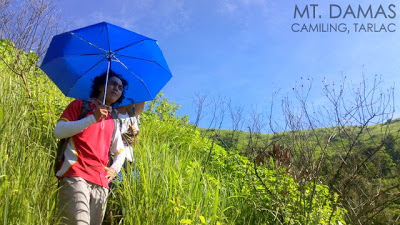 Since it came out in PinoyMountaineer last year thanks to Tarlac-based GAME-NEST, Mt. Damas has always been on my list of must-climb mountains in Luzon. I was intrigued by reports of steep ascents and descents, river trekking, beautiful waterfalls. Fortunately, less than a year after its inscription in the website, I was finally able to organize a climb to this mountain on July 2012 in what would also turn out to be the first-ever dayhike of Damas!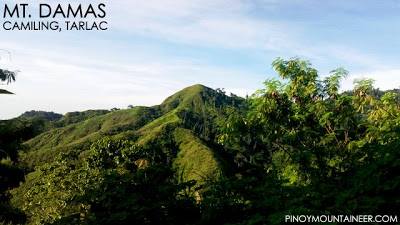 We were accompanied and hosted by members of the GAME-NEST, including their founder Jhong Espinosa, as well as Chad, John, and Emman who served as our base camp coordinator. From Manila, I was joined by my hiking companions Coby and Martin; travel bloggers Adventure Chrissie and Ivan Lakwatsero; Mich, Neil and Raissa; and Iggy who I met in our memorable Kibungan Circuit climb last year (Hiking matters #218).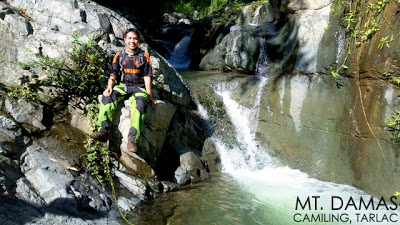 We left Manila at 0030H, arriving at Tarlac City by 0300H, having breakfast there, and leaving for Brgy. Papaac, Camiling by 0430H, arriving there less than an hour later. The original plan was to hire a truck to take us up Sitio Dueg in San Clemente, Tarlac, which would have cut off 2 hours from our trekking time. Unfortunately, our hired vehicle failed to show up and we had to content ourselves with a longer trek – from Papaac to Papaac, completing a true circuit.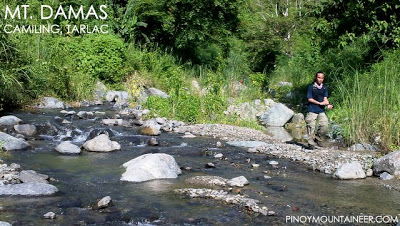 We started trekking at 0530H. At first, the trail was well-established and spacious – this, after all, was the Papaac to Dueg footpath that locals use on a daily basis. However, as soon as we left this trail, the steep, narrow trails surrounded by blade-like talahib grass and thorny, makahiya-like shrubs ensued in what would be the major challenge of the entire hike!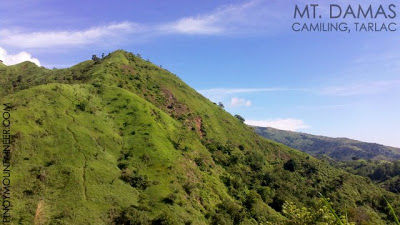 We encountered huts from time to time, however, which served as our rest stops from the heat. We had actually expected a rainy climb, since it's been raining daily in Tarlac for the past couple of weeks (and I actually thought of postponing the hike because of this concern) but it was sunny through the whole climb!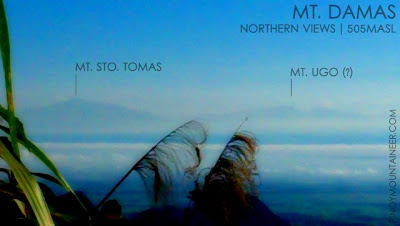 For me, the greatest benefit of having good weather is the possibility of seeing various mountains. And that's exactly what happened: when we looked to the north, we were greeted by Mt. Sto. Tomas (NNE) and what I suspect to be Mt. Ugo (NNE)! I am not that confident with Ugo, because Sto. Tomas looked much higher than it on the picture, whereas in truth there should only be a difference of around 100 meters. Still, from a distance, mountains aren't always what they seem.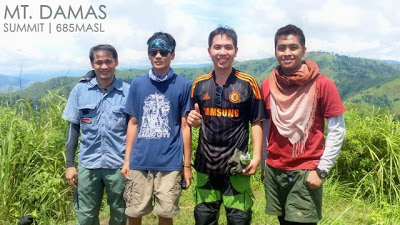 The trek through the aforementioned steep trails and slopes continued, to a point that someone commented along the trail: "Life is like Mt. Damas, full of ups and downs!" These "vicissitudes" of the mountain notwithstanding, we were on the verge of reaching Mt. Damas by 1000H, and by 1030H we were at the summit, enjoying the views of west Tarlac.
Traversing through Mt. Damas' peak, we came across a hut about 15 minutes past the summit, and here, we took our lunch break. Forty five minutes (and dozens of talahib cuts) later, we finally reached the river system that in just a few minutes brought us to the famed waterfalls of Mt. Damas!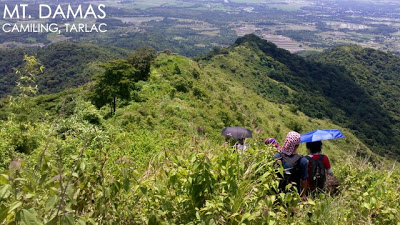 First, we encountered Si-el Falls, with its remarkable kink that interrupts the regularity of the flow of its waters, making it all the more unique and beautiful. The mini-rock scrambling section beside the waterfalls is one of the most exciting parts of the trails! (see video).
Then, finally, we arrived at the base of Ubod Falls, where its majesty is manifest, evoking Tappiyah Falls in Batad, or Buntot Palos Falls in Laguna. Of course, I did not pass up the opportunity to bathe in its waters! Cleansing my skin of all the thorns and needles that the shrub-stricken trails inflicted on us was of course another major motivation.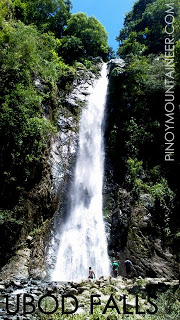 It was also here in Ubod Falls where we had our major rest stop – lasting for almost an hour. I had a chance to talk with the GAME-NEST guys and they spoke of exciting prospects for hiking in Tarlac, such as Sawtooth Mountain – a four-day trek – and other peaks in the boundary with Zambales. It was nice to relax under the shadow of a waterfall! When we decided it was time to go, it was 1415H.
In the past, the trek from Ubod Falls consisted purely of river trekking until the trail connects to the Papaac-Dueg footpath. However, since the flashflood incident in 2011, the trail was rerouted up the "Cardiac Hill", from which a river trekking section continued for just around 30 minutes, and after that, we were back at the main trail. By 1600H, or after 10 hours 30 minutes of trekking, we were back at the jumpoff!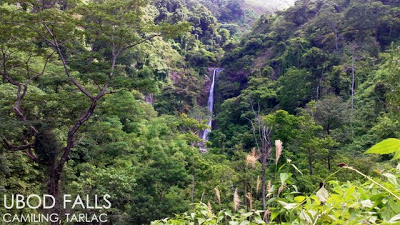 I have now climbed Mt. Damas and am very happy with the mountain, and very grateful to our GAME-NEST hosts for their guidance, companionship, and generosity in this climb. I will be back to Tarlac for Mt. Bungkol Baka and Mt. Tangisan!
Eka Moises and Pam Aquino, you better join this time
!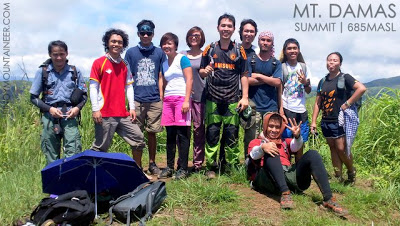 PinoyMountaineer thanks GAME-NEST and its members Jhong, Emman, Chad, and John for hosting and guiding us in this fun-filled dayhike!
@pinoymtnr @cobysarreal @AdventureChrissie @ivanlakwatsero @michymich13
PHL106[DAM1]:2012(34):HM282