Gear Review: Deuter Futura 28 Daypack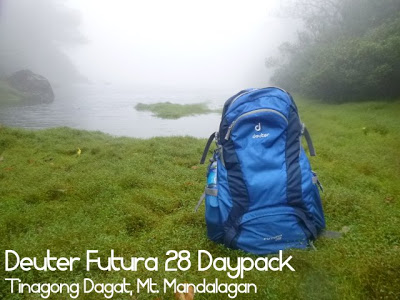 Deuter Futura 28 Daypack in Tinagong Dagat, Mt. Mandalagan
I had the opportunity to try out the Deuter Futura 28 Daypack on two very nice dayhikes in the past few months: Mt. Damas in Tarlac – on its first dayhike ever – and Mt. Mandalagan in Negros Occidental, one of the beautiful mountains in the island.
It did not disappoint.
The good thing about Deuter bags is that it is top quality in even small details, including the shoulder straps, the back ventilation system, and many other features.
The product description says it best: "Consisting of a flexible, anatomically-shaped spring steel frame, the Futura 28's Aircomfort Back System hugs your torso and a mesh backpanel provides supportive tension. Air can freely escape through the space created between the pack body and your back, preventing heat build up."
Indeed, hikers who have tried a well-ventilated, well-constructed backpanel can really tell the difference. By sheer anatomic distribution of weight, and the physiologic concepts of heat flow, bags like this really improve performance. I have tried bags without this kind of thorough technical construction, and they feel heavier compared to a well-designed bag with the same weight.
Even though it is just a daypack, and 28 liters at that, it has a front-access bottom compartment where you can stow wet gear, just like in bigger packs. This is a good feature. Also, it has another front-access pocket where you can put it some small items like a headlamp.
Finally, it has an integrated rain cover! Very handy in the Philippines. My verdict is that it is a nice bag, a great daypack!