Hiking matters #376: A loop hike up La Dôle (1677m) in the Jura Mountains, Switzerland
NEW YORK CITY – Last weekend, I went to Switzerland to meet with Iron Lady Jo Steven and Everest climber Leo Oracion; needless to say we did some hiking! It's been over two years since I last hiked with the Iron Lady, and my last hike with Leo was a Makiling Traverse in February 2012. I look up to these two great mountaineers so I was really delighted to have a chance to visit them.
I took an early morning flight from Amsterdam and arrived in Geneva by 0950H. Leo waited for me at the airport and we drove to Nyon to pick up the Iron Lady at the train station. Then, we proceeded to Saint Cergue to do a loop hike of La Dole (1677m), the second highest mountain in the Swiss part of the Jura mountain range, which runs from France to Germany through Switzerland.
Goethe was to have described the place in these terms: "There are no words to describe the grandeur and the beauty of this spectacle." I have to agree with him. The small villages, pine forests, and the backdrop of rolling hills were truly stunning and difficult to put into words.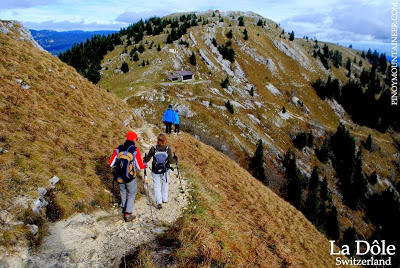 The trails passed through a combination of pine woodlands and open, grassy, sometimes rocky slopes. Had the weather been better we would have seen views of Mont Blanc and the majestic Swiss Alps – Bernese and Chablis – but even the immediate views – extending to Lake Geneva – were awesome.
When we arrived at the summit, there was a sliver of snow that enveloped the peak area, which we found very nice. It is only November, but winter comes early to Switzerland, the land of white mountains. We briefly paused to enjoy the nice views at the peak – which included a white radar dome that Leo called a 'golf ball'.
We traversed through La Dole and descended using a southwestern trail, having lunch just 10 minutes away from the French border. While seated in some boulders, we saw a couple of chamois, the goat-antelope found in the European mountains. It's always nice to see animals in the wild. Jo and I reminisced about our Mt. Sicapoo hike when we saw wild deer – which is sadly become a rare occasion in the Philippines.
The descent was very easy and the weather cooperated all throughout, defying the dire forecasts. Before reconnnecting to the original trail we took going up, we passed through a nice stone wall that reminded me of the rich history of the place.
After the hike, Leo took us to Valais, where we planned to stage off our next hike. Thank you so much Leo for the hospitality, and to Iron Lady for joining us for the weekend!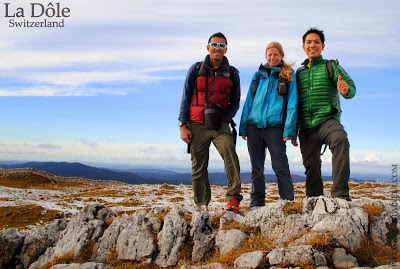 HIKING IN THE JURA MOUNTAINS AND MONT SALEVE
Hiking matters #376: La Dole, Jura Mountains, Switzerland
Hiking matters #377: Mount Saleve, Rhone-Alpes, France
Hiking matters #378: Le Reculet, Jura Mountains, France