PinoyMountaineer Birder's List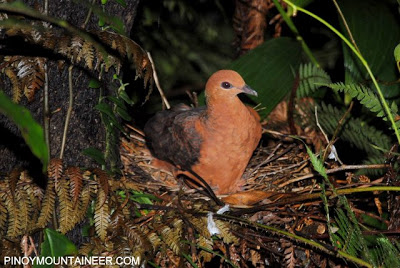 To further my appreciation of the forests and the fauna that I encounter along the trail and as an end in itself, I have begun taking up birding in 2012. I would like to thank my friends Paula Peralejo and Charlie Fernandez for introducing me to this fascinating hobby. The mountains feel more alive to me now that I am aware of the presence of the birds, yet, in seeking and sensing these birds, I realize all the more how fragile the forest ecosystem is, and how important it is to practice responsible outdoor recreation.

The following list tabulates all the birds that I have spotted with a fair degree of confidence in identification. My purpose for posting this is twofold: first, for myself, to keep track of my lifers; and second, it may also be of use to birders since I am reporting birds that I have spotted mainly in the mountains that I have climbed.


Disclaimer: As a novice in this hobby, I may be mistaken in the identification and nomenclature of these birds. If you think this is the case, your inputs are most welcome.
LIST OF BIRDS SPOTTED

1. Mountain white-eye – Mt. Ugo, March 2012 (Mt. Maagnaw, Oct. 2012)
2. Black-naped oriole – Mt. Tagapo, March 2012
3. Brahminy kite – Mt. Hibok-Hibok, May 2012
4. Barn swallow – Mt. Talamitam, May 2012
5. Philippine cuckoo dove – Mt. Bulusan, June 2012
6. Spotted wood-kingfisher – Mt. Bulusan, June 2012
7. Osprey – La Mesa Eco-Park, October 2012 (Mt. Lobo, Nov 2012)
8. Ashy ground-thrush – La Mesa Eco-Park, October 2012
9. Rufous night-heron – La Mesa Eco-Park, October 2012
10. Little egret – La Mesa Eco-Park, October 2012
11. Barred rail – La Mesa Eco-Park, October 2012
12. Pied fantail – La Mesa Eco-Park, October 2012
13. Little heron – La Mesa Eco-Park, October 2012
14. Common sandpiper – La Mesa Eco-Park, October 2012
15. Zebra dove – La Mesa Eco-Park, October 2012
16. White-breasted water hen – La Mesa Eco-Park, October 2012
17. Brown Shrike – La Mesa Eco-Park, October 2012
18. Olive-backed sunbird – Mt. Makiling/Los Banos, October 2012
19. Lowland white eye – Mt. Makiling/Los Banos, October 2012
20. Stripe-headed rhabdornis – Mt. Makiling/Los Banos, October 2012
21. Yellow-vented bulbul – Mt. Makiling/Los Banos, October 2012
22. Pied triller – Mt. Makiling/Los Banos, October 2012
23. Ashy minivet – Mt. Makiling/Los Banos, October 2012
24. White-collared kingfisher – Mt. Makiling/Los Banos, October 2012
25. White-throated kingfisher – Mt. Makiling/Los Banos, October 2012
26. Cattle egret – Mt. Makiling/Los Banos, October 2012
27. Apo sunbird – Mt. Maagnaw/Kitanglad Range, October 2012
28. Cinnamon ibon – Mt. Maagnaw/Kitanglad Range, October 2012
29. Philippine fairy bluebird – Mt. Maagnaw/Kitanglad Range, October 2012
30. Mountain leaf warbler – Mt. Maagnaw/Kitanglad Range, October 2012
31. Mountain shrike – Mt. Maagnaw/Kitanglad Range, October 2012
32. Elegant tit – Mt. Maagnaw/Kitanglad Range, October 2012
33. Sulfur-billed nuthatch – Mt. Maagnaw/Kitanglad Range, October 2012
34. Colasisi – Mt. Maagnaw/Kitanglad Range, October 2012
35. Bar-bellied cuckoo-shrike – Mt. Maagnaw/Kitanglad Range, October 2012
36. Mountain tailorbird – Mt. Maagnaw/Kitanglad Range, October 2012
37. Mountain verditer-flycatcher – Mt. Maagnaw/Kitanglad Range, October 2012
38, Striated grassbird – Mt. Makiling/Los Banos, November 2012
39. Balicassiao – Mt. Makiling/Los Banos, November 2012
40. Coppersmith barbet – Mt. Makiling/Los Banos, November 2012
41. White-bellied munya – Mt. Makiling/Los Banos, November 2012
42. Scaly-breasted munya – Mt. Makiling/Los Banos, November 2012
43. Long-tailed shrike – Mt. Makiling/Los Banos, November 2012
44. Gray wagtail – Mt. Makiling/Los Banos, November 2012
45. Richard's pipit – Mt. Makiling/Los Banos, November 2012
46. White-breasted wood-swallow – Mt. Makiling/Los Banos, November 2012
47. Red-keeled flowerpecker – Mt. Makiling/Los Banos, November 2012
48. Red-crested malkoha – – Mt. Makiling/Los Banos, November 2012
49. Golden-bellied flyeater – Mt. Makiling/Los Banos, November 2012
50. Eurasian tree sparrow – Mt. Makiling/Los Banos, November 2012
51. Blue-breasted quail – Mt. Makiling/Los Banos, November 2012
52. White-browed brown dove – Mt. Lobo, Batangas, November 2012
53. Large billed crow, Mt. Lobo, Batangas, November 2012