National Mountain Clean-up Day Message: Let's keep the mountains clean, and let's keep cleaning the mountains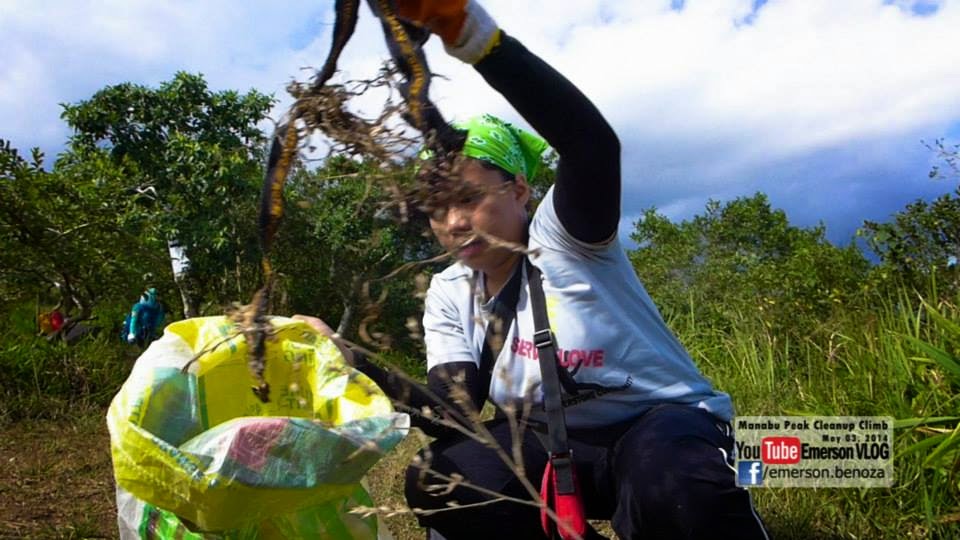 A mountaineer picks up trash from the campsite in Manabu Peak, Batangas
Photo courtesy of Emerson Benoza (DBMS)
by Gideon Lasco
PinoyMountaineer.com
The pictures keep coming, and this time around, they are inspiring; they are positive. Instead of seeing pictures of trash lying in the campsites, we see pictures of trash being picked up, trash inside garbage bags and rice sacks, trash being brought down the mountains. To the mountaineers who have made this vision a reality, I salute you.
We were united not by belonging to the same group, nor by wearing the same ID or shirt, but by having the same purpose: To clean the mountains, and in doing so, to remind people of the importance of clean mountains. This unity proved enough for us to carry out an initiative across the nation. While this form of movement has been made possible by the connectivity of the modern age, we are indebted to the example that mountaineers before us have set. Bereft of personalities, the idea of a clean-up took center stage, and allowed everyone to claim it as their own, and act upon it.
Many mountains have been cleaned, and many people have surely been inspired. For accomplishing this, I congratulate all the groups who took part in the Clean-up Day, and thank all our partners – the local governments, the NGOs, the DENR, and all our fellow mountaineers who encouraged us to pursue this initiative. Surely the partnerships and friendships we have forged through this Day will encourage us to make this a tradition for the years to come, and with humility, embark in other projects for the environment together.
However, the task of cleaning up the mountains – and cleaning up people's mindsets – cannot be done in a single day, nor a single year. It takes a sustained commitment and a mindset that looks beyond individual rights and responsibilities, and instead sees the problems we face today as a shared responsibility, a shared project.
It is nice to hear people say " Tapat mo, linis mo" – clean up your backyard. But what about the mountains, and what about the forests; the open spaces between your place and mine? This mentality can clean up houses and backyards, but not nations, but not mountains. We need to look beyond our little spaces and open ourselves to problems that confront us as a nation. We need to move beyond "Tapat mo, linis mo". We need to think "Tapat natin, linis natin".
This is the shared responsibility that I speak of, and we need to inculcate this amongst ourselves, and share to others. The time for making distinctions between mountaineers and non-mountaineers, or between the good guys and the bad guys, has come to an end. For others to listen to us, we must first of all believe that they are capable of changing, that everyone is a potential ally in our campaign to clean up the mountains. Instead of mocking people's ignorance of basic mountaineering principles, we must educate them. And as the Clean-up Day shows, one powerful way of educating people is by example: Let every climb be a clean-up climb. But there are many other ways, and often we really have to guide others with the wisdom that we too have learned, when we were still beginning our own journeys.
We have to involve the community as well. It is not just mountaineers who need to appreciate the importance of clean mountains, but guides, members of the communities, and all the stakeholders. We must approach them with understanding, recognising their struggles to earn a living.
Today, mountaineering grows in popularity and we are concerned about its negative effects – and rightly so. If in the city, we can say "the more, the merrier", in the mountains, "the more, the messier." At all times, we must adhere to the dictum of minimising our impact and limiting our numbers. But this should not cause us to discourage people from pursuing the outdoors. Promotion and protection can seem antithetical at times but I believe that responsible outdoor recreation can serve as a bridge between the two: A form of recreation that allows appreciation of the environmental issues, which then leads to action. A form of recreation that seeks to minimise its impact, aware that it poses a risk to the very beauty it seeks to experience.
As the rainy season approaches, I think of the vulnerability of our nation to natural disasters and this should heighten our concern for the environment. What else can we as mountaineers do for nature, and for the nation? Let us keep thinking, and encouraging each other to have an open mind for ideas. And let us be mindful that there are larger issues out there affecting the mountains that we mountaineers should find a voice in – like the illegal logging and mining that takes place in many parts of the archipelago.
The road is long, but we are on the right track. May the spirit of the National Mountain Clean-up Day live on in our every climb, throughout every year. Let's keep the mountains clean, and let's keep cleaning the mountains.
Los Baños, Laguna
May 11, 2014