List of groups joining the National Mountain Clean-up Day on May 9, 2015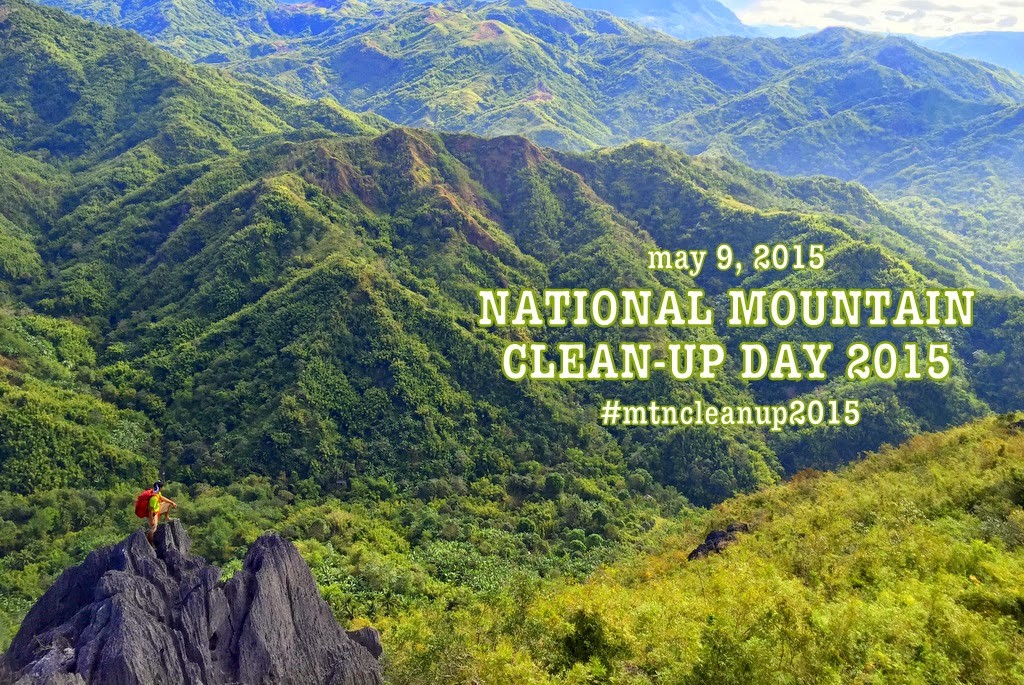 PARTIAL LIST OF CLEAN-UP CLIMBS FOR THE NMCD 2015
As of May 6, 2015
DESTINATION

ORGANIZING CLUB OR GROUP

CONTACT PERSON

CONTACT #

Mt. Arayat

Loyola Mountaineers

Charles Pe

Mt. Lantoy (Argao, Cebu)

Kalain Trekkers

Alitzur Clint Villones Rustila

09163424851

Mt. Makiling

Jepoi Mansibang

Kayo Mountaineers

Migs Siena

09475126854

Pico de Loro

Team Subi-Monte

Jayson Gregorio

0

Eskapo Mountaineers (Nasugbu Trail)

Ayang Sanchez and Ernesto Bausel

0

Mt. Kanlaon

UgyonKatreebu La Castellana Mountaineering

Kristine Fria

Freelance hikers of Cebu

Jessie Lee Ubay

09985364202

Mt. Binacayan and Pamitinan

Montalban Mountaineering Club

Rupert Sallave-Ecot Yaun

09278550180

TIP-Mountaineering Club

Joshua Dane Potes

09276560503

Manabu Peak

Team360

Christopher Lorden Z. Patingo

09088100892

Dahong Palay Mountaineers

Ernie Fines

09299735756

Mt. Batulao

LCMS

Christopher Lorden Z. Patingo

09088100892

A BE TO DE

Brian Medez Morgan

09162418557

Mt. Daraitan

Lakbay Group

x

09079622418

Freelance hikers

Carlo Aboboto

09175555435

Balakayu Mountains, South Cotabato

Joseph Sanchez

09079622418

Mt. Cabuyao

Discover Islam Baguio

Bedejim Abdullah

09065174913

Mt. Isarog

Hagahag Mountaineering Club

Ted Arel

09216427451

Mt. Talinis

Alimatok Mountaineer

Adrian Cabrera Pajunar

0

Osmeña Peak

ePerformax Outdoor Club

Michael Lacostales

0

Tarak Ridge

Hayahigh Mountaineers

Roi Renoballes

09368600486

Mts. Manalmon and Gola

Lakbay Pilipinas

Norman Paul Yang

09164853572

Mt. Napulauan

Team Malaya

Jacel Picat

0

Mt. Maculot

Random Act of Kindness (RAK)

Fredrick Laping

09178021091

Mt. Lanaya, Cebu

Gallopers Mountaineering Association

Harry Secusana

09996040031

Mt. Mauyog and Manunggal, Cebu

Eskapong Lagaan

July Saso

0

Mt. Mandalagan

ANB Backpackers

 Alvin Tolentino

09091102390

Mt. Mayon

Mayon Mountaineers Inc

 Mace del Puerto

0949 941 250

Gulugod Baboy

Sampaguita Mountaineers Club

Joanne/Jigs Jugan.

09177304918

Mt. Kan-Irag, Cebu

Tribu Tagbu

Fritz Jay Hortelano

09397663122

Mt. Hanginan, Southern Leyte

Let's Do It Philippines – Southern Leyte

Ronz Epiz & Leony Angkoy

0

Mt. Balagbag

Mountain Climbers Alliance of the Philippines, PLUS

Julius Roman

09435825868

Mt. Janagdan

Katkat Mountaineers

Hanzel Federicos

09216256791

Mt. Sembrano

Saturdate Clean-up Hike

Jocjoc

09166233444

Mt. Batolusong

Freedom Climbers

Albert Garcia

09273255134

Mt. Marami

Freelancers

Bhem Arpon

09369048754

Mt. Mabilog

no group specified

Jerriel Masilungan

09175574509


HOW TO JOIN 
Review the Guiding Document for details. You can add your group by commenting on this page with the following details:
Mountain to be cleaned-up, and trail to be used:
Group (does not have to be a formal organisation):
Contact person:
Contact information:
Important: It is the responsibility of every group to ensure the fitness and preparedness of their participants, to coordinate with the relevant LGU / local officials, and to ensure proper waste disposal.


FREQUENTLY-ASKED QUESTIONS

1. I do not have a group. How can I join the clean-up climbs?
The contact numbers of the organizers are listed in the table above. You can contact them to signify your interest. However, please understand that because not everyone can be at the same mountains at the same time, not everyone can join the initiative. However, everyone is encouraged to organise and join clean ups and other environment-supporting activities throughout the year.
2. Our group has signed up but we do not know how to organize a clean-up climb. How do we go about it?
Organizing a clean-up climb is not rocket science. Basically a clean-up climb is just the act of climbing a mountain to collect trash in the trails, campsites, and points of interest and bringing it down to a place where proper waste disposal is practiced. Please refer to the Guiding Document for additional guidance.
3. What if there are several groups doing a clean-up climb in one mountain?
The reason why I am posting the groups who have already announced their intentions is so that we can avoid such a situation. Groups who have decided on the same destination can discuss among themselves how to work it out. For examples, many mountains have different trails and groups can focus their clean-up efforts in a particular trail. Two or three groups doing a clean-up for one mountain is not a bad especially if these mountains are high-impact to begin with, and have many trash to be collected. The important thing is that groups cooperate with each other and with the local government.
4. How much will participating in the clean-up climbs cost?
It will cost nothing. There will be no registration or other fees. Of course, you will have expenses like going to the mountain, or contributing to the food, transpo, etc, for your own climbs. PinoyMountaineer itself is not the organizer of one big event, but the coordinator of many small events happening at the same time. I want this event to be as 'grassroots' as possible but providing the necessary unity to it.
5. Why do you have to do a cleanup day? Cleaning up the mountains should be done year round!
To this kind of argument, I might as well respond: "Why do you have to celebrate your mother's birthday? Celebrating her should be done year round!" Definitely, making our climbs clean and holding clean-up climbs should be practiced throughout the year. But we need special days to remind us – and to send a message to  others – that mountains should be kept clean, and it is a shared responsibility.
6. Where will Pinoy Mountaineer be during the clean-up day?
I will be doing a clean-up outside of the country – which is part of the reason why I was initially hesitant to schedule the Clean-up Day in May. But I will be coordinating the event with the help of the newly-formed PM Environmental Committee led by Carlo Cunanan. They will also be organising a clean-up.
7. Will there be IDs and event/souvenir shirts?
I know that shirts and IDs are important for hiking events. However, to avoid any financial and logistical issues, any shirt that will be produced as an event shirt will be open source design which groups and individuals can just download and print for themselves and add their logos on it. This logo is now available on PM Facebook page and the Group Page for the NMCD.