Hiking matters #508: Mt. Kapayas, another nice dayhike in Cebu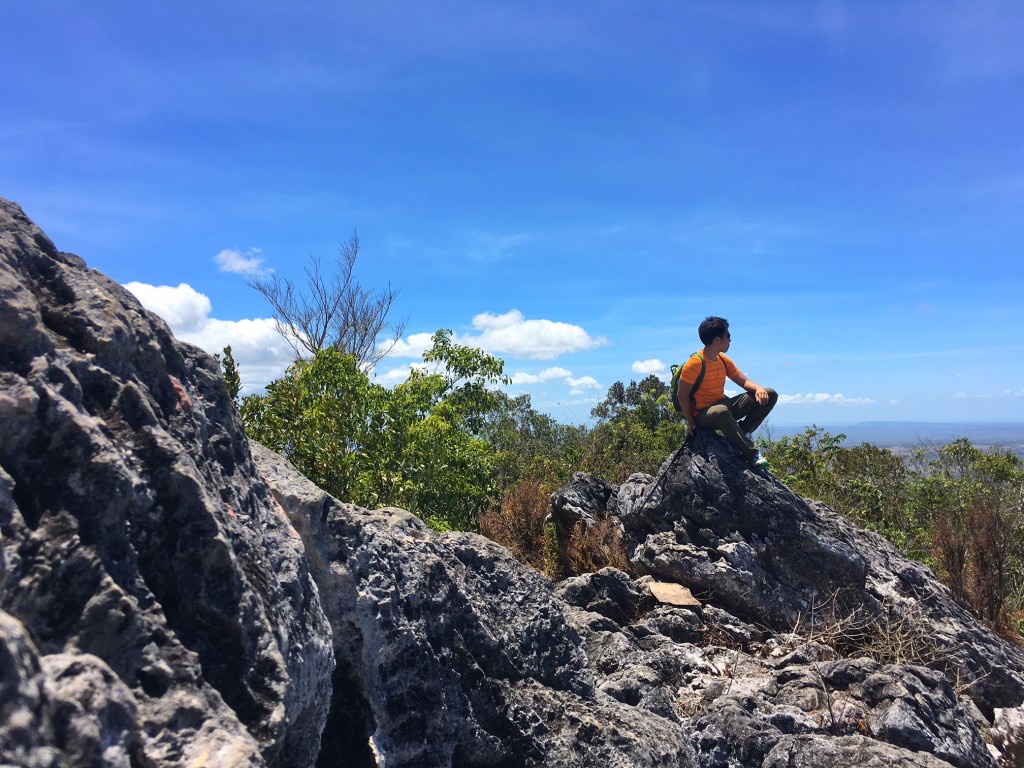 Around 50 kms north of Cebu City lies Mt. Kapayas (766m), another worthy dayhike in the island province of Cebu. With a limestone peak reminiscent of Mt. Napulak in Iloilo and the Montalban mountains in Rizal, it offers rewarding views of the Visayan seas and the large islands of Negros (W) and Bicol (E).
I hiked Kapayas in May 2016 accompanied by 18-time Halcon climber Cynthia Sy, traveler Limuel Lajo, and young Cebuano hiker Richard Angelo Tiu. From Mandaue, we took a northbound bus at the North Terminal and met in Catmon's municipal hall with our guide Kyno Dumlao (09993259621), who arranged our permits (total 640 pesos) and the multicab that took us to the trailhead. This multicab ride passes through a rough roads and a dry stream before reaching the jumpoff at Sitio Kampanya.
From this trailhead, we passed through a typical woodland with coconut trees and occasional grazing cows. It took just around 30 minutes for us to reach Sitio Lumanoy – a small cluster of houses on a flat area that counts as the mountain's basecamp. After resting in this sitio, we continued the hike – this time through a more forested area. Halfway through the final assault, ruins of some huts and mini-cottages betray an old effort to turn the mountain into a mini-resort – which the government stopped (rightfully).
From the base camp, it took us less than an hour to reach the summit. It was high noon when we arrived, and we did not stay for too long. After admiring the view and taking some pictures, we took a straightforward descent back to the base camp and to the trailhead, where the waiting multicab took us back to Catmon – where we waited for the bus back to Cebu. Altogether it was an easy and rewarding dayhike!