Trip Report: Mts. Fato and Kupapey in Maligcong, Bontoc, Mt. Province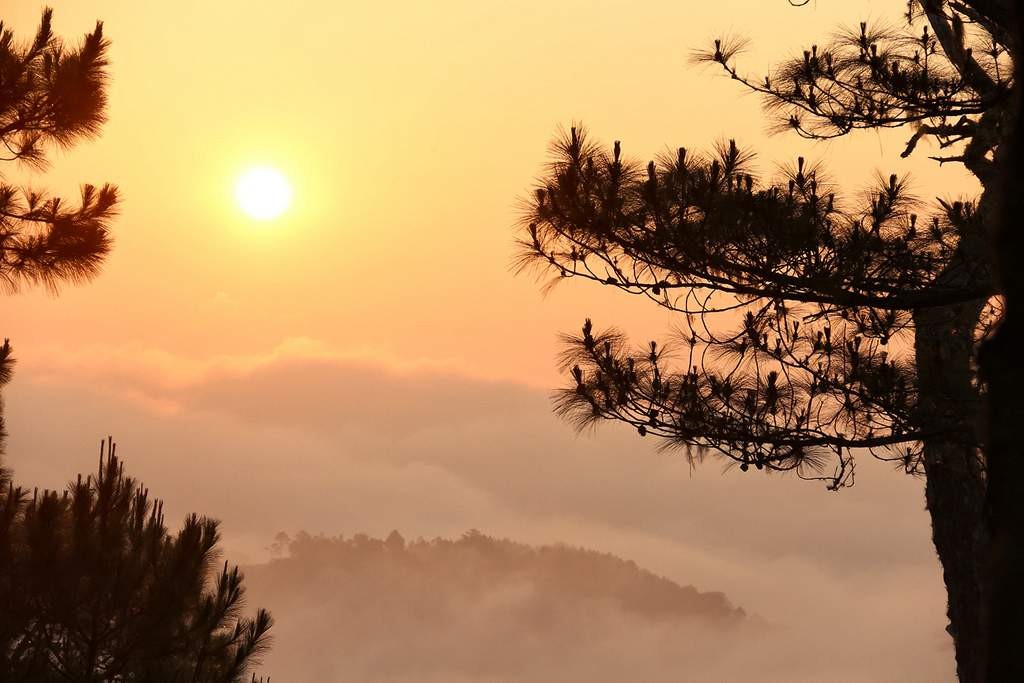 Mt.Fato (est. 1438MASL) and Mt. Kupapey (est. 1647 MASL)
Location Maligcong, Bontoc, Mountain Province
Difficulty: 3/9 (Trail can be likened to Mt.Gulugod Baboy, only covered with Pine forest)
Trail Class: 1-2 Though Mt.Fato's trail is not yet well established.Rock scrambling is required to get to some spots on the summit.
Participants: Christian Caballes (Team Lead and author of this account),
Jonalyn B., Leony B., Alvin P., Mark N., Jess G., Odel A., Elaine S., Dina P., Pearl M., Irish P., Sarah T., Jonah S., Ghe D.
Actual Itinerary
(Coming from Baguio. Coming from Nueva Vizcaya is also possible)
Day 0:
11:00PM Depart from Cubao Via Bus to Baguio
Day 1:
05:00AM Arrival Baguio ñ Breakfast/Coffee/Buy Supplies
06:30AM Depart Baguio
08:00AM Stop Over at Halsema Highway Marker
12:00PM Arrival Maligcong
03:00PM Start trek to Mt.Fato
04:30PM Arrival at Summit
05:00PM Start descent
06:30PM Arrival at Homestay
Day 2:
03:30AM Wake Up call/Prep-up
03:45AM Start Trek
05:30AM Arrival Summit.Await Sunrise.
07:00AM Start Descend
08:00AM Detour to Maligcong Rice Paddies trail
09:00AM Arrival at homestay. Tidy Up
10:00AM Depart for Baguio
05:00PM Arrival Baguio.
11:00PM Arrival at Quezon City.
What inspired you to do this hike?
I've read about Mt. Kupapey from some blogs, and since a few hikers visit the place (maybe due to it's remoteness). From the articles, Mt.Kupapey and Mt.Fato is described as a beginners mountain, so I decided to invite beginner friends as well to share the experience.
What are the highlights of the trip?
1. Sea of Clouds at Mt.Kupapey Summit.And if ever there is no presence of sea of clouds,
hikers will be treated to an overlooking view of the Maligcong rice terraces. So it's a win-win situation regardless of the cloud condition.
2. The Maligcong Rice Terraces. One could take a detour to take the trail on the descent
to pass by the rice paddies. So if the view of the terraces from the summit is obstructed by the sea of clouds, hikers can still have an overlooking view by taking a detour from the backtrail. Just ask the guide to take you there. The terraces are also visible on the summit of Mt.Fato, though not as near if viewed from the summit of Mt.Kupapey.
3.Rock formations at the summit of Mt.Fato. The highest point of Mt.Fato is actually a big rock (picture below). The hiker must rock scramble to get to the top of this rock.
4. Guide Dogs. Dogs actually come with you during the hike. They are either dogs of the guide or dogs of the homestay. They stop during intersections or is someone is lagging, and wait for the hikers then show them the right way. Both of our hikes had a dog join us. Kunig (the most famous in Maligcong) joined us on Mt.Fato and Kangaroo joined us on Mt.Kupapey. there are two other groups aside from us on Mt.Kupapey, and they had guide dogs as well.
How can others do the same or similar trip?
Coming from Baguio, proceed to Slaughter House, Magsaysay Road and catch Rising Sun Bus leaving for Bontoc.From Bontoc, one may catch a Jeepney going to Maligcong (Trips are scheduled). Or if there are many of you, you can rent an entire jeep for around P700.
You could also rent Baguio based vans to take you to Maligcong directly. Just coordinate before hand.
Contacts:
Suzette Chees 09155463557
Just make sure to make arrangements beforehand from the homestay since they will also be coordinating the guides. Right now there are 3 homestays in Maligcong that could accomodate up to 20-30 hikers.
Other Notes:
A Mt.Fato-Mt.Kupapey Traverse can also be done for a more challenging trek (8 Hours).
Overnight camping is not allowed.
Strictly lights off at 9PM for the whole town.
MTS. KUPAPEY AND FATO PICTURES