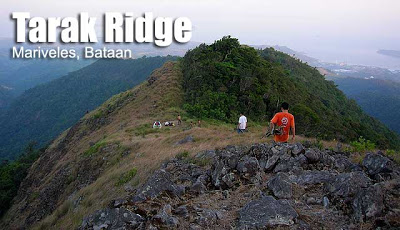 TARAK RIDGE
Mariveles, Bataan
Jump off point: Brgy. Alas-asin, Mariveles
LLA: 14°30.357′N, 120°30′E, 1,006 MASL (ridge); 1,130 MASL (peak)
Days required / Hours to summit: 2 days, 5-6 hours
Specs: Major climb, Difficulty 4/9, Trail class 3
BACKGROUND
You may actually choose to scale the very summit of Mariveles, but it is Tarak Ridge, on Mt. Mariveles' west face, that has gained much attention. Its craggy landscape, sharp rocks, and steep location may have given rise to its name, Tarak, which is somewhat of a cross between 'Tabak' (hunting knife) and 'Tarik' (steep). There is a scenic, 270-degree view of Bataan which includes the islands of Corregidor and neighboring islands, as well as Manila Bay all the way to Cavite.
The trail is divided into two: a first part involves wide trails, at times dense grasslands – which are during summer months burned in kaingin. The typhoons in 2006 damaged sections of the trail, including one which now needs the assistance of a rope to be crossed. This first part takes three hours and ends in Papaya river – a rest station and water source. Then the next part involves woodlands, steep trails in which you can hold on to branches and roots for support. After 90 minutes, you'll find yourself in Tarak Ridge. Set up camp here, then go for the optional assault on Mt. Tarak (El Saco and Tarak peaks). By the time you return, it's approaching dusk. The sunset is colorful and dramatic.
Gusts of wind, coming from the South China Sea, pound hard on the Ridge, requiring extra pegs for tents at night. Inside your tent, you will feel aboard a sailboat, with the sails flapping noisily with the wind. This extra thrill makes Tarak Ridge a truly breathtaking and exciting destination.
ITINERARY
Day 1
0500 Board Genesis or Bataan Express bus lines to Balanga, Bataan (P120)
0800 ETA Balanga; take mini-bus to Brgy. Alas-asin (P40)
0930 ETA Alas-asin; register at Brgy. Hall (P20)
1000 Start trek
1300 ETA Papaya river; lunch
1330 Resume trek to woodlands
1500 ETA Tarak Ridge; set up camp
1530 Explore the summit (there is a mossy forest there)
1730 Back at the Ridge; await the sunset; prepare for dinner
2000 Lights out
Day 2
0600 Breakfast; break camp
0700 Start descent
0730 ETA Papaya river
1000 Back at jump-off point.
1100 ETA Balanga via minibus.
SPECIAL CONCERNS
Transportation. There used to be ferry service between CCP Complex and Orion, Bataan but as of 2007 this service may have been phased out. The route of choice is land, by bus going straight to Brgy. Alas-Asin from Manila. To avail of this, go to the bus terminals of Genesis and Bataan Transit at Dorroteo Jose (near LRT station). As of May 2008, fare costs P237. Get down at the barangay hall for registration.
Logistics. The trail is fairly straightforward and you could choose not to avail of a guide. But they would also be avaialble at the barangay hall. Registration fee is P40. At the hall, get a local contact number just in case you'll have a problem. Cellphone signal is present throughout the trail.
Climbing notes. As mentioned earlier, bring pegs to support your tents. Nights are very windy at the Ridge. Before entering Papaya River and the forest, the trail is somewhat exposed and can be very hot during summer. Kaingin (slash and burn agriculture) is still practice and brushfires may occur especially in March and April.
Sidetrips. Being part of the Mariveles range, the Ridge can actually be just part of a longer expedition involving the other areas (Vintana, Pantingan, etc.). An excellent sidetrip is Corregidor Island, which is just 15 minutes away by boat from Mariveles. You may want to proceed here and return to Manila via Corregidor the next day. Another sidetrip is Mt. Samat, which has the monument of a giant white cross. It serves as the most identifiable landmark in the province of Bataan.
TARAK RIDGE PICTURES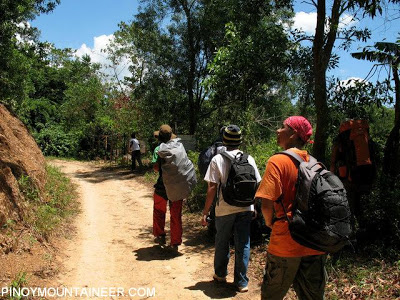 The trail was wide early on, but notable was the reddish soil.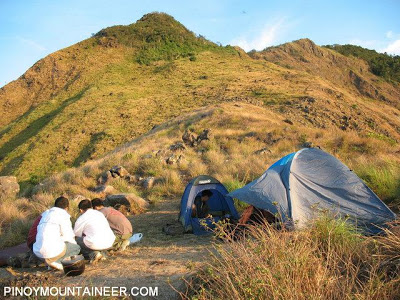 The early morning sun lights up our campsite at Tarak Ridge, May 2007, on the blogger's 21st birthday climb.
TRIVIA
The name Mariveles has a romantic background, which was recounted by Long Henson, father of Philippine hiking itineraries. He narrates that once, there lived in Mexico Maria Velez and her lover; they both came to Philippines as a nun and a priest; but then they fell in love and tried to return to Mexico by way of Bataan . They were pursued by their superiors. Unfortunately they were ambushed by Negritos, and they place of their death was named in honor of Maria – hence Marivelez.
The Ayala Mountaineering Club, Inc. (AMCI) pioneered the exploration of Tarak Ridge, and they have extensively surveyed Mt. Mariveles . Among the possible trails they 'blazed' is the ' Tarak Peak to Vintana Traverse', involving the Tarak Ridge, crossing over the forested side of Tarak peak to Vintana, and passing river systems and waterfalls.
WEATHER OUTLOOK: MARIVELES, BULACAN