Mt. Arayat/ Arayat Trail (1,030+)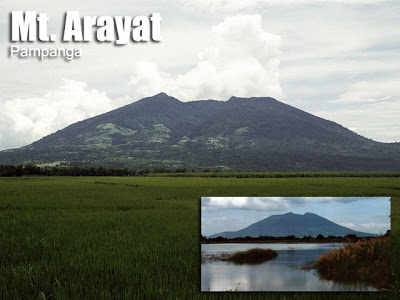 MT. ARAYAT (ARAYAT TRAIL)
Arayat, Pampanga
Major jump off: Arayat National Park, Brgy. Bano, Arayat
LLA: 15.20° N 120.742° E, 1030 MASL
Days required / Hours to summit: 1 day / 4 hours
Specs: Minor climb, Difficulty 3/9, Trail class 3
BACKGROUND
The legendary Mt. Arayat rises like a solitary giant over the central plains of Luzon. Long before it drew the attention of hikers, it was already popular in myth. It was said to be dwelling-place of the Kapampangan sun god, Sinukuan. Writer Alex Castro, in "Views from the Pampang", narrates the story: "[Sinukuan] was supposedly imprisoned in a cave sealed with a "white rock" visible on the mountainside." He was engaged on an epic battle with his rival, Apung Pinatubu, who "hurled stones" at Sinukuan. Perhaps this is actually a recollection of Pinatubo's pre-Hispanic eruption, over 600 years ago?
The next legend about Arayat is about Mariang Sinukuan, counterpart of the Tagalogs' Mariang Makiling. In some accounts she was Mariang Makiling's sister, and like her, she was a mountain dweller with fairy-like powers. She was the subject of songs and poems until the present time. Finally, Mt. Arayat is sacred to Rizalistas, who, Castro writes, "gather every December to honor the national hero in quiet ceremonies. The cult was brought to Arayat by the late Apo or Mahal na Inang Birhen Sinukuan in 1947, acknowledged as Rizal's female incarnation."
Thus, whether as a mountain of myth or a towering landmark, Kapampangans take pride in Mt. Arayat. During the 1970s, Mt. Arayat National Park was built – complete with natural pools, picnic areas, and the mountain trail that leads to Arayat's Peak 1. Although the National Park has degenerated into a local resort, it is still the jump-off for Arayat's Peak 1. This peak has a spectacular viewdeck, where you can behold seemingly all of Central Luzon. Pampanga river meanders like a snake across the rice fields; the mountains of Zambales and Bataan come into view; so Sierra Madre on the opposite side.
Meanwhile, Peak 2 can be accessed from Magalang, Pampanga. In either trails, the 'balding' of the mountain is evidenced by the intense heat of the sun. Still, some forests survive and therein, monkeys continue to roam free. You can hear their calls along the last leg of the trail. There are also sightings of wild boar, local civet (musang), and native birds. A separate article for this trail is under construction.
NPA scare continues to scare hikers from climbing Arayat, but there is now military presence in the trails, and the last pockets of NPA resistance were subjugated in 2002. Thus Arayat remains one of the most exciting hiking destinations in Luzon.
ITINERARY
VIA ARAYAT NATIONAL PARK
0500 At Monumento, take bus to Arayat, Pampanga (P120)
0730 ETA Arayat Pampanga. (If private vehicle, take San Simon exit at NLEX)
0800 ETA Arayat National Park; regiser and negotiate (P100 + guide)
0830 Start trek
1200 ETA peak campsite; lunch. You may explore the viewdeck
1300 Start descent
1530 ETA National Park; bathe at the natural pools
1600 Head back to Manila or to Angeles City for sidetrips
SPECIAL CONCERNS
The Arayat N.P. trail has unfortunately gained notoriety for 'extortionist' locals who overcharge everything from entrance to guide fees. In addition they'll even ask for a barangay fee and a parking fee. If you wish to hike Arayat via this route, anticipate these already. The guide fee is P400-500 and don't accept anything higher than that. These charges make an Arayat trip more expensive than it should be. Even then, it is still worth climbing.
Flies, mosquitoes, and other insects abound in Arayat; Off lotion is a must. Also, 50% of the time the trails have no tree cover. The itinerary above is for a daytrip but Arayat is also a good overnight destination. The peak itself is the suitable campsite, with wide spaces for tents and ample shade. At night don't forget to guard or tent-in your belongings as monkeys might take them away.
TRIVIA
Many foreigners climb Mt. Arayat — and they pay extra. For locals, a guide fee of P500 would suffice, but for foreigners, the guides demand P1,500-P2,000.
ARAYAT WEATHER OUTLOOK