Mt. Makiling/UPLB Trail (1,090+)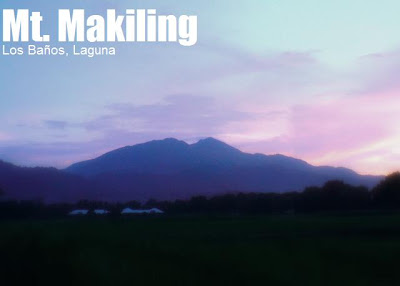 MT. MAKILING
(via Los Baños)
Los Baños, Laguna
Major Jump-off: Station 1, UP College of Forestry
LLA: 14.13°N 121.20°E, 1090 MASL (Peak 2)
Hours to summit / days required: 1-2 days / 4-5 hours
Specs: Minor climb, Difficulty 4/9, Trail class 3
Features: Tropical forests, variety of flora and fauna
Note: This article covers the UPLB Trail; for the Makiling Traverse from Sto. Tomas, visit this page.
BACKGROUND
Since its adoption as a protected area by the University of the Philippines, Mt. Makiling has become one of the "mainstay" destinations for mountaineers, as well as scientists and tourists. The forest, which was restored during the 1910s, remains in pristine condition; a plethora of birds, reptiles, and other fauna continue to thrive in Makiling. Due to its popularity, the trails leading to Peak 2 are well-established, and no guide is necessary to climb the mountain. Although extensive damage was wrought by typhoon 'Milenyo' in 2006, as of the 2009 climbing season the UPLB trail has recovered and is now open for climbing. Since the popularisation of the MakTrav dayhike from 2008 onwards, most hikers opt for that option that comes from Sto. Tomas. However, the traditional trail from UPLB remains a good choice for a dayhike.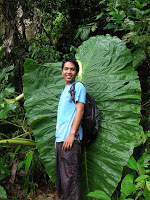 If climbing via UPLB, one should also visit the Mudsprings, the so-called 'crater' of Mt. Makiling where one could see pools of boiling mud. Don't be surprised by the sulfuric smell when you are there. Another sidetrip is Flatrocks, very near the jump-off. It is a river with slabs of flat rocks. Just be vigilant during the rainy season; flash floods do occur. Several years ago picnic-goers in Flatrocks were swept by a flash flood. They were found dead days later, downriver. This is a rare case, however. Mt. Makiling is a protected area, very safe for mountaineers so long as proper coordination (i.e. registration) is done at the Ranger Station.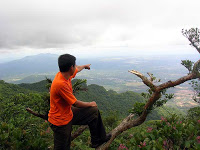 ITINERARY
VIA LOS BANOS
0430 Assembly at LRT-Buendia, board Sta. Cruz bus (P99 as of Sept. 2010)
0630 ETA Los Baños Crossing, walk to corner beside Robinson's Place for jeep to Forestry (P7), or rent any passing jeep (P150~200 as of Sept. 2010)
0700 ETA jump-off point, College of Forestry, register (P10)
0730 Start trek
0845 ETA Nursery, you can buy drinks here.
0900 Head off to Peak 2. Take note of the stations to mark your progress.
1015 ETA last campsite.
1130 reach the so-called '90 degrees' at Stn. 27. Use the ropes.
1200 ETA Peak 2 (station 30), lunch
1300 Start descent
1600 ETA road to Nursery, proceed to Mudspring as a sidetrip.
1620 Arrive at Mudspring, take pictures.
1645 Back at Nursery, start walk back to jump-off
1800 Back at jump-off; walk down the road and wait for jeepney
1830 Dinner at Grove, Los Baños (many food options here)
1930 Head back to Los Baños Crossing, take Buendia or Cubao. (note: last trip for Buendia is 2030H)
MT. MAKILING/UPLB TRAIL TRAIL MAP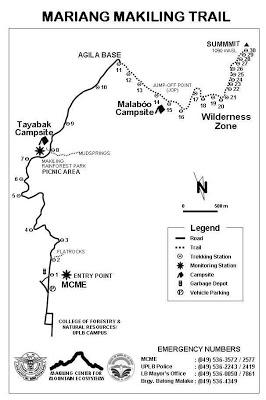 Map courtesy of the Makiling Center for Mountain Ecosystems.
PRACTICALITIES: MT. MAKILING VIA UPLB
Transportation

Public

(1) Bus from Buendia or Cubao to Los Baños crossing [P99; 2 hours] Note: the first trip is usually from 0400-0500H. (2) walk to 'El Danda' which is beside Robinson's Mall then take the jeepney to Forestry (P7.50) or rent a jeep to take you to the trailhead or even up to the Nursery (one trip should not exceed 1000 up to the Nursery).

Private

(1) SLEX to Calamba exit; (2) Follow National Highway, turn right at Los Baños Crosssing; (3) Follow through, enter UPLB and College of Forestry. Ask for the trailhead, where you can park. Some vehicles can go all the way to the Nursery if it's not muddy.

On the way back: (1) Optional habal-habal from Nursery to College of Forestry gate [P50/person; 20 minutes]

Registration

Logbook at the Mt. Makiling gate. Entrance fee is P10/person.

Guides are not readily available but the trail is well-marked with yellow signs indicating station numbers (1-30).

Makiling Center (Los Banos) 049-5362637.

Campsites

Camping not allowed in Peak 2 or other parts of the Wilderness Zone beyond Los Baños Stn. 11

Water sources

None

Cellphone signal

Present throughout the trail

River crossings

None

Roped segments

None

Yes, especially during rainy season

Minimal

Rattan

Minimal

Hiking notes

Backtrack if you do not see the

Sidetrips

Hot springs in Pansol; Mt. Kalisungan in Calauan, Laguna

Alternate trails

The Sto. Tomas via Sipit and Los Baños (UPLB) routes are the only ones sanctioned by the park officials.

Yes (3-4 hours to summit; 2-3 hours down)
TRIVIA
Maria Makiling, the guardian fairy of the mountain, is a central figure in Philippine mythology. The contour of the mountain is said to be that of her in a reclining position. This is best appreciated in the highway from Los Baños Crossing to Bay and Calauan.
Rafflesia (Rafflesia manillana) – the flowers in the world – have been sighted in Mt. Makiling's Sto. Tomas side.
Mt. Makiling must not be underestimated. Several cases of deaths have been reported throughout the years, especially in the Sto. Tomas trail. In the Los Baños trail, a danger comes in the form of flashfloods. During the 1990s, students picnicking in the Flatrocks area got swept by a flashflood. Some were never found; bodies of others were seen floating in the creeks in UP Los Baños.
In the 2004 climbing season, reports of ruffians who hold-up and extort money from climbers caused some alarm. Since then climbers were discouraged to bring valuables up the mountain. In 2005, via the Los Baños trail, a foreigner who climbed alone was found three days later in Calamba. In 2007, after the UPLB entrance was closed, forest rangers had to rescue hikers who violated the rule. Some got lost, mistaking the Sto. Tomas trail as their descent route.
The blogger grew up in Mt. Makiling, and climbs it yearly since he was 9 years old. Among his memorable experiences was encountering a giant cobra on the way to Mudspring. Many climbers report encounters with snakes. One College of Forestry personnel was said to have killed a cobra. Rumor has it that cobras can see each other's memory through the eyes. A day later, he saw another cobra trailing him. Every time, he would see or feel a cobra trailing him. When he couldn't bear it already he resigned from his job. That is why locals say when you kill a snake, you must smite its eyes.
MT. MAKILING WEATHER OUTLOOK