TAYAK HILL
Rizal, Laguna
Major jump-off: Brgy. Tala, Rizal;
LLA: 14.0688 N 121.420 E (approx); 560 MASL
Days required / Hours to summit: Half day / 1.5 hours
Specs: Minor climb, Difficulty 2/9, Trail class 1
BACKGROUND
IInterrupting the blue Mt. Cristobal with its green-brown slopes when viewed from afar is Tayak Hill, bordering the town of Rizal and San Pablo City. This color is caused by the tayak grass that envelope the hill, hence the name. Although part of Cristobal, it has its own peak, also called 'Tilos' or 'Parang' by the locals, making it a distinct destination. Here, the winds are refreshingly cool (and sometimes strong); and you can see the entire city of San Pablo in front of you, complete with its seven lakes. Prominent mountains mark the scene: Mt. Malipunyo (W); Mt. Makiling (NNW), Mt. Kalisungan and Imoc Hill (NE), the mountains of Nagcarlan, and a faint yet distinct Mt. Sembrano (ENE). Even Laguna de Bay is in the background, although partially obscured. Indeed, you can map the entiretly of Laguna, save for the southwestern towns which are eclipsed by the towering Mt. Cristobal. This viewpoint is a favorite picnic ground of the locals, especially the youth.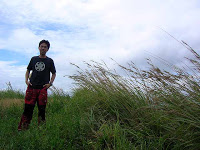 Every Holy Week, locals would gather in Tayak Hill. Many would camp in Sto. Nino and on Easter Sunday, the priest will celebrate mass on the hill. Stations of the cross (marked by white crosses) have also been placed for this yearly activity. Hikers, like the locals who do this annual rite, would begin their walk in front of Rizal Elementary School, along the highway (San Pablo-Nagcarlan). Remarkably, the entire path is cemented until a kilometer from Sto. Nino. Noteworthy is the Terraza Verde resort (10 minutes from jump-off), whose caretaker welcomes hikers to use their comfort rooms, and for a fee, use its swimming pool. After an 50-60 mins of walking in this cement road, the rough road, still wide, begins. At this point you could already see Sampaloc Lake with the large Iglesia ni Cristo church beside it. 15 minutes into this trail will take you to Sitio Sto. Nino. Aside from its high elevation (400 MASL), it is made charming by the abundance of flowers lining the paths and the houses; there were gumamelas, flowers of different colors, and pakpaklawin. At the end of this path is the chapel. On its right is a water source, and a path that will take you to Tayak Hill. The key is two right turns: one at the chapel, and the other around 200 steps later. Take the right, elevated path and in ten minutes, you would be at the hill. There's a nipa hut there. Total trek time is less than two hours.
Some locals say that the real Tayak is a slope in Cristobal, around 1 hour further up, which also has tayak grass. They say that is known as Tayak Hill is actually called 'Tilos' or 'Parang'. However, others attest to the popular belief. Given the etymology of the hill, it wouldn't be inaccurate or inappopriate to continue calling it Tayak Hill. From Sitio Sto. Niño, a long way to Mt. Cristobal is possible although only few of the locals seem to be familiar with this trail.
At the peak of Tayak Hill, you could see the trail continuing beyond the viewpoint. This trail, requiring 3-4 hours of trek, will end in Brgy. San Jose (Malamig) in San Pablo. This is an alternative trail going to Tayak; the barangay captain says he is willing to have a tanod guide climbers in the trail provided that advance notice be given. The culminating views of coconut woodlands and the like, however, do not do justice to the lengthy trail time. Tayak Peak is a good daytrip destination using the popular Rizal trail, and it will be made better if coupled with a visit to Bunga Falls in Nagcarlan, or even Taytay Falls in Majayjay, Laguna.
ITINERARY
0500 ETD for San Pablo City via Lucena bus (P112)
0730 ETA San Pablo; take tricycle to Nagcarlan jeep near Catherdral
0800 ETD for Rizal via Nagcarlan jeep (P13)
0830 ETA Rizal Elementary School; begin 'trek'
0840 ETA Terraza Verde Resort, continue walking
0920 Reach end of cemented road
0950 ETA Sitio Sto Niño Chapel; turn right
1010 ETA Tayak Peak. Snacks and photo-ops.
1100 Start descent
1230 ETA Rizal, Laguna. Proceed to sidetrip (optional)
1700 Back at San Pablo City; dinner then head back to Manila (P112)
2000 ETA Manila
SPECIAL CONCERNS
There is no permit or entrance fee necessary to climb Tayak Hill; nor is there any guide required as the trail only forks once – that is, the right turn 10 minutes away from the peak. The trail has good tree cover for most part but the hill itself is exposed to the sun. There are no noxious plants along the way and no significant hazards. If it's raining, though, the cemented road can get very slippery due to the green algae.
Camping seems to be possible but it also appears that this is not always permitted. Winds are strong in the peak. Cellphone signal is excellent at the peak and throughout the trail. A water source is available at the chapel; there's also a sari-sari store nearby the sitio. All said, Tayak Hill is a pretty straightforward climb, with easy trails and nice, refreshing views at the peak.
TRIVIA
David Dwiggins, in his interview of Lorenzo Cornista, provides historical color to Tayak Hill. Guerillas constructed a landing field at the hill, and here, arms, ammo, food, and cigarettes were dropped by the Ameicans in Feb. 1945 to liberate the towns from the Japanese. The hill was the guerillas' headquarters, and with its commanding view of Laguna, the choice was excellent.
One place where it is easy to spot a green-brown Tayak Hill against the blue Mt. Cristobal is Sampaloc Lake park in San Pablo City.