MAGDAPIO (PAGSANJAN) FALLS VIA CAVINTI LAND ROUTE
Cavinti, Laguna
Major jump-off: Brgy. Tibatib, Cavinti
Height of waterfalls: 90 meters
Time to waterfalls / Days required: 60 mins / 1 day
Specs: Minor Climb, Difficulty 1/9, Trail Class 1 with soft rappelling involved
BACKGROUND
It cannot be denied that the Pagsanjan experience – the banca ride, the rafting trip to the falls, and the magnificent views of the gorges is still the best Magdapio falls treat. However, an exciting alternative has opened up in Feb. 24, 2007- a land route to the falls. The mayor of Cavinti developed a 'Cavinti Eco-Park' which sits at the origin of the falls, containing excellent facilities. It seems to be a well-developed site! A 15-minute trek down a cemented path will take you to the first waterfalls: the Nakulo Falls and the 'First Falls'. Then, after two great viewdecks seeing the majestic plummeting of waters of these falls, you will be asked to wear a harness and rappel down a 672-step steel staircase/ladder. After which, voila! You will be face to face with the famous waterfalls. Then a raft will take you through the falls into the cave — all these for P150! (Nov. 2007) Then, for just P250, you can have your trip to Pagsanjan via the same river, thereby experiencing the whole treat in a cheaper and novel fashion.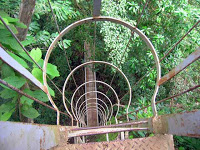 The forested environment of the Cavinti Eco-Park is really nice. From the point of view of someone at the gorge, the waterfalls are really tantalizing. One could see monkeys loitering in the forest, or reptiles wading in the river. For the adventurous, other exciting possibilities include a visit to the Bayakan and Cavinti Falls, further into the east river system. Here, bats, snakes, and lizards are said to hide — but they don't harm the human visitors. Still, keep your fingers crossed when this sidetrip becomes operational!
ITINERARY
0500 Take bus to Sta. Cruz (P123.50)
0730 ETA Sta. Cruz, take jeep to Cavinti (P15)
0830 At Cavinti, take tricycle to Cavinti Eco Park, Brgy. Tibatib (P40)
0900 ETA Eco Park, register (P150)
0930 Start trek to Nakulo Falls and viewdecks
1000 Proceed to steel ladder rappel
1030 ETA Madgapio Falls; proceed to raft through falls
1130 Proceed to Pagsanjan by boat (P250)
1215 ETA Pagsanjan / Lunch
1330 Head back to bus terminal in Sta. Cruz
1430 ETD Green Star bus for Buendia or HM Transport for Cubao
1500 Back in Manila
SPECIAL CONCERNS
A better deal is a "traverse" from Cavinti-Pagsanjan by combining the land and river routes for P400. A voluntary tip may be given for your guides although the staff of Cavinti Eco-Park seem more disciplined than the hecklers in Pagsanjan who still abound in spite of Mayor ER Ejercito's renovation of the image of Pagsanjan tourism ( i.e. pegging the boat ride at P660). Needless to say, waterproofing belongings is a must, and
Since the river swells with rainfall, be sure to follow the advice of your guide: there will be unfortunate times when rafting won't be allowed because of bad weather. For inquiries regarding weather and availability, Cavinti Eco-Park may be contacted through one of their guides at +639212930016.
TRIVIA
Other destinations in Cavinti include the man-made Caliraya Lake, Lake Lumot, as well as the Japanese Garden built by Imelda Marcos and Cavinti's Twin Falls within it.
Our friendly guide said that several celebrities have gone down the steel ladder, including Ethel Booba, whom he guided. "She had a great time," he adds – and I'm sure everyone gets a great time. Kudos to the LGU of Cavinti for putting up this new contribution to local tourism!
RELATED ARTICLES
See also the blog entry for the customary Shooting the Rapids falls trip