Mt. Parker/Lake Holon (1,400+)
LAKE HOLON (MT. PARKER)
T'boli, South Cotabato
Jump-off point: T'boli
LLA: 1400 MASL
Days required / Hours to Lake Holon: 1-2 days / 3-4 hours
Specs: Minor climb, Difficulty 4/9, Trail class 1-3
BACKGROUND
The most idyllic of lakes in the Philippines is Lake Holon (Lake Maughan) in T'boli, South Cotabato. Nestled on the mountains of South Cotabato, as the caldera lake of the famed Mt. Parker, it is so clean that you can drink water from it while swimming. At 1400 MASL, the water is also so cold, but even then, you will desire to swim for that rare moment when you will feel as if you were in some scene in "Crouching Tiger / Hidden Dragon". Surrounded by mountaintops and a virgin forest, it is so secluded and peaceful. Occasionally, a T'boli boy would pass by, paddling his canoe which his father must have made from one of the wide tree trunks in the deep forest. He would try to catch the aquarium fish that dwell in the lake. Lake Holon is so secluded that you will not be surprised if a dinosaur sprung out of the forests.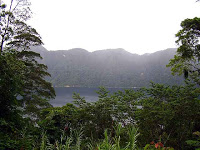 Sacred to the T'boli tribe, there is a legend surrounding this lake. Once, a T'boli witch named Unsak led a band of followers deep in the highlands – she had prophesied that the end is near and they were chosen to ascend to Heaven. They came upon a lake and Unsak led them there – they jumped into it upon the promise of eternal life. No one has heard of them since. Some say they perished – and their cries are still heard every day, very early in the morning. Others say they indeed went straight to Heaven – and they named the lake 'Holon', which means 'portal to heaven'. It is further asserted that the cleanliness of the lake is due to its magic – all the dirt and garbage are transported by the portal in the middle of the lake.
From the jump-off, the trails are wide and the soil is at times colored beige, perhaps due to the volcanic nature of Mt. Parker. You will pass by T'boli villages, and some of them will kindly offer you tuba (sugar cane) which you can nibble for its sucrose. After two hours you will enter the virgin forest (at 1280 MASL), with its resplendent array of lichens, mosses, ferns, trees, some over a hundred years old. You will trek through the forest until you reach its highest point, around 1540 MASL. There, you can already see Lake Holon. The descent takes around 20 minutes, and once there, you will behold the tranquil lake. It is a profound and wonderful experience.
ITINERARY
Only a special circumstance permitted the author's visit to Lake Holon; PinoyMountaineer has yet to receive updates on how, if ever, this place can be accessed. Here was our itinerary:
0600 Assembly at Brgy. Edwards, T'boli. Arrange for habal-habal.
0630 ETD for jump-off point
0900 ETA jump-off point near elementary school
0930 Start trek
1100 Arrive at the forest (1280 MASL)
1200 Reach highest point (1540 MASL). Start descent to Lake Holon
1230 ETA Lake Holon; lunch. You may swim in the lake.
1430 Start return trip
1630 ETA jump-off point; start road
2000 ETA T'boli, South Cotabato (you may then proceed to Koronadal)
SPECIAL CONCERNS
The road to the jump-off is no longer being maintained, and as of the moment Lake Holon is virtually inaccessible. Armed groups are said to have returned there; indeed when the author visited Lake Holon in 2005, armed escorts were necessary, and only powerful motorcycles were able to bring us up to the jump-off. This trip, lasting two hours, is quite a challenge in itself! Riding motorcycles in Mindanao highlands is a memorable experience.
During the late 1990s up to 2003, there was an attempt to develop the site. Unfortunately, political strife doomed the establishment of Lake Holon as an ecotourism destination. To date, it remains a dream.
TRIVIA
T'boli comes from "Tao Bilil" which means "people of the hills". The culture of the T'boli is so rich they have their own language, musical instruments, and way of life. They've also developed their art of weaving a cloth called T'nalak. The artists are called dreamweavers because they weave patterns which they dream about the night before. Slowly, the potential for ecotourism is being recognized by the people, and hopefully, the leaders would act and literally pave the way for people to reach the lake. It will be worth it: Lake Holon is truly one of the most beautiful places in the Philippines.
Rumored sightings of the Philippine tarsier around the area of Mt. Parker have recently been confirmed. Furthermore, two new species have been idenfitied in the site, further adding to the richness of the fauna and flora of T'boli ancestral lands.
Lake Holon was said to have been formed by a volcanic eruption on Jan. 4, 1641. At this time, the mountain was called Melibongoy. Centuries later, a n American surveyor pilot named Parker crashed in the mountain, and since then, the mountain has been named in his honor.
WEATHER OUTLOOK: KORONADAL, SOUTH COTABATO
The author would like to thank Dr. and Dra. Dagang, of T'boli, South Cotabato, for facilitating his trip to Lake Holon.
© PinoyMountaineer 2007. All rights reserved.