Hiking Matters #2: G2 and back again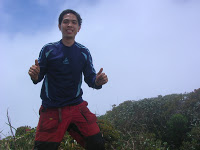 (LOS BANOS, LAGUNA- 3/25/08) Finally I've climbed Mt. Guiting-Guiting (summit pic on the right), and it was a most intense climb! I was with the group led by Sir Emman Palacio and comrpised of members of different groups like Kalay Lupa, Silverbacks, BAKAT, and other standalones such as Sir Richard Visco and myself of the UP Med Outdoor Society. The 'most senior' among us was Sir Orly Ylaya, while the youngest was Coby Sarreal, 19 of the San Beda Mountaineers. I was shocked when he told me that he has been to Guiting at the age of 12 and that he has summitted Apo and Halcon even before he became a teenager! Amazing! We were guided by Kuya Kokoy, who is one of the most experienced guides, and Jerson, the son of Bulod after whom Bulod's Spring is named.
Summitting G2
And on Black Saturday we were faced with the famous G2 summit assault, with its 12 noon deadline to reach the Peak of Deception. To make things more complicated, we were coming
from Camp 3 instead of the usual staging-off point, Mayo's Peak. We started at 0530, reached Mayo's at 0615 then immediately headed for the Knife's Edge. "Traffic" really happens in G2, and it is very hard to overtake unless the group ahead of you gives way. That's why it is advisable to start very early and whenever possible, avoid climbing if many others are scheduled to assault on that day.
The day was sunny at first but at Mayo's Peak the clouds already foreshadowed the possibility of rain. Given the notoriety of G2, we were scared that rain might ruin our climb. Meanwhile I had to deal with the rocks of Knife Edge. I didn't wear gloves because I felt that I will be more dextrous without them; even so it is generally advisable to wear gloves in G2. Some of the trails were so mind-blowing that my definition of a 'trail' has been modified! After the Knife Edge came the segment of the trail called "Kiss the Wall" because who will really have to kiss the wall lest you fall! Although energy-draining, every rock formation seemed like a puzzle waiting to be solved, and that sense of excitement (much like an RPG) kept me going . But when the rains did come, I became very worried. As the trail became steeper and the rocks sharper, the weather outlook became bleaker, and while I could still manage the different 'contortions' required to go up, I had no idea how we could go down later!
The shocker is that some climbers whom we met claimed they reached the summit, only to be refuted by their own guide! In retrospect, it was really impossible because it was only 0930H. These so-called "summitteers" even asserted that it was very slippery at the summit and they even discouraged us from continuing! I was very appalled with their behavior, and I'm glad that we decided to push through. After all, the protocol for G2 is that you should follow your guide. In our case, our guides were very competent and they knew that a little drizzle doesn't necessarily mean the end of the summit assault. It is true that the rocks are utterly dangerous when slippery but the fast-blowing winds quickly dry them up; the local guides surely know these (and other) variables with their decades-long experience. But again, it is very disappointing that some climbers will lie about reaching the summit, because the misinformation may mislead and even ruin the climbs of others. Mountaineers must strive to maintain a situation where all other fellow
climbers can be trusted!
And so we pressed on – we reached the Peak of Deception at 1030H and after a 'take 5', we took the 45-minute hike to the G2 summit where our lead pack waited for us. We arrived at 1118 H (recorded in my GPS at 2070 MASL, higher than the official 2057 MASL). To make things even better, the heavens cleared, momentarily giving us a view of the environs.
How many percent of G2 climbers make it to summit? Hard to say, according to the DENR people. But suffice to say, there's really a distinct possibility of not making it. Climbers must be emotionally prepared for this possibility. I realize that there are many factors that lead to a successful G2 summit attempt. To distill these factors into statements of advice: First, you have to time it from April-mid May. With June comes the changing of the wind direction (making the trek more precarious) and the rainy season (making the trail more slippery). Second, you have to make sure your guide is oka because some guides may not have the experience to know when to push through and when not to. Third, you must be well-rested on the first day to have enough energy to do the assault (although this can be overcome, of course). Fourth, bring a lot of water because practically the entire trail is exposed to sunlight, and even on our cloudy trek my 2L wasn't enough (the Mabel's spring before Peak of Deception is not always reliable). Fifth, if it rains you can wait things out because it is very volatile up there and it can even turn sunny. Finally, the entire group must be prepared for G2, and there must be a way of communicating with each other (i.e. two-way radio) since decisions are made on the spot in G2 by the guide.
By the way, beware of scorpions at your campsite! When we got down from the summit assault, two of our tents had scorpions inside! Although scorpion stings are rarely serious, like any wounds they are bothersome. The first aid is just cleaning the wound of soap and water. Meanwhile, G2 also has its share of limatiks although these bloodsuckers are much less aggressive than their Makiling counterparts.
As for the other aspects of the climb, transportation can be a problem especially during Holy Week (I will try to make a detailed transpo guide on the G2 IT I'm preparing). We had to go across the three major islands of Romblon just to catch the 1700H Odiongan ferry. On the other hand, sidetrips are numberless: there are beaches, rivers, and waterfalls in Sibuyan Island; the other islands of Romblon have their own mountains (such as Mt. Payaopao in Tablas) and Boracay – yes – is just 4 hours away from Tablas Island. Then there is the ubiquitous marble for which Romblon is famous.
Looking back at G2, I can now understand why some consider it as the 'most difficult' in the country. But with training and determination, it can be done!
GPS
When I climbed G2 I was excited to use the GPS unit which my uncle gave me. It proved to be a handy tool in estimating times of arrival; measuring our pace in objective terms (km/h) and getting a more accurate reading of the altitude. The problem with wristwatch altimeters, in my experience, is that sometimes, they simply don't get the correct reading. The only drawback of the GPS is that the signal can be obstructed by trees and other physical barriers. Also, the coordinates in wikimapia.org and some internet sources are not consistent with each other, or with my own readings. So don't rely on your GPS too much. But it is really an important tool especially for those with interests in geography and exploration. PinoyMountaineer.com will try to give personal readings of coordinates for some key mountains in the future as a reference.
Mt. Buntis itinerary
Those of us who listened to our Social Studies teacher in grade school will remember Mt. Buntis as the execution site of Andres Bonfiacio and his brother Procopio. This, however, is disputed by some scholars who say that nearby Mt. Nagpatong is actually the place. Either way, a "Maragondon Trek" itinerary will cover both. Eric Marquez of guys4mountains kindly provided us information for this and we will post an article soon. I think this trip has more of a historical than a natural flavor –further proof that indeed mountaineering covers a lot of other fields!
The mountain of winds
I'm setting my sights on Mt. Iraya in Batan Island, Batanes next month. It takes 3-4 hours to reach the summit of this mountain. At more than 1300 MASL, the view is bound to fantastic! However, it seems to be perpetually covered with mist so we'll see (literally!)
Anyway I need to rest – it is 0515H, I have just arrived from Batangas Pier, and I barely slept in that overloaded Montenegro Lines ferry!