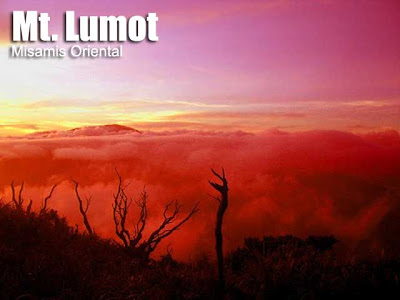 MT. LUMOT (MT. SUMAGAYA)
Balatucan Range, Misamis Oriental
Major jump-off: Sitio Harrohay, Brgy. Lunotan, Gingoog City
LLA: 8°40'51″N, 125°2'34″E, 2320 MASL (summit)
Days required / Hours to summit: 3 days / 8 hours
Specs: Major climb, Difficulty 5/9, Trail class 3
BACKGROUND
Remembered as the crash site of Cebu Pacific Flight 387 in 1998, Mt. Lumot, termed as "Mountain of Souls" by the local Higoanon people, is an emerging hiking destination in Gingoog City, Misamis Oriental. It is a high point of, not a distinct mountain from, Mt. Sumagaya. The tragic plane crash is still fresh in the mountain as remnants such as clothes and accessories can still be seen in the trail; the impact site is also preserved. Also, a shrine has been erected in memory of Flight 387; this shrine is located at the major jump-off. Every year, a tribute climb is organized, the last one being held on Feb 1-3, 2008.
In the same way that Mt. Ugu was "discovered" because of a crash site, Mt. Lumot has also emerged as a hiking destination. Its name, after all, means "mosses", and it speaks of the beautiful forests and rich biodiversity of the place. An abundance of streams and other water sources nourish this haven. Hikers will not only witness this serenity, but at the summit, the nearby mountains will also be seen: Mt. Balatucan, Mt. Mangabon, Mt. Hilong-Hilong, as well as the majestic Kitanglad range most prominently the highest point in Northern Mindanao, Mt. Dulang-Dulang. For the hardcore, a traverse of the mountain (Mt. Lumot-Mt. Sumagaya) or vice-versa is possible, taking 4 days.
The itinerary below takes 3 days. From the Flight 387 shrine, the mossy forest will be entered; trails are similar to those of Mt. Dulang-Dulang; there are steep parts of lots of trees to hold on to. The peak campsite offers excellent views of the above-mentioned mountains although the full Mt. Sumagaya experience is required to maximize the beauty of the mountain.
ITINERARY
Day 0
Travel from Cagayan de Oro to Gingoog City
Day 1
0600 Breakfast
0700 Head to Flight 387 Shrine in Brgy. Lunotan
0830 ETA Flight 387 shrine
0900 Start trek
1200 Arrival at first water source
1300 Begin trek at 'Twisted Trail'
1500 Arrival at second water source
1700 Arrival at third water source, 'Camp Neil Perez'
Day 2
0600 Wake up call / Breakfast
0730 Begin 'alpine assault' then proceed to impact site
0930 Arrival at impact site; descent back to 'Camp Neil Perez'
1000 Start descent
1700 Back at jump-off / socials
Day 3
Head back to Cagayan de Oro
SPECIAL CONCERNS
KAPLAG Mountaineers of Gingoog City is the local group that is knowledgeable with both the Mt. Lumot and Mt. Lumot/Sumagaya climb. Our contact is Sir Lee Sabit, with mobile no. +639263230656. He may also be emailed at lee_donato@yahoo.com. Guides (P500/day) are registration are necessary.
Regular transportation is available from Cagayan de Oro's Agora Terminal to Gingoog City, taking around 3 hours. As in Mt. Dulang-Dulang and Mt. Kitanglad, an excellent side trip is Camiguin Island and its mountains, Mt. Hibok-Hibok and Mt. Timpoong (although this entails another overnight trek).
WEATHER OUTLOOK: GINGOOG CITY
TRIVIA
February 2, 1998, Cebu Pacific Flight 387, enroute from Ninoy Aquino International Airport in Manila to Lumbia Airport in Cagayan de Oro City, crashed on the slopes of the mountain, killing all 104 people on board. The crash was the deadliest Philippine aviation accident at that time.