Hiking matters #7: Mt. Iraya, the mountain of winds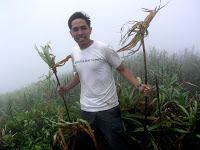 BASCO, BATANES – It's good there's internet access here. Today I dayhiked Mt. Iraya here in Batan Island. With winds from all four directions coming its way, the clouds have found a home in this mountain, and in the three days that I'm here in Batanes I've never seen the mountain unobstructed by clouds, even though it is blazing hot in the rest of the island. Even so, I wanted to climb this mountain. It's a rare privilege to visit these islands and now that I'm here, as a mountaineer it seems unthinkable to miss my chance to climb Mt. Iraya.
And so I woke up very early today; Mang Romy the tour guide (who was referred to me by Ma'am Valerie — thanks!) fetched me from my loding place, Shanedel's Inn, and took me the jumpoff. Literally, it's at the edge of the Basco airport runway! My guide, Mang Pinong, and I began trekking immediately. The first part of the trail was a jumpstart – a very steep ascent of more than 150m gain. Then we entered the forest; with beautiful forest trees and a symphony of birdcalls! I'm sure birdwatchers will love it in Iraya; from time to time I'd think a heavy object was falling from the sky, only to discover a large bird commencing its flight. After 1.5 hours, we finally reached the shoulder. This major rest station offers beautiful views and can serve as the campsite.From this point the trees give way to reeds, and the trail becomes very steep (65-75 degrees). Hold on to these reeds! (called 'vyawo' in Ivatan). The summit, after 40 minutes, is, as expected, very windy — as if a storm is brewing up there. Ridge-like and adorned with ferns, the summit is the northernmost high point in the country, and it offers spectacular views of the Pacific Ocean (E), Itbayat Island and hill-like Dinem Island (NW), South China Sea (W), the entirety of Batan Island with Mt. Matarem the most prominent point (SW), and beyond it, Sabtang Island. Unfortunately, only for a few seconds did the clouds give way and I caught a glimpse of these fabled views. "The best time to climb Iraya is during our mini-summer in September," my guide said.Once done with the steep descent back to the shoulder (again, hold on to the reeds!), going down was a breeze. Mang Pinong got me fresh buco juice from his backyard coconut trees as a postclimb treat. The Everest ladies (Noelle Wenceslao, Karina Dayondon and Janet Belarmino), after climbing Iraya late February of this year, were said to have quipped that Iraya "is more difficult than Everest", perhaps referring to the muddy and steep trails that characterize Iraya. It is indeed one challenging daytrip – but whatever awaits you at the top – be it winds or views – it is a rewarding experience. Sulit!