Hiking matters #8: News from all over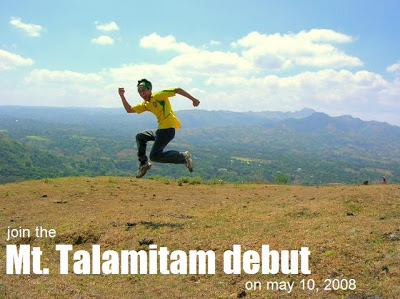 Mt. Talamitam debut on May 10
PinoyMountaineer joins Sir Nick Wijangco, the 'guardian' of Mt. Talamitam, in inviting mountaineers and, in Sir Nick's words, our "green friends", to this year's grand event at Mt. Talamitam. As we know, Sir Nick is a tireless crusader of the mountain. Highlights of the event include a cleanup of Calo River, shade tree planting at the peak, and the replacement of Mama Mary's statue also at the peak. When I climbed Talamitam last year, I was shocked to see the statue decapitated. To think that it has been likened as the "guardian of Nasugbu". So we're glad these activities are pushing through. Rappeling and ziplines will also bet set up. The day-long activities kickoff at 9 AM; and at night, a concert will ensue featuring Joey Ayala, Dino Valino, Anitto and Kadangyan bands. Says Sir Nick, "Let us not allow Mt. Talamitam, or any other mountain for that matter, to deteriorate." I second the motion! In supporting this event, we would also be sending a message to the locals that we are behind the conservation of the mountain. Anyway it's a Saturday and I encourage fellow hikers to join this event. Registration is P350. For more information, email Sir Nick at nickywijangco@yahoo.com or contact him at +639176135986.
Kanlaon now open..and Tawangan too!
My Kanlaon guide, Rey Estelloso, texted me the good news – the alert level has been lifted in Mt. Kanlaon, and it's now open again for climbing on all entry points (all four trails are described in PinoyMountaineer). This volcano, however, as we know is very volatile and we don't know when another round of 'activity' will take place. Check out the blog entries on Mt. Kanlaon if you wish to climb this mountain. Meanwhile, Ma'am Mereng, Pulag's PASU, has also said that the fabulous Tawangan trail is once again safe and allowed for climbing. Literally, possibilities are opening up!
Tarlac trail to Tapulao…
Here's another: The Tarlac Mountaineering Club and the Manila-based Serving the Community through OUTdoors (SCOUT) are hiking groups that have pioneered a "Tapulao Traverse" trail that start off at Tarlac! Touted as an exciting, 4-day adventure with various trail environments, this trail will be featured in PinoyMountaineer.com soon with the help of our TMC friends.
…And more destinations upcoming
Itineraries for Cleopatra's Needle (courtesy of Suakwal Mountaineers, Palawan) and Maragondon's two mountains (courtesty of Sir Eric Marquez) are also on the pipeline. I'm trying to make every article as comprehensive and accurate as possible so we're going to temporarily slow down "production" of more mountain itineraries. To date, there are 26 major climbs published in the blog, but I know its far from complete. We're still lacking coverage of most of Visayas (including Madjaas, Osmeña Peak, Mandalagan); most of Sierra Madre (the Aurora mountains and the trek to Palanan), and some of the major mountains in Mindanao. Most prominent missing ones are Mt. Halcon and Mt. Mayon — though Halcon is still closed and according to the Albay Tourism Officer, Sir Nong Rangansa, Mayon's not available too right now because of bad weather. As for the other mountains, we're in contact with mountaineering friends who have knowledge and experience with these destinations and we're going to pursue these as well. Please support PinoyMountaineer's vision of having all Philippine climbing destinations in one website. Everyone is encouraged to contribute!
Meanwhile, I'm working on a 'gears + gadgets' series that will try to categorize the stuff we bring in climbing. Of course, bringing one's self is the most thrilling part of hiking. Enjoy the summer before it gets too wet, and the limatiks swell in number. Climb on!
Front photo courtesy of Alric Mondragon of the UP Med Outdoor Society, taken on Mt. Talamitam, March 2007. Thanks to everyone who gave updates to us!