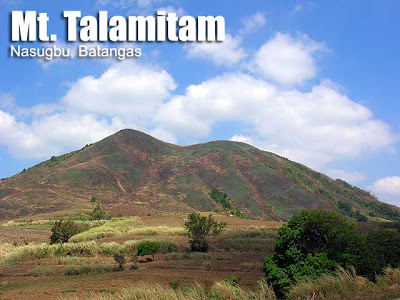 MT. TALAMITAM
Nasugbu, Batangas
Jump-off point: Sitio Bayabasan, Brgy. Aga, Nasugbu (KM. 83)
LLA: 14.1158° N; 120.7577° N; 630 MASL
Days required/ Hours to summit: 1 day / 1.5-2.2 hours
Specs: Minor climb, Difficulty 3/9, Trail class 1-3 with steep assault (100m)
Last updated: September 10, 2013
BACKGROUND
The same terrain of Mt. Batulao gives rise to its 'younger sister', Mt. Talamitam, on another side of Nasugbu, Batangas. Although it lacks the cool breezes and grand landscapes of Batulao, it is a surprisingly wondrous mountain on its own right, with verdant cogon grass during the rainy season, and a challenging, 60-degree trail before the peak.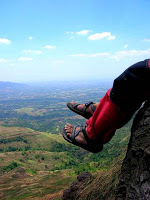 Talamitam is a mountain that had a more glorious past. It was named after the talamitam trees that used to grow on its slopes – a reminder of the time when Talamitam had lush vegetation and untarnished ecosystems. Today, it is a bald mountain, but efforts are underway to rehabilitate the peak with tree planting and other initiatives.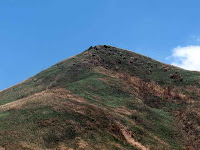 The trail to Talamitam is easy, taking just 1.5 to 2.5 hours to complete the trek up to the summit. However, it can be a very exhausting hike if the sun is up, because there is little tree cover.
The trail starts at the end of a rough road descent to Talamitam river, and from here, a short woodland trek would connect you to a grassland slope that has sparse vegetation. There are many trail variations, most of them leading to the plateau where the peak of Talamitam sits. From here, it is easy to just follow whichever trail leads to the peak.
The summit assault takes about 20-30 minutes; it does not require scrambling, and the trail is established, save for the talahib that can slow you down, especially during the rainy season.
At the summit, which hikers will share with the barn swallows that frequent it, there are nice views of the surrounding towns such as Nasugbu and Calatagan, Batangas as well as the hills and mountains of Maragondon. Notable peaks include Batulao to the southeast, Mt. Makiling which is partially covered by the Tagaytay ridge ENE), Pico de Loro (W), and the Lubang islands (SW).
Going back will take less than an hour, but take note that because of the many different trails, you might end up on another part of the village. So it is important to remember which trail you took going up. In case you end up on another trail, use Talamitam river to determine your position; do not panic as the terminal (i.e. eastward) end of the trails all end up in the highway.
After the trek, it is possible to tidy up or take a shower at the registration area in Brgy. Aga. Just like Mt. Batulao, a visit to Tagaytay is a relaxing finale. Considering that climbing Mt. Talamitam can actually take just half a day, an increasingly popular option is to combine the trek with a half-day hike of Mt. Batulao as a 'Twin Dayhike'.
ITINERARY
0400 ETD Coastal Mall bus terminal to Nasugbu, Batangas (P120.00)
0700 ETA Registration area at Sitio Bayabasan, Brgy. Aga (KM. 83)
0730 Start trek
0930 Arrival at summit
1030 Start descent
1200 Back at registration area, head to Tagaytay or Manila
1300 Lunch at Tagaytay
1430 Head back to Manila
1700 ETA Manila
PRACTICALITIES: MT. TALAMITAM
Transportation

Public
(1) Bus, Coastal Mall to KM. 83 [P120, 2.5 hours] – isang sakay lang!
Private
(1) Head to Tagaytay either via SLEX-ETON Greenfield -Sta. Rosa or via Cavite (2) Follow through the road to Batangas, until you reach KM. 83. Make a right turn at the small side street past the school and look for parking space (available; give a 'tip' to the locals after)

Registration (de facto)

Logbook at Brgy. Aga (P20/person).

Available; P300 per day. Expect to be 'required' to get a guide but you can try to talk your way out of it especially if you have hiked Talamitam before.

Ted Calimag (Brgy. Aga)+639477118513

Nick Wijangco – 09278248475

Nasugubu Police Station – (043) 931-9952

Campsites

At the base of the summit and at the summit itself

Water sources

None in normal course of trail except near the trailhead

Cellphone signal

Present throughout the trail

River crossings

Talamitam river near the jumpoff used to be crossed but there is now a bridge.

Roped segments

None

None

None

Rattan

None

Hiking notes

Caution when ascending the steep portion before the summit; there may be loose rocks. The blades of the talahib can cause 'papercuts'.

Sidetrips

Nasugbu or Tagaytay; Twin dayhike with Mt. Batulao (see itinerary here)

Alternate trails

The old access point from Kayrilaw is still passable and some hikers have spoken of a traverse trail. Ask the locals first for permission before proceeding.

Yes (1.5-3 hours to summit; 1-2 hours down)

600-900

ADDITIONAL CONCERNS
Local context. Two parties have competed for jurisdiction or 'caretaker' status on Mt. Talamitam. Historically, Nick Wijangco, a local resident and artist, was the one who welcomed hikers and collected a registration fee. On the other hand, Ted Calimag, who heads the 'Concerned Citizens of the Environment Movement' (CCEM) has also claimed jurisdiction and is the de facto (as of 2013) caretaker of the mountain. PinoyMountaineer does not take positions in local disputes and leave it up to the locals to settle whatever differences they have.
The first highlight of the trek is to cross Talamitam river. As of May 2012, this bamboo bridge is no longer than reliable and locals say they are planning to build a new one. Otherwise, the river is shallow enough to be crossed by foot.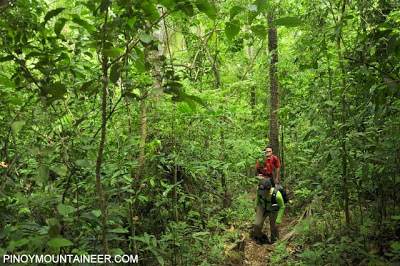 Past Talamitam river, the trail passes by a woodland.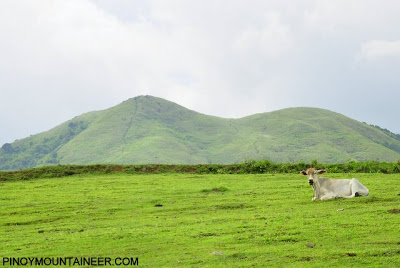 Past the woodlands, gradual slopes, then a plateau emerges, with Mt. Talamitam's summit looming in the background. This is a grazing area, so expect to see some cows.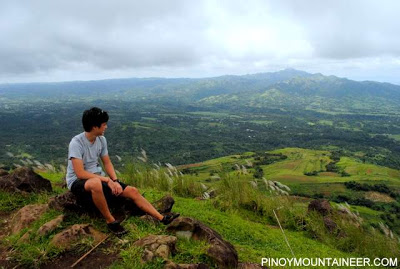 The summit can be a cool and breezy place with expansive views of the surrounding towns. Choose one of the rocks as your viewpoint, and enjoy!