MT. MATAREM (473 +)
Batan Island, Batanes
Major jumpoff: Brgy. San Vicente, Ivana
LLA: 20.3933 N, 121.9416 E, 473 MASL
Days required / Hours to summit: 1 day / 2.5-3 hours
Specs: Minor climb, Difficulty 3/9, Trail class 1-3
BACKGROUND

The southern counterpart of Mt. Iraya in Batan island is Mt. Matarem, which bounds the Ivatan towns of Mahatao, Ivana, and Uyugan. Its name means 'steep' – descriptive not only of its rugged contours, but also of the trails, some of which are quite steep.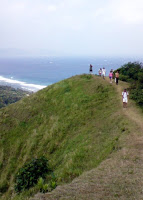 Surprisingly, however, the trails to Mt. Matarem are beautiful, starting off with pasturelands then wide paths, lined with evergreen trees of unusual shapes. This surreal atmosphere, which gives the feeling of 'being on a fairy tale', is maintained even at the highest parts of the trail; there are fruits for the birds, flowers of different colors, and birds. In many ways the mountain is like Mt. Iraya, only more benign and relaxing. Instead of a dense forest, the abovementioned features comprise a woodland, with enough clearings to catch a view of Batan island, and to orient one's self towards the easily distinguishable peak, which is NNE. The mountain can actually be climbed from any point in the southern towns, but the established trail starts from Brgy. San Vicente, Ivana. Just ask the locals for the cement road that leads to Matarem. No guide nor registration is required. Just follow the peak. After the road, which is quite steep, the described grasslands and forest ensue, requiring 1.5-2 hours to negotiate.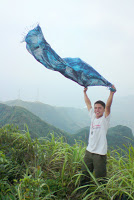 The paths become steep in the final stretch (around 30 mins), but there are enough trees to cling on to. The summit is grassy, like Mt. Iraya, and very small, with space enough only for a dozen or so. At this small peak, the entire Batan Island is visualized, and the views are guaranteed since the mountain is too low for clouds to cover it. North is the imposing figure of Mt. Iraya, and the airport; going clockwise, one would see the coasts of Basco and Mahatao facing the Pacific Ocean (NE) together with famous landmarks such as the windmills, the old lighthouse, and the Fundacion Pacita house. Then comes the hedgerows, and Rakuh e Payaman (Marlboro Country), followed by the southern town of Uyugan. Moving southwest lies the municipality of Ivana, and farther, Sabtang Island. Finally, the towns of Mahatao and Basco complete the circle, facing the South China Sea. Mt. Iraya is more famous and majestic, but if you happen to be in Batanes, try Mt. Matarem also. It gives its visitors a surreal – and real – adventure worthy of the Batanes experience!
ITINERARY
(
from Basco
) 0600 Take jeepney to Brgy. San Vicente, Ivana (P25)
0645 ETA Brgy. San Vicente. Start trek.
0715 Start of "Fairy Trail"
0900 Trails become steeper
0930 Arrival at summit
1000 Start descent
1130 Back at jumpoff; wait for jeepney to Basco
SPECIAL CONCERNS
If you wish for a guide, just ask for one at the barangay hall. Prepare to pay anywhere between 300-500. There is cellphone signal throughout the trail and the trees aren't thorny, so any kind of clothing – even the typical 'tourist clothes' can be worn except during bad weather when trails can get muddy also.
Camping is possible along the "Fairy Trail" but there are no water sources.
TRIVIA

Mt. Matarem is said to be geologically older than Mt. Iraya.
This article was written in Sabtang Island, Batanes.
FLIGHTS TO BASCO, BATANES
| | | | | | |
| --- | --- | --- | --- | --- | --- |
| Bus line | Terminal | ETA | ETD | Fare | Contact numbers |
| Asian Spirit (MWF) | Manila Domestic Airport | 0530 | 0700 | 5400 | 8553333 |
| SEAir c/o BCTA (Tues/Sat) | Manila Domestic Airport | 0800 | 0920 | 6400 | 8100988 |
| Chemtrad (MWF) | Tuguegarao Airport | 0830 | 0930 | 4200 | 09205145274 |
*return flights to Manila or Tuguegarao follow after arrival in Basco. If flying to Tuguegarao, a P25 tricycle ride can take you to the bus terminals that run 8-11 hour trips to Manila (around P700).
WEATHER OUTLOOK: IVANA, BATANES
The blogger thanks the Sarreal siblings – Panggo, Nampoy, Guido, Coby, Agnes, and Lilay – with whom he discovered this marvelous mountain on April 24, 2008.