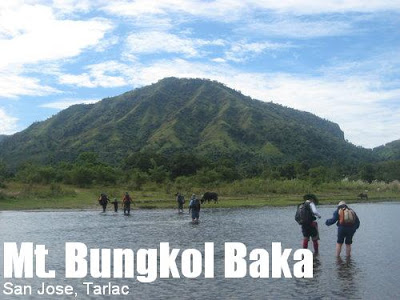 MT. BUNGKOL BAKA
San Jose, Tarlac
Major jumpoff: Sitio San Pedro, Brgy. Iba, San Jose
LLA: 551 MASL
Days required / Hours to summit: 1 day / 3-4 hours
Specs: Minor climb, Difficulty 3/9, Trail class 1-3
Information and pictures for this article were provided by the Tarlac Mountaineering Club. The exploration of the trail is attributed to the UP Mountaineers. PinoyMountaineer thanks TMC and Sir Dax Simbol and for making this article possible.
NOTE: This is an obsolete itinerary. It has been succeeded by the San Jose Circuit itinerary where the latest information and updates on this mountain are available. Please visit the successor article.
BACKGROUND
After we featured of the Tapulao Traverse trail from Mayantoc, Tarlac, we are pleased to release an itinerary of another hiking destination in the province, Mt. Bungkol Baka in San Jose. Literally meaning "cow's hump" – the name is descriptive of the mountain's shape and suggestive of its pastoral importance as a grazing place for cattle. The mountain is within the homeland of the ethnic Abeling people — you will have a chance to interact with them for their men are the ones who serve as guides/porters for this trek. The Abeling are similar to the Aeta – but their hair are not curly, and they have sharper noses.
The trek takes 3-4 hours, and is quite benign. The first leg involves some river crossings, then a bamboo forest ensues, followed by the assault to the summit – a brief, "Maculot-like" hike. The beginning of this assault is marked by a guava tree. At the summit, you will be treated to a view of the nearby towns; notable landmarks to see include the San Jose Dam and Ngile River. You may encounter cows grazing – in keeping with the mountain's name. All said, the mountain is a benign climb – and a fresh destination.
ITINERARY
Day 1
0400 Assembly at Avenida or Cubao bus terinal
0700 ETA Tarlac; take tricycle to jeepney terminal at public market
0715 ETA public market; buy supplies; take jeep to San Jose (1hr)
0900 ETA San Jose (Iba) terminal; register at brgy. hall
0915 Hike to Sitio San Pedro, secure guides
0930 Start trek
1045 ETA Sitio Ongyan – rest
1100 Resume trek
1200 Lunch at Makalaskas creek (last water source)
1400 Resume trek
1500 ETA Bungkol Baka Peak; set up camp
1800 Dinner / socials
Day 2
0530 Sunrise viewing / Breakfast
0700 Break camp
0800 Start descent
1100 Back at San Jose, take jeep back to Tarlac City
1200 Lunch at Tarlac City
1300 Take return bus back to Manila
1700 ETA Manila
SPECIAL CONCERNS
Transportation. It should not be hard to find transportation to Tarlac City – there are buses from Avenida and Cubao plying the route. From Tarlac City, the fare to San Jose is P65 but it is also possible to hire a jeep to take you there for P1,500.
There are limatiks at the Makalaskas area, and climbers are advised to wear long-sleeved shirts to prevent scratches from weeds and thorns. Cellphone signal is present throughout the trail.
Tarlac Mountaineering Club is happy to assist mountaineers who wish to seek help in logistics for this climb. For inquiries and comments, you may contact them at tarlacmc@gmail.com.
BUNGKOL BAKA PICTURES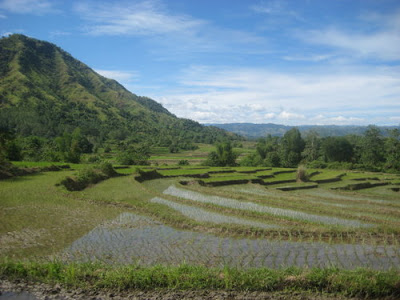 The slope of the mountain is surrounded by rice fields.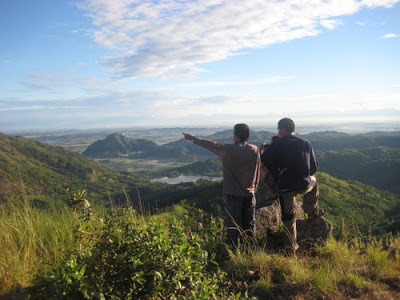 The peak area has a nice view of the surrounding towns.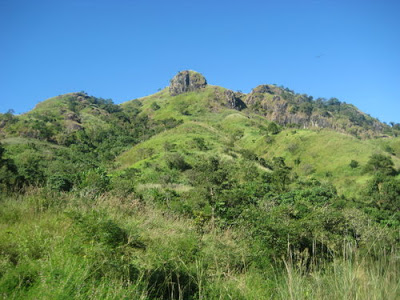 The peak of Bungkol Baka is rocky and has a distinct shape.
TRIVIA
The UP Mountaineers led by Buboy Francisco were among the first groups – if not the first – to discover the mountain as a mountaineering destination.