Hiking matters #9: The cross on the mountain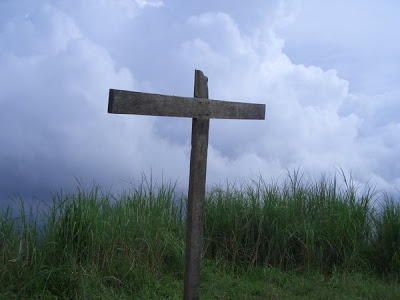 It says a lot about our people, the fact that there are many mountains marked with a cross. My latest climb took me to Mt. Malipunyo, and the locals at Brgy. Talisay proudly told us that they have installed a cross on Batangas' highest summit. In Mt. Timbak (Singakalsa), there are three crosses that stand depict the scene at Calvary. The three crosses also stand in Mt. Humarap in Paete, facing Laguna Bay. Mt. Kalisungan in Laguna has a white cross, and so does Manabu Peak in Batangas. In Guimaras, Balaan Bukid's cross is a landmark that is seen throughout the island. Perhaps the largest cross is in Bataan's Mt. Samat – visible even from Manila Bay. I am sure across the archipelago, there are many others.
The cross, as we know, is a symbol of God's love to His people: it reminds us of Christ's death in Calvary to save us from our sins. We may have different religious groups or denominations, but the cross is something we have in common. For Christians, it represents faith, hope, and love; for all men it is a symbol of peace.
As a mountaineer, the cross on the mountain reminds me of God's presence whenever I climb. It is his wonderful creation we witness every time we go up the mountains, and it is His guidance and protection that sustain our bodies and protect us from harm. What is the source of that bliss that we feel when we gaze on sea of clouds? Is it not a delight in seeing great and beautiful, a glimpse of Divine glory?
Today, I celebrate my 22nd birthday and I express my gratitude to God for all the things he has done for me. It is thanks to Him that I have been given the opportunity to travel, to explore our country, and discover the beauty of our mountains. It is also thanks to Him that I have been saved from the dangers of the outdoors. When I did my personal expedition in Mt. Apo three years ago, accompanied only with two Bagobo guides, I almost regretted it because the weather really turned bad on the first night; my tent was flooded and I was shivering in the cold. The rain simply wouldn't stop. Out of exhaustion I managed to sleep, but when I woke up, I was asking God questions because I could still hear the rain, and even see flashes of lightning. However, when my guide opened the tent door, I realized that what I thought was heavy rain was just the river that we crossed the day before, and what I thought were flashes of lightning were actually shooting stars! It was a clear sky, with an infinite array of stars. With renewed hope I reached the summit the next day – and I knew who to thank.
Indeed, God will not lead you where He cannot guide you – if you believe in Him.
In mountaineering, as in my everyday life, I face a lot of hardships. I also encounter a lot of good things. Through hiking, God has given me lessons to remember, friends to cherish, and memories to treasure. Amidst these trials and blessings, I look at the cross on top of every mountain, even as I strive to place that cross on top of my life.