Stoves and cooksets: part 5 of 'gears + gadgets' series
by Gideon Lasco
BACKGROUND
In mountain climbing, the question of food – "How do you eat when you're up there?" is answered by stoves and cooksets. Gone are the days when campfires are the mainstay for cooking food while on camp; it is not only impractical, but also potentially hazardous to the environment. Thus, with the development of portable stoves running on butane and other fuels, cooking and eating in camp has become a mountaineering custom, with hiking clubs paying great attention to meal plans, recipes, and of course, the social interaction – called socials – that ensue after each meal.
Climb nutrition – and other 'specialized fields' of mountain climbing such as mountain photography, and astronomy, will be covered by PinoyMountaineer in another series. For this article, we will focus on the equipment that is necessary to cook food in the mountains.
First, let us recap what typically happens on a climb insofar as food is concerned. Let's say we're climbing Tarak Ridge – an overnight climb. Of course, trail food will cover the hike proper. A packed lunch may take care of the noontime meal on Day 1. Usually, food is prepared/cooked only for dinner after the camp has already been set up.
STOVES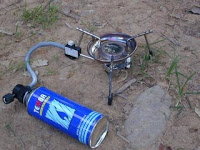 The portable stove is a device much like the ordinary stove, except that it's very small, and is powered by similarly-portable fuel such as butane canisters. The really lightweight ones weigh less than 500g. Manufacturers such as Kovea design stoves with the actual plate, legs for support, automatic igniters, as well a hose at the end of which you attach your fuel. Prices of a personal range from P1000-P3000. Multi-fuel stoves are also available, such as those with the ability to consume white gasoline and a propane/isobutane mix.
In the Philippines, as of 2008, butane remains the most widely-used fuel supply. 220gm (7.8 oz) butane cans can be bought in Handyman and other utility / hardware shops, as well as some outdoor stores. The usual price is around P60 each. Aside from fueling stoves, butane cans also be used to power portable torches and lanterns. Estimating the number of cans to bring would depend on the number of meals; I usually bring two cans for an overnight; and three cans for a three-day trek, and so on. But this would largely depend on how extensive your needs are. Stoves now come with fuel consumption/hour. Usually, it's 100-140gm/hr so it's safe to assume that a 220gm can can last for over an hour of use. Experience is the best guide for this, though.
For out-of-Luzon trips, fuel availability may be an issue. Air traffic rules prohibit carrying butane cans in aircraft, so you have to buy your butane cans in your point of destinations. In Mindanao, SM and Gaisano malls, among others, would have hardware shopes such as ACE Hardware which have butane cans. Cagayan de Oro, Davao, and General Santos City are major centers in which a source is assured. In the Visayas, Cebu, Iloilo, and Bacolod are also okay; same goes for Puerto Princesa in Palawan. However, for island travels such as trips to Romblon and Mindoro, you can carry your butane cans aboard the ferries. In 2007, it became an issue in Batangas pier where the authorities refused to allow butane canisters. This is an unnecessary rule that has fortunately been phased out.
COOKSETS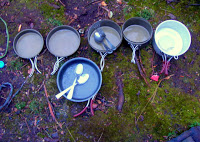 Of course, you would also need portable cooking equipment. Cooksets come in lightweight metals that are designed for the outdoor setting. The higher-ends brands manufacture cooking pans and utensils that are made of titanium for greater durability and far ligher weight. Usually, the entire cooking set should weigh less than 1000g.
Common sense is the best guide in taking care of your stoves and cooksets. Don't use rough brushes to scrape or clean your cooksets as they might ruin the material. Whenever possible, use water and soap and lightly cleanse the set. Otherwise, tissue paper soaked in alcohol can also be used.
Other accompanying accessories for cooking would include can openers, knives, spoons, and forks. Of course, some multi-purpose knives such as a Swiss Knife can take care of all of them. A lighter might come in handy in case the stove ignition fails.
As in other gadgets and gears, be guided by the principles of utility, durability, portability, and practically in acquiring your set. Enjoy cooking (and eating)!